Here's Why Figure Skaters Get Stuffed Animals When They Leave The Ice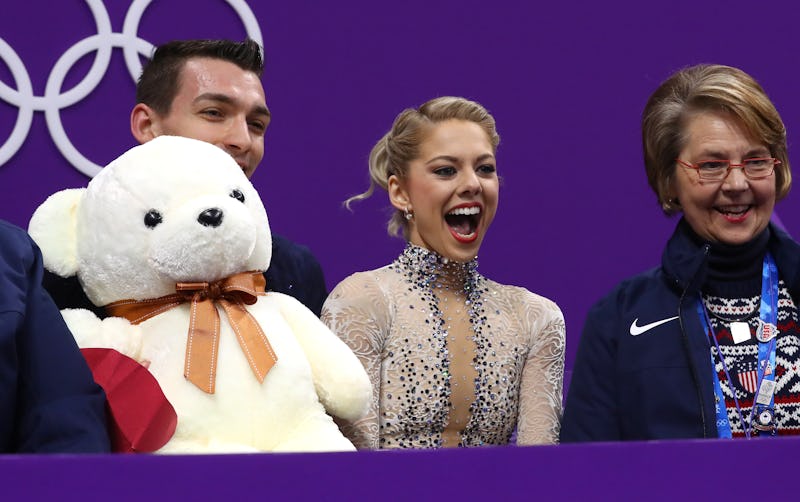 Dean Mouhtaropoulos/Getty Images Sport/Getty Images
A stuffed animal as a gift at a massive international event like the Olympics may sound a little strange and confusing at first. Nonetheless, there's a reason why athletes, including figure skaters, get stuffed animals at the end of their competitions.
While it may be peculiar to see impressive silver-, bronze-, and gold-winning athletes hold cute little stuffed animals, it's undoubtedly a nice touch. Because the Winter Olympic Games — whether they're in PyeongChang, South Korea, as they are right now or in Sochi, Russia, as in 2014 — have fewer events than Summer Olympic Games, the organizers actually have the time to hand out stuffed animals and little gifts. It's a sweet gesture that unifies all athletes, regardless of their scores.
Later on, once everyone has the official mascot stuffed animal, the organization distributes medals. Here's an explanation from the official Olympics website, in case you were wondering:
Instead of flowers, medalists at the Olympic Winter Games PyeongChang 2018 will be given a doll of the Games mascot Soohorang wearing a gold, silver or bronze hat and a paper flower known as an uhsahwa. They will also receive a wooden gift adorned with mountain scenes of PyeongChang and characters from the Korean Hangul alphabet spelling out "PyeongChang 2018" in the official Games motif.
Here's a useful tidbit: The paper flower for athletes called "uhsahwa" is being used this year for sustainability reasons.
More specifically to figure skaters, the concept of stuffed animals isn't limited to the Olympic mascot only. In fact, figure skaters are given stuffed animals — of all sorts, including bizarre and huge teddy bears — by their fans once the competition is over. Back in the 1990s, according to Olympic champion Kristi Yamaguchi who spoke with NBC Sports in 2015, stuffed animals were also accompanied by flowers.
Later on, the rule for throwing bouquets of flowers changed presumably due to safety reasons. "Back in the '90s, it was popular to do flowers, which I don't think they allow anymore because of the debris," Yamaguchi said.
Starting in 2001, the United States Figure Skating association officially outlawed the usage of flowers as gifts for the figure skaters. The Los Angeles Times explained that this shift in policy was based on safety concerns pointing to "the Sept. 11 attacks and subsequent anthrax scares."
Giving figure skaters stuffed animals is a proper affair. After fans throw their stuffed animals in the skating rink, young boys and girls known as "sweepers" or "pixies" stride forward onto the ice and start picking those toys up one by one. It may sound like a cumbersome chore for a child to run but these kids are on skates and seemingly glide by while clearing the ground up. While the kids can't keep the stuffed animals — they're gifts from fans for the skaters — they do get the exhilarating taste of being on the ice in front of thousands of people.
In theory, stuffed animals sound cute. Some of them are simply adorable. However, some Olympic figure skaters told NBC Sports that they have received their fair share of rather odd stuffed animals and toys. For example, American figure skater Evan Lysacek said he once got a bobblehead customized after him.
"I got a self-sufficient ecosystem with a statue of me in the middle, so if the earth ever like came to an end, you could open this up, and the earth would regrow again from the center of this ecosystem with a statue of me," Lysacek recalled.
Regardless of whether they're odd, larger-than-life, or simply plain stuffed animals, the tradition doesn't seem to be going anywhere for now.