Ariana Grande Admitted That Yes, Her High Ponytails DO Hurt Like Hell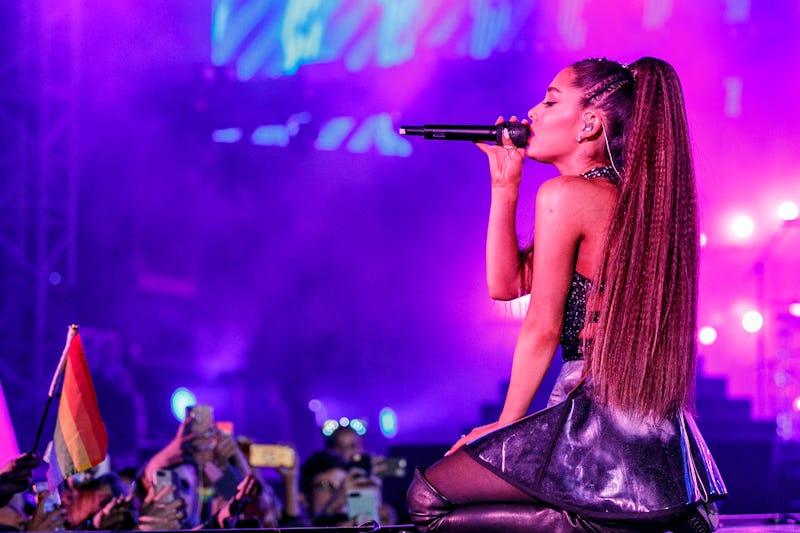 Rich Polk/Getty Images Entertainment/Getty Images
If you've ever wondered if Ariana Grande's ponytail hurts, the answer is apparently yes and all the time. Grande admitted via Twitter that she's in "constant pain" thanks to her signature look, but why do high ponytails hurt? As it turns out, there's actually a two different ways Grande's (and your) high ponytail could be causing you pain. While some people may say that beauty is pain, wouldn't we all rather not want to rip our hair out by the end of the day?
While most of us try to avoid the dreaded scalp pain and headaches that come with high ponies and buns, Ariana Grande seems to have embraced it (at least as best as she can) according to an exchange between the "Thank U, Next" singer and fellow artist Camila Cabello.
Over the weekend, Cabello decided to wear a high pony a la Grande, and like most who attempt the look, the singer walked away in pain. Obviously, who else do you reach out to in order to bond over pony pain but Ariana Grande? Cabello tweeted her fellow artist asking how she does it, and it turns out, Grande is in just as much pain as you always thought she was.
In a response tweet, Grande wrote, "...nah jk i'm in constant pain always and don't care at all."
Grande didn't stop there. She went on to joke about basically not being able to feel anything any more when Cabello admitted that she had to remove the hair style.
That's a commitment to a signature look, right?
Grande, however, isn't the only person who experiences ponytail pain. Everyone can if they aren't careful, and there are actually two different types of pain you can experience. Yes, really.
According to Elle, high ponytails can lead to serious headaches. The magazine spoke with neurologist Dr. Denise E. Chou about why exactly people experience migraines. Dr. Chou explained that placing your hair in a high ponytail can actually pull at the nerves in the scalp which in turn "activate[s] the sensory nerves."
Another form of pain is the one that seems to come from your actual scalp. It actually kind of is. Allure spoke with dermatologist Dr. Debra Jaliman who explained that blood vessels in the scalp are actually inflamed when you wear the hairstyle. This causes the nerves in your hair follicles pain, and since there is no way to tell the difference between follicle and strand pain, it basically feels like everything hurts.
While Grande's tone may have seemed light and fun while joking with Cabello on Twitter, she also may have been telling the truth. According to doctors, the scalp pain and headaches you've felt while wearing a high pony or bun are very real. Given Grande's near constant high pony tail, she may be carrying around a Tylenol or two in her bag.
The pain doesn't seem to be changing Grande's mind about her pony tail, though. She's clapped back at trolls who have complained about the style and discussed its evolution, so despite the pain, it seems like the singer won't be saying "Thank U, Next" to the style any time soon.