Ariana Grande Shut Down A Troll Who Was Hating On Her Ponytail With Just Two Words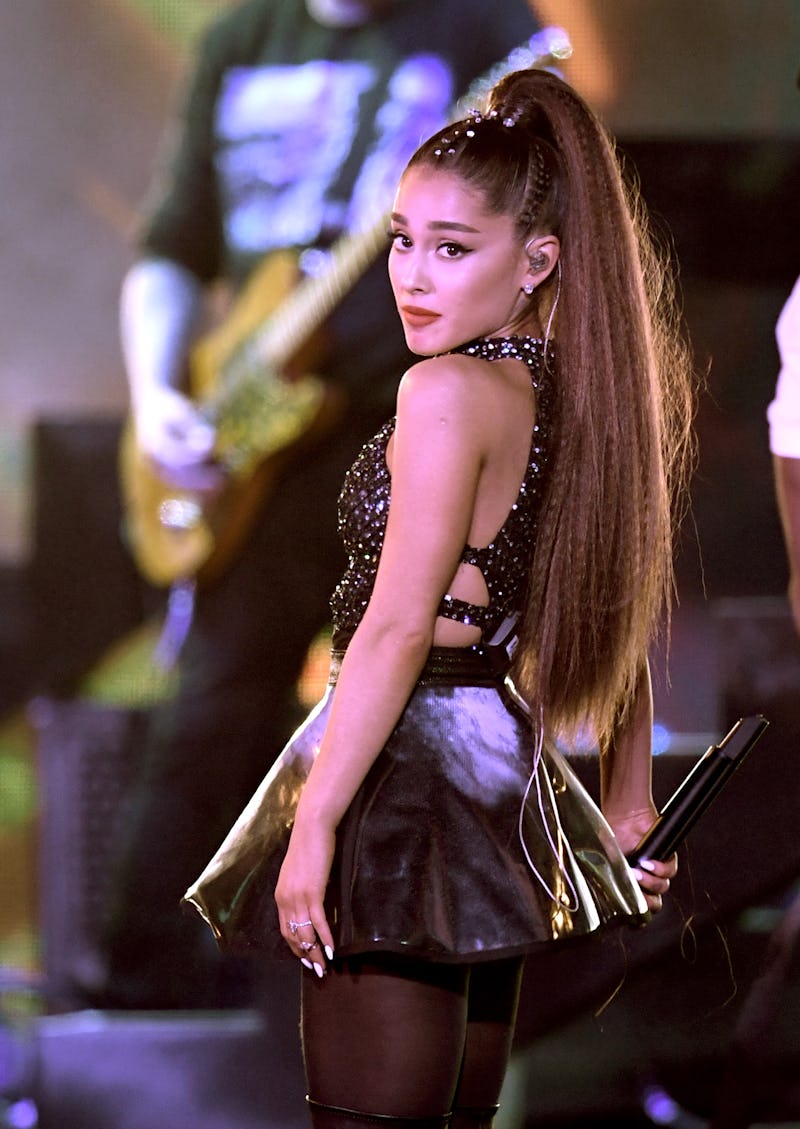 Kevin Winter/Getty Images Entertainment/Getty Images
There's nothing more synonymous with Ariana Grande than her ponytail (except an incredible voice, obviously). Sure, fans know her for her chart topping hits and her former days on Nickelodeon, but her pony is her signature. This week, someone came for it, and Ariana Grande's response to the ponytail hater is everything.
It's not like Grande has never had people comment on her ponytail. It's kind of hard for it not to come up given just has iconic the hairstyle has become. In fact, the look is so signature, that even the slightest change garners attention. On the cover for her upcoming album, Sweetner, Grande's pony is low, at the nape of her neck, and platinum blonde. The change actually sparked a conversation between Grande and The Fader about the evolution of her hair. While some may not see the changes as major, Grande herself explained that they represent her own growth through her career.
Clearly, she's going to defend her ponytail, right? According to Teen Vogue, Grande's stylist Mimi Cuttrell posted a photo of the singer walking with fiancé Pete Davidson. A very sassy troll decided to comment that they were tired of her signature pony, and Grande had time for them apparently. The singer politely but firmly responded, "I'm not."
Probably the most savage part of the whole thing is that it took Grande two words to basically own the troll, and that's because she's right. It doesn't matter if people hate the pony or want to see it gone if Grande still loves it. Plus, Grande actually tagging the commenter in her response is savage AF (in the best possible way).
Plus, it's not as if Grande has never switched things up with her hair. Not only has she ditched the ponytail for small bits of time in the past, but she's changed the color and style. In fact, her most recent iteration comes in the video for her new single, "God Is a Woman." In the video, Grande's signature look is lowered to the nape of her neck and braided down to her waist.
Of course, there's her Sweetner cover. While Grande's hair has been returned to its natural brunette, for the album cover and for a weeks, she was platinum blonde. In fact, she even walked the Met Gala red carpet with a blonde ponytail. Honestly, if it's good enough for the Met Gala, shouldn't it be good enough for an Instagram troll?
The thing is that people are kind of in love with the ponytail more than those who are over it. Even just the briefest of scans for people talking about her pony on Twitter yields results for people totally stanning the style.
Some people are convinced that Grande may have actually invented the ponytail, and tbh, it's not a bad theory.
Plus, where is the lie when people say it's iconic?
She is an effing ponytail inspiration!
People want to know her secrets!
While Grande would be just as talented and just as extraordinary sans ponytail, wouldn't people miss it? Given its now iconic status, it's become an aspirational hair goal, a Halloween costume, and for some, a cause of concern (because doesn't she have a headache?).
No matter what, though, Grande's ponytail doesn't seem to be going anywhere, and she's here to let people know from. No matter the iteration it takes, until Grande is good and ready to remove the signature look, people should probably get used to it. Because Grande's got time for the haters, and she's going to defend that pony.