This Is Why You Keep Seeing Olympians Wearing Tape Like Pore Strips On Their Faces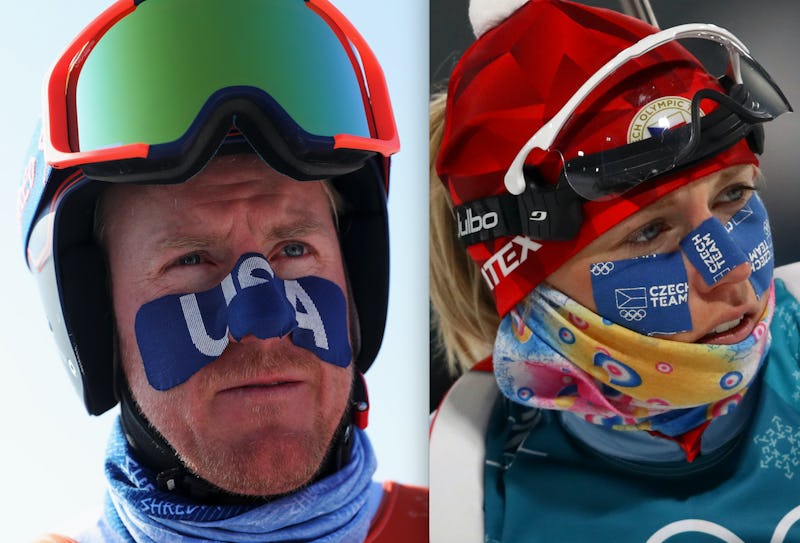 Alexander Hassenstein/Getty Images Sport/Getty Images; Ezra Shaw/Getty Images Sport/Getty Images
As the 2018 Olympic Winter Games continue, all eyes are on the talented athletes taking home shiny hardware. Everything about the competitors is up debate, from which Olympians are dating to who designed their Olympic uniforms to predictions based on their astrological sign.
But why Olympic skiers are wearing tape on their faces has to be the strangest query to surface so far.
As Olympians lift their goggles and remove the scarves shielding their facade from the blistering PyeongChang cold, many skiers seem to have one thing in common. Underneath all of the gear are hunks of tape in all shapes, sizes, colors, and prints. With so many athletes on the colorful tape bandwagon, you may have noticed by now, but shrugged it off as a bizarre fashion statement. After all, the tape may come across as an accessory given that some versions of it have team names printed onto them.
Surprisingly, the tape isn't just plastered across the faces of athletic heroes just for show— and they're not some weird pore strips either. Olympians are using the strips for protection against the chilly elements, a super practical use for the tape, though whether it really works for that purpose is up for debate.
Pictured with a gigantic, blue strip across his nose and cheeks, Team USA alpine skier, Ted Ligety, rocked a version with "USA" boldly printed on it. He is just one of many Olympians coping with freezing temperatures by slapping on KT Tape.
Yes, folks, these pseudo pore strips are Kinesiology Tape, "an elastic sports tape designed to relieve pain while supporting muscles, tendons, and ligaments", says the brand's website.
For something designed to alleviate pressure, discomfort, or pain in muscles, it makes no sense that athletes are using it as winer coats for their faces. Yet, medal-winning skiers are stretching KT Tape beyond its intended purpose.
The trend is far from just a team USA thing. Eva Puskarcikova from the Czech Republic was spotted with blue KT Tape sporting an outline of her country's flag.
Then there was Sari Furuya' representing for Japan, with neon tape beneath her under eyes.
France's Anaïs Bescond was also in on the action, proving many athletes got the memo to transform KT Tape into winter weather blockers.
"This is the first that we recall seeing athletes using our tape for battling frigid wind and air temperatures," Taylor West, a KT Tape spokesperson, said in a Today interview. "We do not have any prepared instructions for using the tape as a barrier for the cold."
According to KT Tape's explanation on the therapeutic aid, as lymphatic fluid builds in over-used areas of the body, inflammation and swelling occurs. The tape aims to lift the skin to get lymphatic fluid flowing, in order to transport white blood cells throughout the body. The end result is a reduction of discomfort in affected areas as the white blood cells in motion remove waste products, cellular debris, and bacteria.
Clearly, this athletic tape was never intended to protect from the chill. In fact, it isn't even recommended for use on the face at all.
"Generally speaking, we caution users against using KT Tape on the face and other sensitive areas because the adhesive on the tape is very strong and intended to stick to the skin for several days," West continued.
Despite cautions against using the pain reliever on the face, Olympians are still finding odd ways to make it through the games.
Of course, not all athletes are bending the KT Tape rules. When Mirai Nagasu wore a custom version of the tape during the figure skating competition, she had the right idea in mind, although the placement had the Twitterverse questioning whether she had a patriotic thigh tattoo.
Many Olympians are going to do as they please, however, whether it looks silly or makes any sense at all. If that means having KT Tape in places that it doesn't belong, then that's their strange, but creative, choice.