Why Does Mar-A-Lago Shut Down In The Summer?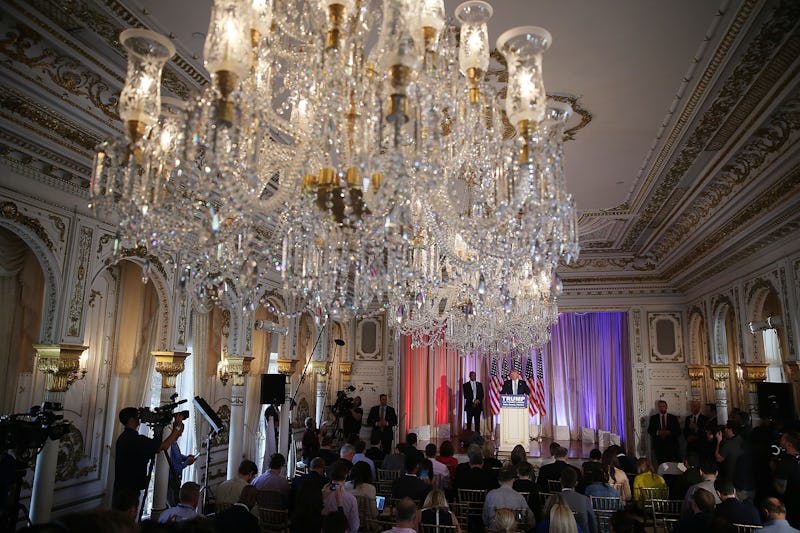 Joe Raedle/Getty Images News/Getty Images
In the 13 weeks since President Trump has been in office, he's flown down to Mar-a-Lago, his private club and preferred getaway, no less than seven times. That counts for about every other weekend, which puts him on a pretty amazing travel for leisure bender. But as anyone who has spent a summer in central Florida knows, the weather in June, July, and August can become unbearably hot and humid — not to mention it's also hurricane season. That's why Mar-a-Lago is getting ready to close up for the summer, and it's also why Trump is reportedly looking for a new place of escape from the White House for the next few months.
Residents in West Palm Beach are not necessarily dreading the POTUS hiatus, it seems. Laurel Baker, the executive director of the Palm Beach Chamber of Commerce, said that some hotels in the area were redirecting customers to their other locations, due to the traffic jams caused by Trump's visits. There are also protesters and counter-protesters whose noise the locals are less than happy with. And the community is concerned about how to pay for the extra costs associated with providing security for Trump and his entourage when they visit. Palm Beach County officials say that sum is already $1.5 million.
Trump is reportedly eyeing Bedminster, New Jersey, as his "Summer White House." The private club, owned by (you guessed it!) Trump, is situated in a small, rural community. And after Trump set up shop there for a few days right after the election, no one in the town seems excited at the prospect of having him back as POTUS.
Darren Samuelsohn and Kenneth P. Vogel of Politico reported that Bedminster locals are concerned about the impact regular Trump visits will have. A senior aviation medical examiner, Lorne Sheren, told Politico in reference to small, privately owned airports in the area that Trump coming to town "shuts us down when he's there."
But most worries seem to be about how much regular visits from the president will cost Bedminster. One woman raised this concern at a town hall meeting, asking, "West Palm Beach is a lot bigger than we are. Those people are a little more affluent than we are. Has there been any thought to that?" New Jersey Republican Rep. Leonard Lance has inquired about security funding, and while Assistant Attorney General Samuel Ramer informed him that $7 million of federal funds can be allocated to offset presidential travel, it remains unclear how that money gets divided.
Should Trump move his weekend destination from West Palm Beach to Bedminster, the most likely explanation remains the inhospitable weather of central Florida in the summer.