Here's How To Get Instagram's New Update (So You Can Doodle All Over Your Friends' DMs)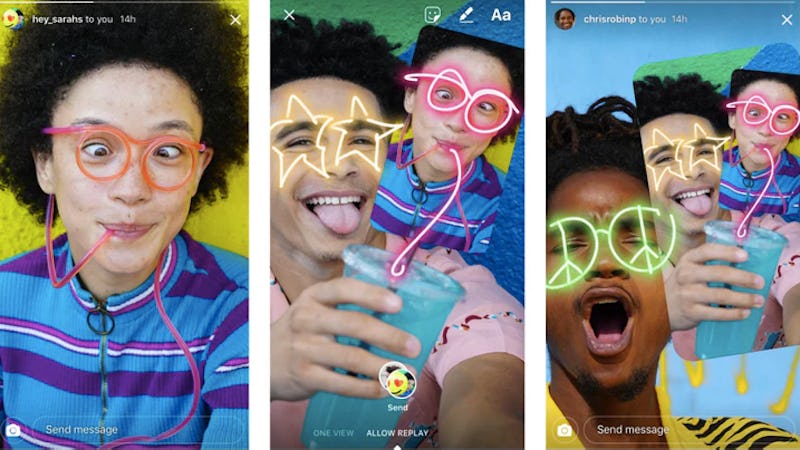 Instagram
If you're like me, the storage is probably usually full on your phone — which means that your apps don't automatically update. Apart from causing you to rack up a ton of updates that you keep putting off carrying out, you're probably always the last one to get new features on social media apps. For instance, on Tuesday, Instagram released an update, so now you may be asking yourself why you don't have the Instagram remix update whereas all of your friends already do. They're all enjoying the perks of his awesome update that lets your edit a DMed photo with whatever crazy decorations your heart desires — while you're in the dark, missing out, feeling the weight of FOMO, and wondering if you've been somehow selected to be the only person to not be offered the update. And while I totally get your anxiety, it's time to calm down. The internet gods are not conspiring against you — you're going to get the update, you just have to be patient.
As you might have noticed in the past, Instagram likes to roll out their new features slowly. They don't become available to everyone at the same time, it's really more of a trickle effect. They do this to avoid systemic issues. The more gradually they roll out the new features, the less complicated it will be to troubleshoot and pinpoint issues that might arise. That makes sense, right? We don't want the internet to crash because everyone's trying to draw inappropriately hilarious doodles on their friends faces at the same time, via the Instagram remix update. So no, no one's trying to keep you from the joy of an update, it's just how the system works. But if days are going by and you're still not noticing the new feature, here's what to do to ensure you do:
Check For Updates
First things first, head to the app store. If you haven't programmed automatic updates, and your phone is low on storage as is, you might just need to update the app manually. So find Instagram under the "Updates" tab in the app store, and make sure you're using the latest available version.
Log In & Out
If you've updated and you still don't see the new feature (mind you, you'll need to head to your private message tab and initiate a conversation with someone in order to see the prompt that introduces the feature), log in and out of the application — sometimes that does the trick!
Reboot
If you're using the latest version of Instagram, you've logged in and out, and you still don't see the option to remix a message to a friend, quit the app, and restart your phone. Likely, at this point if you don't see the app, you're having a technical glitch, and sometimes restarting your phone is all you need to reboot the app without issues.
Head To The Help Center
If you're still not seeing the option to remix in your DMs, and you've let a few days go by, you might want to start thinking about troubleshooting. Head to settings, scroll down to Support, tap on "Report a Problem" and explain your case to Instagram. Likely, by the time they respond, the issue will have resolved itself, but if you have a feeling your account is being glitchy, or you've had similar issues like this in the past, send them a note! They're here for you! When they've addressed your issue, you'll get a notification from Instagram regarding your report.
Try to be patient, good Instagram updates come to those who wait! In no time you'll be lowering your productivity at work because you're too busy sending remixed 'grams back and forth with your bestie, challenging each other's creativity and productivity skills, to be sure.