Elizabeth Reaser Prepared For 'Hill House' By Looking At Very Real Dead Bodies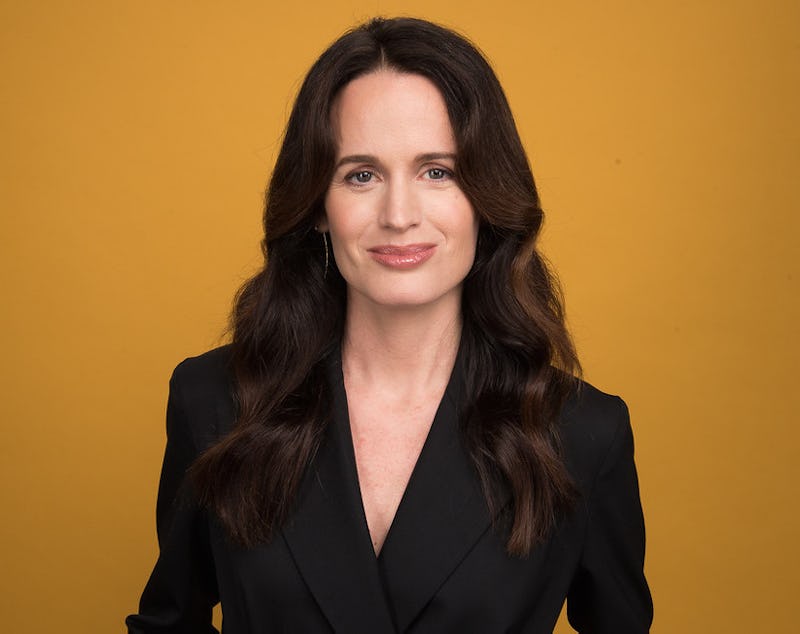 Courtesy of BUILD Series
Elizabeth Reaser is a bit squeamish. She doesn't like blood or guts, and she certainly doesn't like dead bodies. So when she signed on to play Shirley Crain on the Netflix horror series The Haunting of Hill House, Reaser was in denial about the fact that in order to fully step into the shoes of the eldest Crain daughter, she would have to take on not only all of Shirley's trauma and neuroses but also her profession as a mortician.
"I just was so excited to do it and I loved Shirley when I read it," Reaser tells Bustle over the phone. "And then of course the reality set in after being cast that this is her life, her job." In order to play Shirley, a woman who dedicated her life to mortuary science as a means to cope with the death of her mother, Reaser would have to fully immerse herself in her world. So she shadowed a mortician in Georgia, where she learned about embalming and restorative makeup, and looked at lots and lots of dead bodies.
Though Reaser wasn't exactly thrilled by the prospect of learning the stages of human decomposition, she's glad that the role pushed her out of her comfort zone. "When you think of the stuff that I got to do for Shirley, I mean, when do you ever get to go that hard on camera, you know? That's kind of the role of a lifetime," she says.
At a first glance, Shirley has grown up to be the least dysfunctional surviving member of the Crain family, each of whom were haunted in childhood by the various malicious forces at play in Hill House. She has been able to have a loving marriage, start a family, and establish a (mostly) successful career. But when I suggest to Reaser that her character might be the only one who's got it somewhat together, she very nearly laughs.
"It's funny to me that Shirley comes off as the least dysfunctional, I think she's running for her life at all times," she explains. "You know, she created a whole new family. She built a life where she didn't have to fear death because she's just in death every day... But I do think that she's haunted by [death] and by the experience of being [in Hill House] and her experience in the Red Room, you know, which is embedded into her life and into herself from that point forward."
Reaser had to take on some of that haunting in order to fully immerse herself in the role of Shirley. And though she was never frightened by what was happening on set, Reaser says shooting the show was like "grieving for nine months." Especially difficult were the scenes at the end of the series in which the adult Crains return to confront the house that has had a grip on them since childhood. "The Red Room stuff that we shot was psychologically very upsetting," Reaser explains. "It was terrifying but... I was never scared. It was more that I wasn't sleeping, because it was so dark."
In the Red Room, each of the Crain siblings has a vision that forces them to confront their own personal demons, their failings, and their biggest fears. For Shirley, that meant reliving a moment in which she had been unfaithful to her husband, an act of treachery that she views as unforgivable. On a personal level, Reaser says she can relate to Shirley's preoccupation with her own betrayal.
"I've made a lot of mistakes, but the stuff that like haunts me is the people that I've hurt along the way," Reaser says. "However big or small and however much that may or may not matter to them, it's mattered to me and it's the stuff that keeps me up at night. So I was very moved by the idea of Shirley, that [infidelity] being her secret and the thing that kills her."
In the vision, it literally does kill her — Shirley is confronted by an open casket containing her own body. "It's almost like a wish, you know... there's almost a wish in there because she hates herself so much for having betrayed the person she loves, regardless of whatever that marriage may be or may have been at that time," Reaser says. "She did something... that she equates with murder, I think."
Reaser dedicated a lot of emotional energy to Shirley Crain, but she also dedicated a substantial amount of her time to the role — especially in preparation for Episode 6. Titled "Two Storms", the episode has received widespread acclaim for the way long tracking shots were pieced together in order to create the appearance that the entire episode had been filmed in one massive take, fluctuating between the family confrontation taking place in Shirley's funeral home and the frightening storm rocking the foundation of Hill House.
Every member of the cast and crew had to nail their parts exactly right or the takes had to be thrown out, and Reaser says she felt that pressure acutely. "A lot of [the episode] is driven by Shirley, and I knew that if I dropped the ball in any way that the whole thing would sort of like collapse," Reaser says, adding that she began rehearsing the scenes on her own two months in advance of filming. "I just wanted to be able to be messy and unconscious and not thinking about it."
But Reaser doesn't linger too long on the ways in which playing Shirley was challenging. Mostly, she feels a deep appreciation for the chance to step into the shoes of a character she cared so deeply about.
"I just don't take any of this for granted," she says. "You just just try and plug along and hope for the best... I was blown away. I think we were all blown away by how people responded to [the show]."
It's clear that for Elizabeth Reaser, playing Shirley Crain was certainly difficult. But it's even more apparent that if being Shirley was a labor, it was one of love.