Gigi Hadid Is Accused Of Mocking Asian Features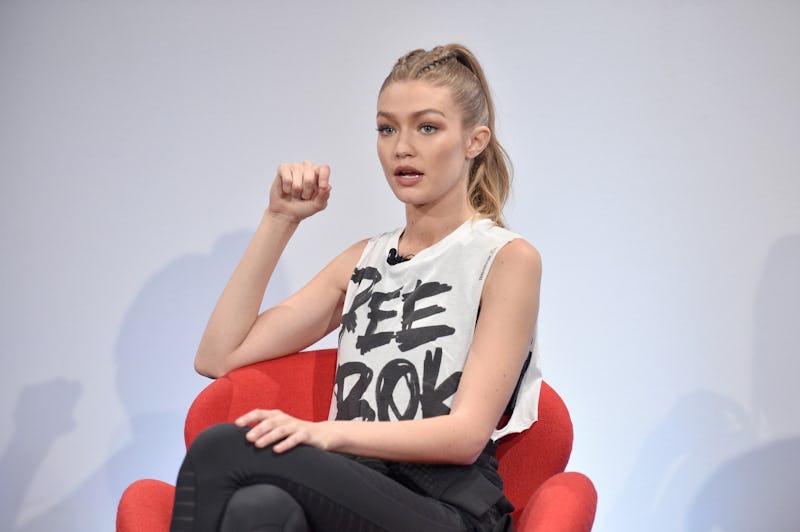 Bryan Bedder/Getty Images Entertainment/Getty Images
A controversial video showing what some view as Gigi Hadid making fun of Asian features recently surfaced online. The grainy footage shows the supermodel squinting her eyes at a birthday dinner while holding a cookie with the face of the Buddha on it. According to Us Weekly, the clip of Hadid was originally shared by her sister and fellow model, Bella Hadid, but was taken down. Bustle has reached out to Hadid's rep for comment, but has not yet received a response.
Hadid's move was swiftly deemed "rude, ignorant, and wrong" by critics on social media, and a fan account for Hadid's boyfriend, Zayn Malik, promptly reposted the video and labeled Hadid a "rat," according to Us Weekly. The account @zainzayns captioned the video, "This is y'all woke palestine queen? Gigi out here mocking Asian people. i would say she's cancelled but she never started. rat @GiGiHadid." The video has garnered more than 3,500 retweets and more than 4-thousand likes since it was reposted on Feb. 5.
Malik is part Pakistani, which led many fans of the singer to be extra critical of what was viewed as Hadid's insensitivity to Asians. However, Hadid's mother quickly came to her defense. Yolanda Hadid tweeted on Monday: "Only a toxic mind will perceive hugging a chocolate laughing Buddha as racist...#PracticeHappiness #PracticeKindness."
Yolanda's tweet was accompanied by facts about the specific depiction of the "Laughing Buddha," which Hadid was holding in the video: "The Laughing Buddha is cherished all over the world. He is found in homes, restaurants, places of business and so on. The Laughing Buddha is the Buddha of abundance and happiness."
Yolanda also tweeted in response to another Twitter user, "Color, shape, religion or race does not exist in the hearts of our family as we are a melting pot of all."
Malik also spoke out in defense of Hadid. When asked to share his thoughts by a Twitter user, Malik said, "trust me.. she likes asians."
This isn't the first time Hadid has been called out for what some believed to be insensitive behavior. Back in November, faced backlash for her impression of Slovene-American First Lady Melania Trump, whom she poked fun at while hosting the American Music Awards. Hadid apologized for her impression and wrote the following message on Twitter:
Hadid has yet to speak out about the incident involving the Buddha cookie.