Lena Dunham's New Show Is Basically 'Girls,' But with Gen Xers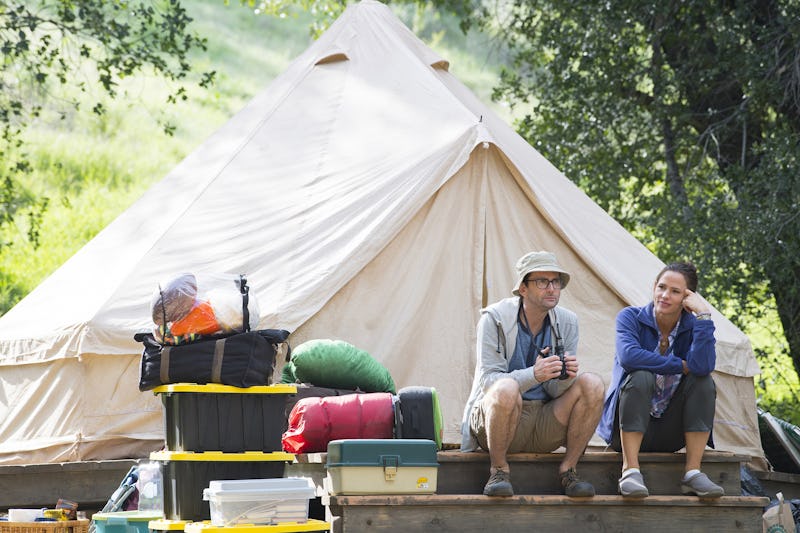 Anne Marie Fox/HBO
Spoilers for Camping's Season 1 Premiere ahead. The first scene in Lena Dunham's new comedy, Camping, is Kathryn (Jennifer Garner) jumping for joy. Audiences soon learn she's posing for her young moms with chronic pain Instagram account (it's cresting 11,000 followers), and it's also the last time they see her acting carefree. She is the very definition of the uptight, Type-A mom, and Kathryn isn't the only archetypical — or infuriating —character in the series. Which is exactly why Girls fans will like Camping. It still features the complex, self-parodic, love-to-hate-'em characters — they're just a little more grown up.
The most obvious stereotype is Kathryn, an aggressively Type-A 40-something who suffers from chronic pain and strictly regiments every aspect of her life. For her husband Walt's (David Tennant) birthday, she plans a weekend in the woods with their friends — but upon their arrival at the campsite, it becomes clear the loose freedom of the great outdoors is not her idea of a good time. She's carefully planned out every minute of their day, so when everyone wants to go swimming in the lake instead of bird watching, it throws her for a loop. "Swimming is tomorrow!" she yells helplessly as everyone runs into the water. "It's on the schedule."
And then there's Walt, Kathryn's passive but sexually frustrated hipster-nerdy husband. He dotes on his wife and admires her organizational skills, but clearly wants to be a bit more carefree than their rigorous schedule allows. There's also the fact that he's a little too into Kathryn's sister, Carleen (Ione Skye), who appears to reciprocate the interest. She seems to have her head in the clouds and shows up to camp in a knitted sweater embellished with hearts. Her drug-addict husband, Joe (Chris Sullivan) is the tough guy who doesn't say much but seems a bit worse-for-wear.
However, the true cherry on top of this eclectic bunch is Jandice (Juliette Lewis). She's that person who has upwards of 20 caftans, does yoga in the middle of the day, and is almost uncomfortably open about nudity and sex: She's introduced literally straddling the recently separated Miguel (Arturo Del Puerto), and later strips down naked in front of the whole group to go skinny dipping in the lake. She also hates hospitals ("They actually make you sick," she claims), distrusts "big vita," and has several jobs, including a DJ, reiki healer, nut cheese merchant, figure drawing model, and notary.
The cast is rounded out by George (Brett Gelman), who's literally wearing a sweatshirt emblazoned with "Douche" (sorry, Douché), so it's pretty obvious what his role is. In fact, his wife Nina-Joy (Janicza Bravo) seems to be the only one with two feet firmly planted on the ground — the audience surrogate who has no idea how she got stuck with all of these weirdos.
But while everyone on this disastrous camping trip is one extreme or another, the backdrop of the woods is an interesting social experiment to see how they all act when taken out of their comfort zones — something Dunham herself has said was inspired by Girls' bottle episodes. It's definitely not the same show: a tent in the woods is a far cry from urban Williamsburg, and a floundering 20-something Kathryn is not, but the bones are there. The characters may be a little older than Hannah and her crew, but they're certainly not wiser — or any easier to like.