Why Heather Leaving 'RHOC' Could Be A Good Thing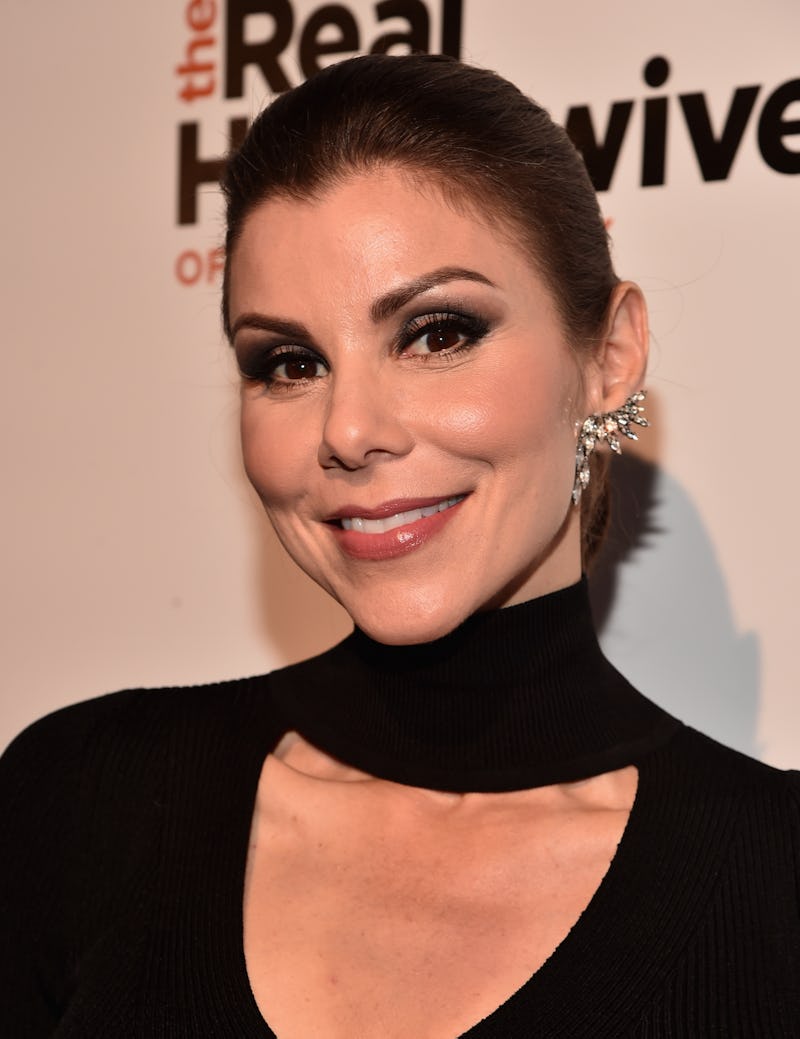 Alberto E. Rodriguez/Getty Images Entertainment/Getty Images
I was honestly pretty shocked when I found out that Heather Dubrow would not continue to be a cast member on Real Housewives of Orange County. It's not that she was such an integral part of the show that I can't imagine watching it without her, but I just couldn't believe that she would leave such a great platform for all of the other ventures she has going on. To be honest, I think that Heather Dubrow leaving Real Housewives could actually be a good thing.
I feel bad for sounding like such a hater right now when I was such a big Heather fan for years, but it really seems like her time has come. I don't feel too bad for her, though. She is happily married and lives in her mega mansion with her kids. If anything, I bet that she feels relieved to rid herself of the drama.
Unfortunately, for most cast members, there is only one "OG of the OC" and that is Vicki Gunvalson. She is the only woman who has been around from the very beginning of Real Housewives of Orange County. So, if you think about it, after the 11 seasons that this show has been on TV, it's really more the norm for there to be a revolving door of Housewives.
Sorry Heather, but this breakup is really for the best and there are a few seasons why.
1. She Will Not Be Involved In The Cast Vs. Vicki Drama
When last season ended it was Tamra Judge, Shannon Beador, and Heather against Vicki Gunvalson and her sidekick Kelly Dodd. Now, Heather will only get to see the Housewives she actually likes and hopefully one person involved in this feud will dissolve it because it's getting old.
2. She Can Spend More Time With Her Husband & Kids
Heather's main story line last year was that she wanted to have more family time. Now that she isn't obligated to attend cast dinners and trips, she can prioritize and spend more time with Terry Dubrow and their children.
3. She Won't Have To Deal With The Fallout From Last Season
To be clear, I was a Heather fan right from the jump. This is why last season was so tough to watch. Heather got caught up in Shannon and Heather's battles and came off like she was a part of Mean Girls-like crew pitted against Kelly. It was not a good look and the fandom spoke up about it on social media. Now, Heather won't have to deal with the repercussions and the viewers can move on in a new direction.
4. Fans Won't Have To Watch Her Bragging About Her Mansion
I hate, hate, hate, when the Housewives have story lines that focus on their mansion construction and/or decorating. No one cares about that. We want to see people arguing at dinner parties, throwing shade, and gossiping, not talking about wallpaper and security measures that no normal person could ever afford.
5. Her Story Lines Had Fizzled Out
I know that every Housewife is a business woman, but it's important to have a balance between talking about your products and having social story lines with the other women. Other than taking up for Team Tamra and Team Shannon, she really didn't have too much else that got aired.
6. She Won't Have To Worry About Anyone Messing Up Her Cakes
Pretty much every time Heather threw an event, someone came in and messed up an extravagant cake. I will never forget Heather flipping out when someone ate the frosting bow of the cake at her naming party. Yes, she had a party to celebrate changing her last name after years of marriage. I'm sure Heather will be relieved to not worry about cakes getting messed up all the time.
7. She Can Take On More Acting Jobs
Instead of getting caught up in other people's drama, Heather can just act out the fictional kind by taking on more acting roles.
8. She Can Come Back As A Friend
She should pull a Camille Grammer and come back here and there to share her commentary on what's going on with the other ladies. Camille has zero conflicts, she comes to the big events, talks in on-camera interviews, and then she goes on her way. That's the way to do it: all of the exposure without being an actual cast member, but none of the annoying obligations.
9. She Won't Have To Be In Uncomfortable Situations
Heather's nickname is "Fancy Pants" for a reason. She is a conservative lady and proud of it. Now she won't have to be around language and drunken antics that she doesn't approve of. And the viewers will feel more at ease without feeling vicariously uncomfortable on Heather's behalf.
10. The Remaining Cast Members (& Viewers) Can Have A Fresh Start
Last season got pretty ugly. There was a lot of fighting going on between the ladies. A change in cast members will, hopefully, give everyone a fresh start to take the show in a different direction.
If it wasn't Heather leaving, it was going to be someone else. This show really needed to reinvent itself and hopefully a change in the cast will breathe new life into the situation. It's been a good run for Heather, and I'm sure she will be back eventually in some capacity. Once a Housewife, always a Housewife.