What You're Already Getting Wrong About Marvel's First Female Villain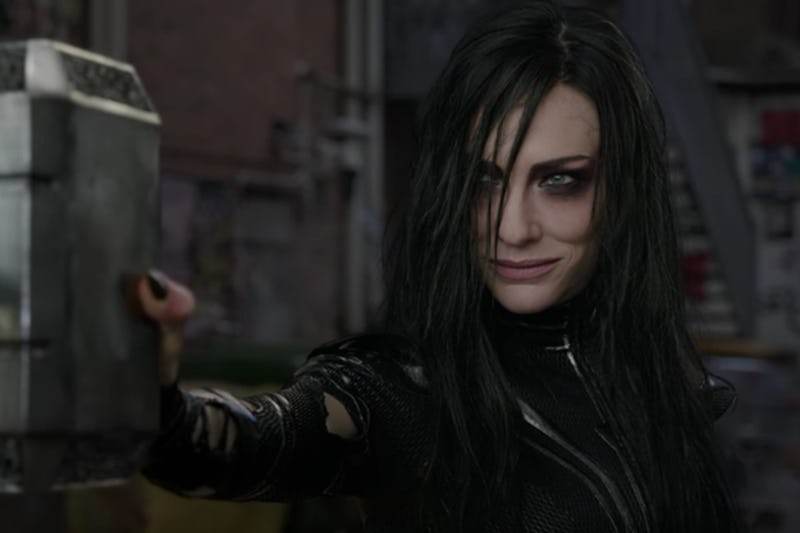 Walt Disney Studios
Thor and the Hulk may be the heroes at the center of the upcoming Thor: Ragnarok, but anyone who watched the trailer for Marvel's new movie knows that the real star is the monstrous, headdress-wearing Goddess of Death, Hela. As played by Cate Blanchett, the character has a huge impact on the events of Ragnarok, out Nov. 3. But if you think that's only because she's the first female villain in Marvel movie history, think again — as Blanchett's co-stars tell reporters on the movie's Australia set, Hela's importance goes way deeper than just her gender.
"I think [Loki] and every other character completely underestimates her power," says Tom Hiddleston, sitting down with press during a break from filming. "She is invincible. She is all powerful, and so everything about her is surprising to Loki and to Thor, as well."
"It's so far from anything I've seen before," adds Chris Hemsworth, aka Thor. "As intimidating and scary as it is... you have an empathetic feeling towards her a lot of time for what she's doing. You're kinda like, 'ah, she's got a point maybe.' And then you've gotta remind yourself, she's trying to kill us all."
The fact that Hela is the MCU's first female villain is not insignificant, of course; superhero films often have far too few women in their casts, and so the introduction of a major female character, especially one in the traditionally male role of villain, is a huge deal. But it's also seriously cool that Hela's importance in the newest Thor film isn't based only on her gender, but also on her ability to fight Thor and cause mayhem in the Asgardian world.
"Thor in the films has never fought anyone tougher than this lady," says Ragnarok director Taika Waititi, before adding with a grin, "One of the first things [Blanchett] said to me was, 'You know. I just want to punch people. I just want to do something where I get to have fun.' I'm like, 'kids are gonna enjoy watching this.'"
In the trailers for Thor: Ragnarok, Hela is shown to have previously invaded Asgard and caused chaos, and now, she's intent on bringing about Ragnarok, aka the apocalypse. Thor, Hulk (Mark Ruffalo), Valykrie (Tessa Thompson) and even Loki team up to fight her, but the villain's power — at one point, she easily crushes Thor's hammer — is enough to pose a real threat. Clearly, Hela is "very tough" with "amazing powers," as Waititi explains. But that's not to say that she's all brawn and intensity; as the director makes clear, she's a truly complicated character, not a cliche antagonist.
"For me, she's the most interesting villain," Waititi says. "She is multidimensional. She's layered. She's troubled. She's really funny... I think it's gonna be really satisfying to people. She's f*cking amazing."
The same could be said for Blanchett herself, at least according to Waititi and his cast. "I'm in love with Cate. And my wife is, too, so I can say that," jokes Hemsworth. Adds Hiddleston, "I think she's going to blow people away, put simply. She is a naturally incredible, powerful actor and she's brought all that power and wit to this part. It's gonna be cool."
And while it's unknown just yet if Hela will continue to be a big presence in the Marvel world after Ragnarok ("When and how she plays into the future of the universe is uncertain now, at this point," says producer Brad Winderbaum), it's crystal clear that her time in this Thor movie will be nothing short of unforgettable.