This One Tweet Calls Out Hugh Hefner's Problematic 'Playboy' Legacy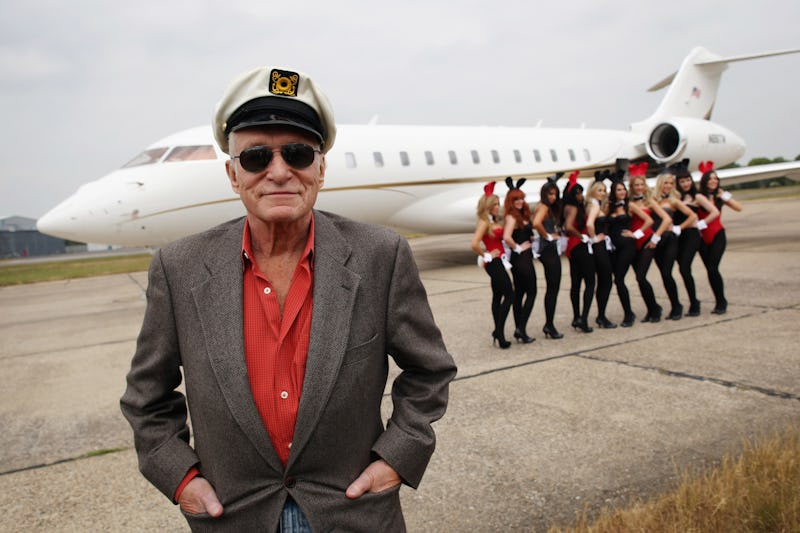 Dan Kitwood/Getty Images News/Getty Images
On Wednesday night, Playboy Enterprises announced that its founder Hugh Hefner had died at 91 years old. But Twitter's reaction to the news was anything but unified. While some social media users remembered the businessman's contribution to LGBTQ rights or abortion rights, others noted that he's been accused of sexually exploiting women in the Playboy Mansion and heavily controlling their own personal lives. And these allegations embody just a few reasons why Hefner's Playboy legacy is so problematic.
Hefner published the first issue of Playboy in December 1953 and began embracing the sexual revolution, among other liberal causes like abortion rights and birth control. "Playboy fought for what became women's issues, including birth control," Hefner said to Vanity Fair during a 2010 interview. "We were the amicus curiae, friend of the court, in Roe v. Wade, which gave women the right to choose [abortion]. But the notion that women would not embrace their own sexuality is insane."
And when it comes to supporting the LGBTQ movement, Playboy featured Caroline "Tula" Cossey, a transgender woman, in a pictorial in 1991 — long before transgender rights and issues were widely recognized. 34 years later, Playboy interviewed Cossey and she insisted that Hefner had been both accepting and welcoming. "I had done pinups and calendars and glamour shoots, but to be the first transsexual in Playboy, I felt absolutely honored. I remember being invited to the Mansion to meet Hugh Hefner," she said. "He looked into my eyes and I immediately knew he felt my story. He felt my cause."
But Hefner's support for progressive causes is just one way to look at the story of his life. Another is summed up by this tweet:
In his interviews — especially the 2010 Vanity Fair one referenced above —Hefner presented conflicting views when it came to women's sexuality.
"But feminists still oppose you for treating women as objects," Vanity Fair's John Heilpern told Hefner. His response: "They are objects!" So, it's not difficult to see why feminism pushed back against not only the magazine's exploitation of women, but also his exploitation of women. And remember — in the same breadth during that interview, Hefner insisted that he had pushed for women's rights. Clearly, there was some inconsistency.
First-hand accounts of what life in the mansion was like also put Hefner's sense of women's rights into question. In 2015, author and former playmate Holly Madison talked with Buzzfeed about life with Hef. For one thing, Madison alleged that she was never given the chance to consent to having sex with Hefner. Instead, she claimed, it was just expected after she'd moved into the mansion. "And I knew something went on. I'm not stupid," she told Buzzfeed. "But none of the girls would ever really admit to it or talk about it."
She also claimed she wasn't allowed to wear red lipstick, and that Hefner was reportedly critical of her looks, telling her, "You look old, hard, and cheap" with short hair. Then, Hefner reportedly forced her to quit her waitressing job at Hooters, something that had helped her maintain a sense of independence. Eventually Madison became extremely depressed, developed a stutter, and told Buzzfeed that she had even contemplated suicide.
Hefner's spokesperson released a statement to Buzzfeed in response.
Over the course of my life I've had more than my fair share of romantic relationships with wonderful women. Many moved on to live happy, healthy, and productive lives and I'm pleased to say remain dear friends today. Sadly, there are a few who have chosen to rewrite history in an attempt to stay in the spotlight. I guess, as the old saying goes: You can't win 'em all!
It's worth noting that even though Hefner denied Madison's account of living in the mansion, he didn't mention anything about the importance of empowering women to lead independent lives. This missed opportunity does enable toxic masculinity in men who already may ridiculously believe they have the right to control women.
And as The Guardian's Rose Hackman noted in "The Playboy problem: has the brand ever endangered women?" the brand oftentimes portrayed women as sexually available "girls next door." After all, the magazine was intended to bring men — not women — pleasure. This depiction of women perpetuated the patriarchal male gaze that already dominated film and television — and still dominates it. In other words, women are usually photographed or filmed from a male's perspective. And that perspective is always sexualized in some way or another. And women should feel empowered to be sexual. But the male gaze often sacrifices depth of character for lustful glimpses.
Still, there are other Twitter users who insist that this topic should have been discussed when Hefner was alive — not hours after the announcement of his death.
But I'm not judging whether or not Hefner was all "good" or all "bad." I'm simply looking at the bigger picture, in hopes that it'll lead to a fruitful discussion about the line between sexual freedom and sexual exploitation.