How New Bachelor Arie Earned His Passionate Nickname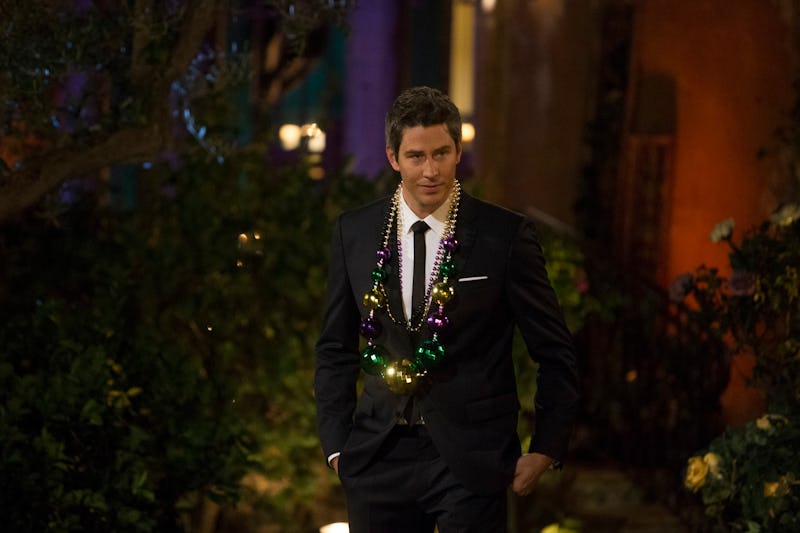 Paul Hebert/ABC
Arie Luyendyk. Jr. will take center stage on The Bachelor on Jan. 1, and while he's a successful guy and a veteran of the franchise, what may put him ahead of the pack are his kissing skills. Many fans probably don't remember every detail of the race car driver's time on The Bachelorette in 2012, but they have to remember his smooch game. Arie was known as called "The Kissing Bandit" on The Bachelorette, and that name could follow him to his stint as The Bachelor too.
Arie has been in the running to be the Bachelor since he didn't win Emily's final rose on The Bachelorette Season 8 back in 2012. When Arie became the runner-up to Jef Holm, fans were shocked, as Arie had been a clear frontrunner since the beginning. Arie also lost out in the race for the Bachelor title the following season to third place finisher Sean Lowe. Sean would go on to be a very popular Bachelor who started a love story with Catherine Giudici during his season. But now, many longtime Bachelor fans are excited to see Arie's return, which will include his signature love of the makeout.
Arie's kissing was so beloved by Bach Nation that it inspired fan videos, like the one above below, which is titled "How To Kiss Like Arie Luyendyk, Jr." The most famous one is probably his up against the wall kiss with Emily, which has obviously been turned into a gif. It seems like a given that his willingness to lay one on Emily anytime and anywhere helped him get to the top 2. And perhaps kissing several of the women lining up to look for love with him could help Arie narrow down the field. After all, chemistry is a huge deal and you can tell a lot about a person from a couple of makeout sessions.
Fans are pretty excited to get Arie on camera and looking for love again, including Bachelor and Bachelorette alum Ali Fedotowsky. Ali spoke to Elite Daily about Arie's Bach calling card and what this could mean for his season. She said:
"I remember watching him kiss Emily Maynard on her season and being like, 'Oh my god, that's, like, the hottest kiss I've ever seen!' So, I feel like there's going to be a lot of really, really intense kissing on this season — which is going to be kind of hot but kind of gross, too. So, I feel like I'm going to be kind of looking away at some points, but I wish him the best."
The promo for Arie's season was recently released and it does in fact feature quite a bit of kissing and also quite a few tears. And that's a good combination for a solid season of The Bachelor. Arie went on Good Morning America to talk about what kind of Bachelor he'll be. He was asked about the nickname he earned with Emily and whether he'd keep that title this year. He said:
"With the right woman. Obviously, there's got to be that chemistry there. Emily and I had it previously, and I'm hoping to find that type of love. For sure."
So who's "the right woman?" Arie also clarified for GMA exactly what he's looking for, and that's a full-time, real commitment. He said:
"I'll be 36 in a few weeks, so for me it's time ... All my friends around me have kids and have grown up ... I feel like I'm the last one of my friends to really take that step and now my little brother got married, he's 24."
Arie may have been a surprising choice for this year's show, but he's got one big Bachelor superlative going for him. He's probably the most enthusiastic if not the best kissing who's ever been on the show. And that's good news for several of those contestants.