BBC's 'Les Misérables' Adaptation Will Differ From The Film In One MAJOR Way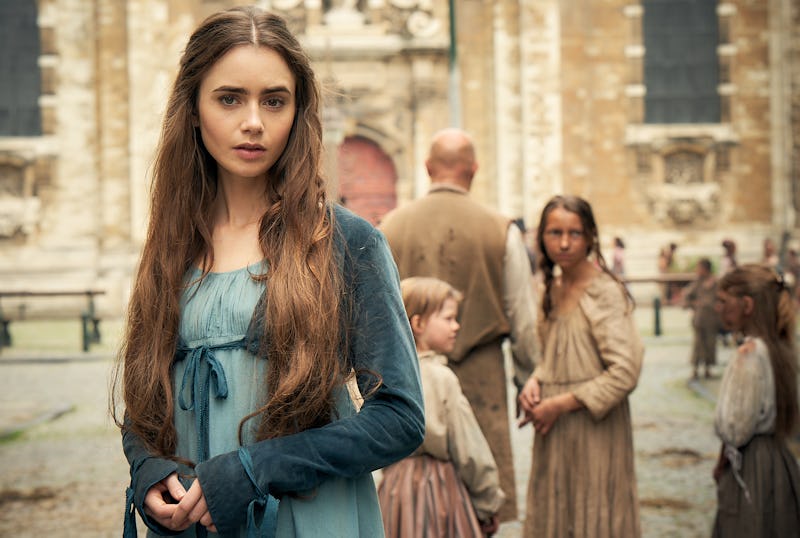 Les Miserables / BBC Pictures
Do you hear the people sing? Maybe, but the music definitely isn't coming from BBC One's upcoming Les Misérables adaptation. The story written by French novelist Victor Hugo and popularised by the stage and movie musical of the same name is getting a cut and dry television adaptation. There won't even be a whisper of Hugh Jackman or Anne Hathaway's vocals however, as screenwriter and producer Andrew Davies has no time for the musical's iconic score. So, why is BBC's Les Miserables not a musical? It comes down to a couple of things, but it certainly doesn't help that Davies doesn't have a high opinion of the West End production.
Back in 2016, Andrew Davies was asked about his upcoming project and whether or not somebody would bust into a rendition of On My Own amidst the drama. It seems like it was pretty unlikely as he revealed to The Guardian, "I have a dreadful memory of the musical." He continued, "I thought it's important that people realise there is a lot more to Les Misérables than that sort of shoddy farrago. The book needs a bit of a champion." And well, it sounds like Davies is the man to do it as he's the master of book-to-screen adaptations.
Les Miserables/BBC Pictures
Les Miserables/BBC Pictures
He's written screenplays based on other famed novels in the past including Pride and Prejudice (yes, the Colin Firth one), Sense and Sensibility, The Three Musketeers and 2016's War & Peace. On the more current end of the spectrum, he's also been responsible for two mammoth franchises based on books: both BBC's and select episodes of Netflix's House of Cards, as well as Bridget Jones' Diary.
It seems pretty impossible that we're not going to hear even a snatch of Jean Val Jean's booming vocals, but there's a tiny fragment of hope if you're a musical stan. He relented, "Nobody sings. Well they might sing the odd song but they don't yell great things like they do in the musical."
I'm not going to lie, I'm a musical kid at heart so this news cuts deep. However that said, the original Victor Hugo novel is widely regarded to be a masterpiece and Davies probably has a point that it needs its time in the sun. (The musical's already gotten its own Tom Hooper movie, after all.) Given that the first trailer has just dropped below, I'm starting to come around to the idea TBH — especially because the cast is absolutely stellar.
Leading the six part BBC One series is The Hour's Dominic West, who will be playing Jean Valjean alongside 12 Years A Slave's David Oyelowo, as his eternal rival Javert. Fantine will be played by Lily Collins, while Adeel Akhtar will be playing Monsieur Thernadier and Ellie Bamber will be played Cosette. The new cast of Netflix's The Crown will also be making an appearance as Josh O'Connor (who will be playing Prince Charles) is taking on the role of Marius while Olivia Colman (who will be playing Queen Elizabeth) will be playing Madame Thernadier.
It's set to be a pretty mammoth project as it's being co-produced by BBC Studios, Lookout Point, and Masterpiece. Although there's no exact release date confirmed, the BBC did reveal that the six part series would air at some point next year. Fingers crossed it's the earlier half, if they've already got a trailer together than hopefully that means they're nearly done and dusted with the rest of the show.