Why K. Michelle Is Returning To 'Love & Hip Hop' After SWEARING She Was Finished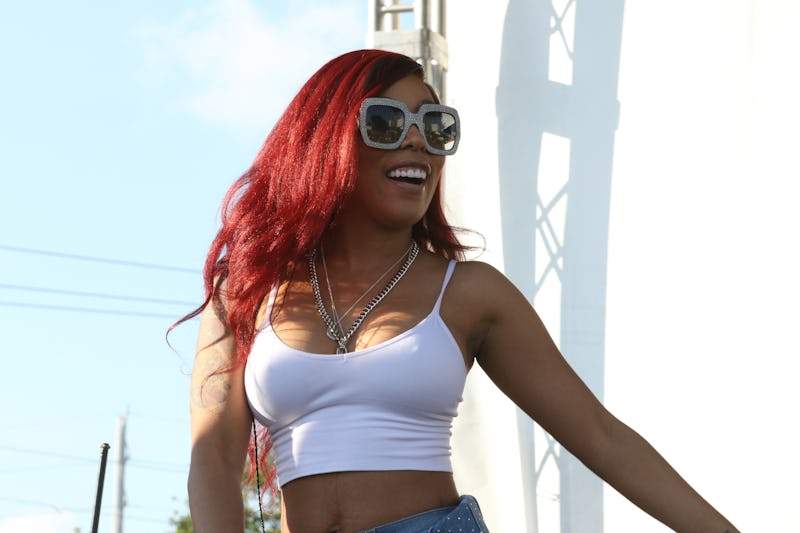 Aaron Davidson/Getty Images Entertainment/Getty Images
Back in 2017, the successful R&B musician and Love & Hip Hop veteran K. Michelle announced on Instagram that her reality TV career had come to an end. That was after she'd made appearances on Love & Hip Hop Atlanta and New York, and she also helmed her own reality show on VH1, appropriately named K. Michelle: My Life. Fast forward to 2018, and she has changed her mind. It's possible that she wasn't including the the West Coast in her earlier proclamation, because now, she's slotted to appear in the upcoming premiere of Love & Hip Hop Hollywood on Monday, July 23 at 8 p.m. Third time's a charm, right? Regardless of her reasoning, K. Michelle is returning to the small screen for sure.
First things first — now, it's Kimberly. For the sake of the upcoming season, the 34-year-old has allegedly decided to abandon her long standing stage name of K. Michelle for, possibly, something more mature. "Kimberly is more grounded and more mature and you all will witness this calmer side of her on this season on Love & Hip Hop Hollywood," Sarah Michel reported for VH1. The star told her she has done a lot of growing up since first appearing on Atlanta back in 2013. For her, her tenure on reality television has been a "journey of enlightenment, ups and downs, cursing b*tches out, hugging them, becoming a better woman, [then] back to being a shady b*tch again," she said. But she's approaching this season with a fresh, new perspective. "I've learned now that no matter how much I try to please I'll never please everyone," she said. "At this point in time it's about me pleasing self."
Since the start of her music career, she's released a slew of successful beats. It began with her single, "Fakin' It," which featured Missy Elliot, and that set her up for success with many more charted hits, according to Billboard. Her 2013 album, "Rebellious Soul" topped the U.S. R&B/Hip Hop album Billboard charts. That album's success warranted Rebellious Soul: The Musical, which was directed by Golden Globe winner Idris Elba and broadcasted by VH1. She has since released three more successful albums, pioneered her own reality show, and become the first Black ambassador for Jack Daniels to collaborate and create a custom cocktail for the masses (and it looks delicious, to boot).
So, while she's quite the successful business woman, that doesn't mean there will be no rustling of feathers on her upcoming season of LHHH. Back in June, she shared an ambiguous tweet about being "done" with the show, again. Someone asked her about being on the upcoming season and she wrote, "Im not love. Done done."
Someone replied to that tweet with confusion. "But you were on the commercial," the user wrote. "Was looking forward to seeing you. I'm confused." K. Michelle replied, "F*CK that commercial. Done done."
The commercial she mentioned is one that used complications with her recent plastic surgery as a promo for the show, referring to it as "botched." In 2017, she began experiencing painful symptoms that were reportedly the result of illegal silicone injections to her rear and hips, according to People. "I wanted to look like a Coke bottle," she told the publication. She said that she has since undergone four surgeries to remove the silicone, which has spread to her legs and thighs. Since then, she has traveled a long road to recovery.
"When I did my procedure I went to a person some of the hugest celebrities out today have used, nothing cheap about it," she claimed on Instagram. "I followed the trend and that was [one] of the worse decisions of my life."
Now, she's preaching self love to all of her followers, in hopes that they don't have to learn the lesson the same way she did. And now that the new LHHH season about to air, fans are excited to see her on screen again. She told one fan on Twitter that it's going to be a "good season."
So will now-Kimberly make a lasting appearance on LHHH Season 5? Fans will have to wait and see.