Migos' Serious Reason Behind Their Album Title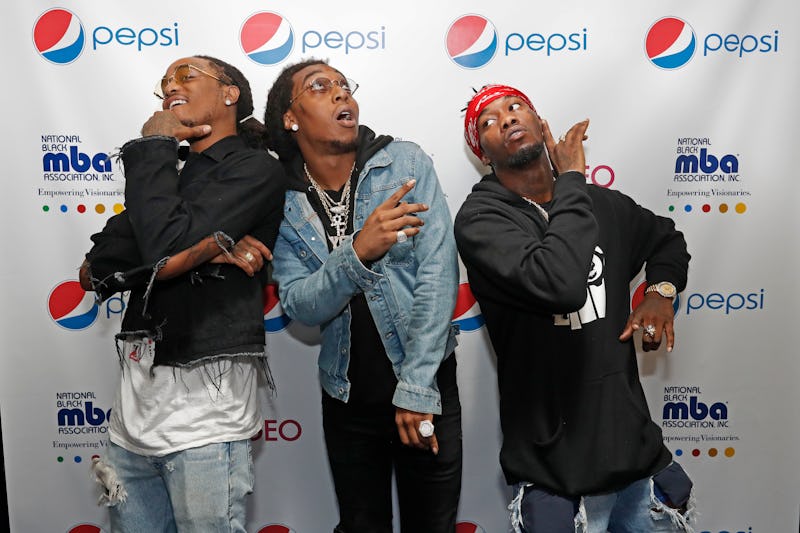 Tyler Kaufman/Getty Images Entertainment/Getty Images
Decked in "Versace" and always ready for a "Fight Night," Georgia hip-hop trio Migos just dropped new music for the "Culture." With their lead single "Bad and Boujee" number one on the Billboard Hot 100 chart, the Migos continue to create music that is seeped in southern hip-hop yet catchy with crossover appeal — hence the title of their second album — Culture.
Up until Atlanta creator and fellow hip-hop artist Donald Glover epically gave Migos a shoutout during his acceptance speech for Best Comedy Series at the Golden Globes, Quavo, Takeoff, and Offset were relatively unknown to the mainstream audience. But Migos have been shifting pop culture for the past couple of years. Remember how big the "Macarena" was in the '90s? The "dab" is arguably our modern day equivalent thanks, in part, to none other than the three Migos. Their hit "Look at My Dab" gained national attention after Carolina Panthers quarterback Cam Newton adopted the move as his signature touchdown dance in 2015.
But for those who are still unfamiliar with the often imitated but never duplicated trendsetters, the Culture album is here to let you know what's up. In an interview with Fader magazine, Offset said now is the time for not only the group but also, and perhaps more importantly, hip-hop to shine:
"The new album title is about the culture of hip-hop music. It's time to let the culture be known. It's time to claim it. And it's time to claim that we are the Migos, and for people to understand that this is what we did. We did a lot for music. Migos is the culture. Seriously. There are artists that are way bigger than us that get recognition off our flow."
On the first track, also titled "Culture," Takeoff raps, "Kept me runnin' from the cops (cops)/ Don't buy the car, we want the lot (skrt skrt)/ I need everything in stock (stock)." In laymen's terms, for the group of young men from Lawrenceville, Georgia, the Migos don't just want a piece of the pie, they want the whole bakery. For Quavo, keeping a humble attitude is key when it comes to the groups popularity. "The rap game is only as long as you want to make it," he told Fader. "You can't get too excited about the accomplishments that's coming." As for Offset, Migos current recognition as trailblazers is a long time coming. He told Fader,
"We always had flavor. Off rip, we felt like: You just not better than us. This music come out my heart, my soul. It's oozing out. There will never be a group like us, ever. God is giving us the blessings now. And you know, we work hard and we deserve it."