Why Is OJ Simpson Eligible For Parole?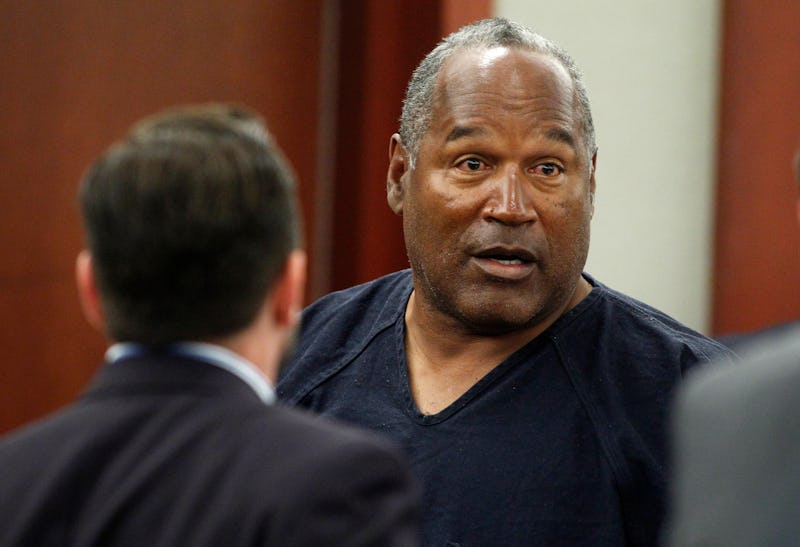 Pool/Getty Images Entertainment/Getty Images
More than 20 years have passed since his first trial in 1995, and the man at the center of one of America's biggest true crime obsessions may be freed from prison. Simpson was famously acquitted of the murders of his ex-wife Nicole Brown Simpson and her friend Ron Goldman, but found himself in prison in 2007 for armed robbery. With his colorful history, many wonder why is OJ Simpson eligible for parole?
As Simpson approaches the end of his 9-year minimum sentence (out of a possible 33-year sentence) for kidnapping, armed robbery and assault with a deadly weapon, he could soon face freedom. That is, if the four members of the Nevada parole board commission decide so.
The hearing itself will take place on Thursday, July 20, and will involve a video conference between Simpson, who resides at Lovelock Correctional Facility, and four Nevada parole board members. The parole board will consider a few key factors when considering Simpson's possible release, perhaps most notably: his age and behavior in prison.
"Simpson's age, the fact that he was given parole on the first sentencing batch, weigh in his favor. So does the fact that he was by all accounts a model prisoner, as does any acceptance of responsibility for his actions," Nevada defense attorney Dan Hill told CNN.
Simpson's legal eligibility for parole is due to the fact that he's almost completed his minimum sentencing. However, the actual possibility of him being freed relies far more on his good behavior in prison and the fact that he's already 70-years-old.
"Assuming that he's behaved himself in prison, I don't think it will be out of line for him to get parole," said retired Clark County district attorney David Roger, in a report from The Chicago Tribune.
Beyond his good behavior, another determining factor is the fact that no one is expect to testify against his parole, including the 2008 prosecutor who persuaded a Las Vegas jury to put Simpson behind bars in the first place.
If the four panel members unanimously vote in favor of Simpson's parole, the decision will be instantly confirmed, and he would be released from prison as soon as October 1st.
However, if the votes are split, the panel will then call in two additional commissioners on standby in Las Vegas. If four of the six commissioners vote for his parole, the decision will be final. In the case of a continued split in votes, the board has a policy to deny parole for six months. Following the six month minimum, another hearing would be held on January 28.
Thursday's hearing is slated for 1pm EST, and can be viewed on ESPN's livestream.