The Most Powerful Congressman Is Retiring After Almost 20 Years — Here's Why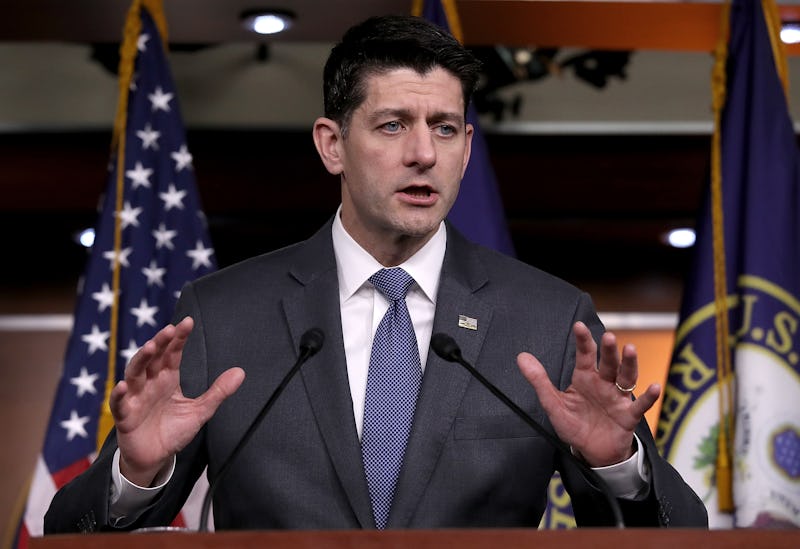 Win McNamee/Getty Images News/Getty Images
On Wednesday morning, it was announced that Paul Ryan will retire from Congress. According to Axios, Ryan — a Wisconsin representative who is currently Speaker of the House — will not run for re-election in November. There has been speculation for months about Ryan's potential departure, but his confidants and congressional sources reportedly have confirmed that he is ready to leave after finally passing tax reform legislation.
The Atlantic reported that Ryan informed his staff of his decision to retire at 8:45 a.m. on Wednesday, shortly before making an announcement to his colleagues. However, given that this decision follows months of speculation on the Hill, a senior White House official reportedly texted The Atlantic's Elaina Plott to say they were "not shocked" by the news.
Ever since rumors first began circulating that Ryan might retire, Majority Leader Kevin McCarthy and Majority Whip Steve Scalise have both been fundraising for their efforts to replace him. However, Ryan's office denied these retirement rumors as recently as the end of March. But now that Ryan is officially not seeking reelection, The New York Times reported that Scalise and McCarthy will likely battle it out over the leadership of the House Republican Conference.
Since he first began his Washington career in 1999, Ryan has advocated for a major overhaul of the tax code. In December, Senate Republicans passed the most drastic legislative changes to the tax code in roughly 30 years, and Ryan described it as "one of the most important pieces of legislation that Congress has passed in decades" shortly thereafter. This Republican victory is one of the reasons Ryan feels ready to leave Congress, according to Axios — especially because he has reportedly felt frustrated in his position as Speaker, a job he was reluctant to take on.
Ryan officially disclosed his decision to retire in a closed-door House Republican conference on Wednesday morning, and two unnamed Republicans reportedly told The Atlantic what Ryan said.
"I've become a Sunday Dad," Ryan reportedly told his colleagues at the conference, expressing a desire to spend more time with his family following his retirement. One of the Republicans present at the conference also reportedly texted The Atlantic's Plott to say that Ryan's colleagues seemed "okay and understanding" about his decision to retire.
Meanwhile, Brendan Buck — a longtime aide to Ryan — released a statement formally confirming Ryan's impending retirement:
This morning Speaker Ryan shared with his colleagues that this will be his last year as a member of the House. He will serve out his full term, run through the tape, and then retire in January. After nearly twenty years in the House, the speaker is proud of all that has been accomplished and is ready to devote more of his time to being a husband and a father. While he did not seek the position, he told his colleagues that serving as Speaker has been the professional honor of his life, and he thanked them for the trust they placed in him.
Ryan has been in Congress for nearly two decades, but it was only in 2015 that he reluctantly assumed the position of Speaker of the House. During his tenure as Speaker, Ryan has faced mounting criticism for failing to condemn Trump's racism and policy decisions as he once did. Despite this, Senate Minority Leader Chuck Schumer still had praise for Ryan, describing him as "smart, thoughtful, and straightforward." Schumer also went one stop further, urging Ryan to seize "his newfound political freedom" and "to break free from the hard-right factions of his caucus" during his last nine months in office. Ryan is slated to serve out the remainder of his term before retiring in January.