Selena Gomez's Instagram Is Now Private… Unless You're One Of 130 Million People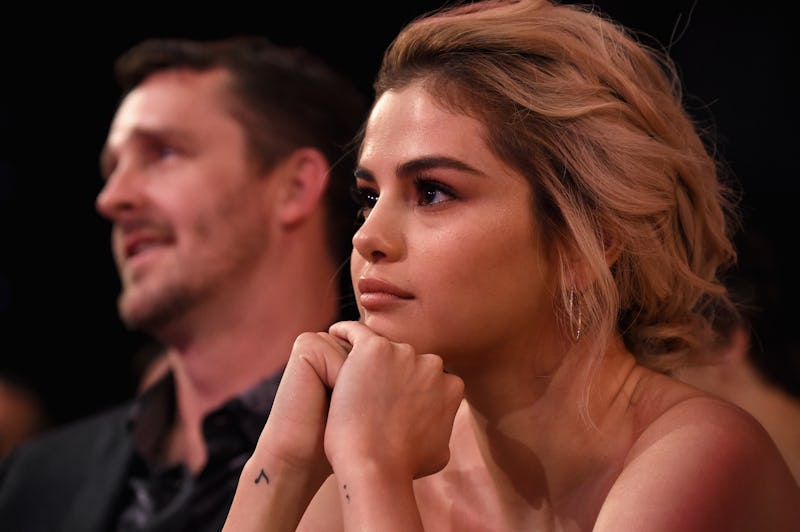 Michael Kovac/Getty Images Entertainment/Getty Images
Proving the old idiom that actions speak louder than words, Selena Gomez made her Instagram private Tuesday morning without any explanation, and fans are in a frenzy trying to figure out why. Granted, it's only private if you weren't already one of her 130 million followers — so she hasn't cut her fans off completely — but, after reportedly posting a cryptic message on her Instagram Story (which has since been deleted) in regards to her recent Billboard cover feature, it seems clear that she's trying to make a statement. Based on her previous public struggle with the invasive nature of fame, it's likely that setting her Instagram to private was her way of controlling the chaos. (Bustle has reached out to Gomez's rep for comment on the change and on her reported Instagram Story post, but did not receive a response at the time of publication.)
In the now-deleted message from Gomez's Instagram Story, she reportedly highlighted a passage from her Billboard interview that struck a nerve (and ultimately, may have been the impetus for privatizing her account). The passage in the original article reads:
There's a five-foot teddy bear sprawled across the kitchen floor in Selena Gomez's North Hollywood home. "I know, I know," says Gomez, rolling her eyes, acknowledging that the stuffed animal doesn't quite blend with the trio of armchairs nestled in the inviting, marble-accented nook. "It was a gift, and at first I thought, 'This is so ridiculous, I can't wait until I give it away to another person.'"
But Gomez, 25, hasn't let go of it — yet.
In front of the screenshot, Gomez reportedly wrote, "Never will I let another human being guess my words ever again. Or invite them in my home. That is so hurtful. The most 'ridiculous' part of that is no one knowing my heart when I say things."
Later in the article, the writer, Brooke Mazurek, references the bear again after describing a heavily-paparazzi'd day:
It's the kind of attention that makes Gomez contemplate running away, "going to Alaska, only to resurface when there's work." Instead, she explains, "I want to live a life that's worth living," to choose exactly who and what best fits into her life, no matter how it looks from the outside. Even if it's in the form of a giant stuffed bear — which, if nothing else, her dog Charlie leaps onto with abandon.
It sounds like the bear has significance to her life, but it's unclear if it was the section about the bear led Gomez to make her account private or if she simply chose a random section of the article to screenshot. Also worth noting when it comes to the article, Gomez faced some backlash regarding her comments in the profile about working with Woody Allen.
Bustle has reached out to Billboard for comment, but did not receive an immediate response.
After spending nearly her entire life in the spotlight, Gomez put the breaks on her tour last summer to go to a psychiatric facility in Tennessee. She gave up her phone for the entirety of the 90-day treatment, and later revealed to Rob Haskell atVogue that she struggled with social media and had deleted the Instagram app entirely:
"As soon as I became the most followed person on Instagram ... I sort of freaked out. It had become so consuming to me. It's what I woke up to and went to sleep to. I was an addict, and it felt like I was seeing things I didn't want to see, like it was putting things in my head that I didn't want to care about. I always end up feeling like shit when I look at Instagram. Which is why I'm kind of under the radar, ghosting it a bit."
If removing the app from her phone (and relinquishing the account's password to her assistant) was "ghosting it a bit," it's safe to assume that by making her account private, Gomez might be ghosting it once again. And while the significance of the five-foot teddy bear reference from her Billboard interview remains unclear, it appears as if making her Instagram account private may have had to do with her recent coverage in the media. No matter the reason, though, Gomez definitely has the right to protect herself (and her photos).