Stormy Daniels & Her Husband Are Getting Divorced, According To Her Lawyer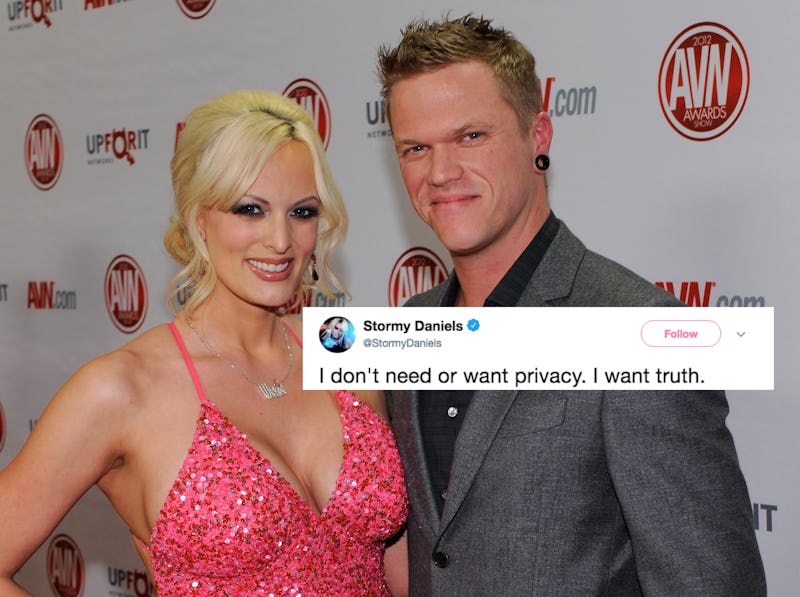 Ethan Miller/Getty Images Entertainment/Getty Images
After being arrested earlier in the month in what her lawyer claimed was a "politically motivated" move, adult film star Stormy Daniels is getting divorced from husband, Glendon Crain. This was Daniels' third marriage. The divorce was initiated by Crain, who filed the petition for divorce on July 18 in a state district court southeast of Dallas, according to Fox News.
Rumors of Daniels' marriage have been circulating since her arrest report (which was obtained by TMZ) showed that she had marked off her marital status as "single." At that time, Daniels' lawyer denied the divorce rumors were true.
According to a petition for divorce obtained by the Daily Beast, Crain also appears to have filed for a restraining order against Daniels, and is currently seeking full custody of their daughter, as well as child support. As for the cause of divorce, Crain cited that "the marriage has been insupportable because of discord or conflict of personalities," and also added, "Respondent has committed adultery."
In response, Daniels' attorney tweeted, "My client Stormy Daniels and her husband Glen have decided to end their marriage. A petition for divorce was filed last week, the accuracy of which is vehemently disputed. Stormy's daughter remains her number one priority. She kindly asks for privacy for the sake of her family."
As for Daniels, she hasn't directly responded to the divorce petition, but released a cryptic tweet of her own: "I don't need or want privacy. I want truth. And it will come out. I'm not afraid."
Daniels and Crain were married on Nov. 25, 2015, and stopped living together on July 11, 2018, according to the documents acquired by the Daily Beast. However, they've been in a relationship since at least 2010, as their daughter, Caden, was actually born in 2010.
Crain's real name is Brendon Miller, according to the Huffington Post. Like Daniels (whose real name is Stephanie Clifford), he is an adult entertainment star (a porn producer, according to the New York Post), as well as a drummer. According to the Sun, Crain has toured with bands like Godhead, Korn, and even Katy Perry.
Until recently, it was unclear as to whether Daniels and Crain were actually married or not. In a Rolling Stone feature in March, there was still speculation as to whether Crain and Daniels were married since the report referred to him as her "partner." However, Daniels did say her family's lifestyle changed after her story about Trump broke, "My daughter didn't deserve any of this. [Crain] didn't deserve any of this."
Crain has never publicly said anything about Daniels' lawsuit against Trump or her supposed affair with Trump (the president has denied the affair). However, he has acknowledged his relationship with her in an Instagram post (his account has since been made private) that reads, "Love you Babe!!!@thestormydaniels"
Similarly, Daniels has several posts involving Crain on her Instagram, including one posted earlier this year in February of her and Crain captioned with three black hearts. Daniels also posts many pictures of her and her horses on Instagram. In fact, Dallas News reports that they own several horses together, and both of them even have competed in equestrian competitions in the past (Daniels has been a nationally ranked equestrian in the past).
Prior to her marriage to Crain, Daniels was previously married to two porn actors: Pat Myles, in 2003, and Michael Mosny, in 2007.
Crain has not yet made a public statement about the divorce.