Here's Why People Are Mad Taylor Swift Is On 'TIME's Person Of The Year Cover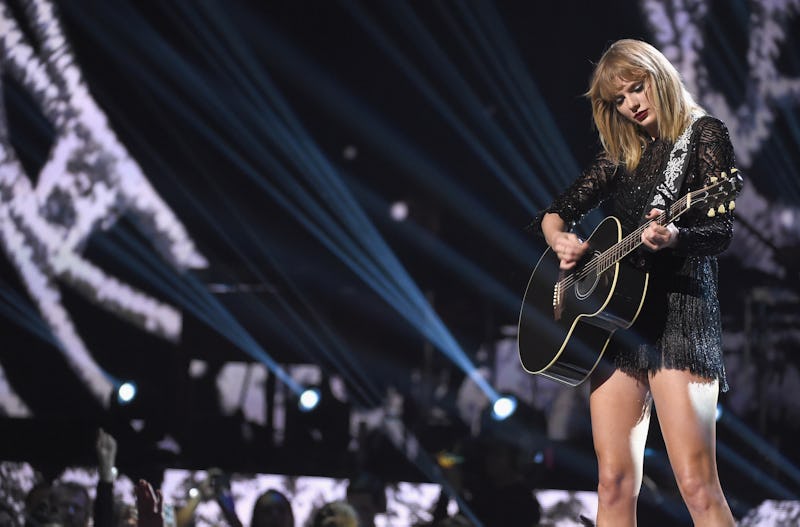 Kevin Winter/Getty Images Entertainment/Getty Images
After a tumultuous year filled with an unprecedented outpouring of sexual assault and harassment allegations — from Hollywood and beyond — TIME revealed "the silence breakers", including Taylor Swift, as 2017's Person of the Year. But why include Swift? The decision has some people confused and others upset.
Hundreds of men and women have come forward as a result of the #MeToo movement, including cover stars like actor Ashley Judd, the first star to go on record to the New York Times with Harvey Weinstein allegations (he has denied the allegations against her and denied any allegation of non-consensual sex), and Susan Fowler, a former engineer at Uber. As for Swift, many people on Twitter seem either baffled about why she was included on TIME's cover or annoyed at the decision, because they believe she didn't make as big a contribution to the movement as some of the other women included. But her pre-Weinstein allegations trial for assault actually contributed more than many people may realize.
During her assault case, Swift took the stand as a defendant after Colorado radio DJ David Mueller sued her for allegedly causing him to lose his job by making false accusations; Swift countersued, claiming he groped her at a meet-and-greet. Of her decision to come forward about Mueller, Swift told TIME that she wasn't just looking out for herself:
"... there were a number of people in the room that saw this plus a photo of it happening. I figured that if he would be brazen enough to assault me under these risky circumstances and high stakes, imagine what he might do to a vulnerable, young artist if given the chance."
Swift's no-nonsense testimony in court was largely praised — and not only because, as Swift told TIME she'd heard it "was the most amount of times the word 'ass' has ever been said in Colorado Federal Court." The statements she made were clear, concise, and confident. She was blunt in a way that effectively swayed the jury. But more important than all of those things — and perhaps this is the part that people have forgotten — Swift called attention to victim-blaming and put major emphasis on removing the stigma surrounding those who have been victims of abuse or harassment.
During the case, Swift told Mueller's attorney:
"I'm not going to let you or your client make me feel in any way that this is my fault. Here we are years later, and I'm being blamed for the unfortunate events of his life that are the product of his decisions — not mine."
Over the course of the weekend before the jury ultimately ruled in favor of Swift, the Rape, Abuse & Incest National Network (RAINN) reported a 35 percent increase in the use of its national hotline, according to ABC News. While they weren't able to attribute that increase to Swift directly, her visibility during the trial was seen as "a great demonstration to other victims that there is strength in coming forward and pursuing justice," said RAINN's president, Scott Berkowitz. Berkowitz went on to say that for young fans following Swift's trial, "seeing someone that they respect, that they identify with [state they've been assaulted], has a big impact. I think that will encourage others to come forward."
Furthermore, the specifics of Swift's allegations against Mueller served to help change people's perceptions of the many forms that sexual harassment and assault can take. "People are going to debate, 'Is this sexual assault or is that just someone trying to be boorish?'" Berkowitz told ABC News. "This is the definition of sexual assault — touching someone sexually without their consent. When we can get to that conversation, it opens up a whole new realm."
Taylor Swift is — and will likely always be — a polarizing pop culture fixture. But regardless of how you feel about her or her music, there's no denying her contribution to the #MeToo movement was significant. Are there other people TIME could have put on the cover instead of Swift? Of course. But would any of those people be as instantly recognizable and therefor influential? Probably not. Swift has a huge platform and millions of fans, who have followed her trial and will now read what she has to say in TIME. Therein lies the value.
If you or someone you know has been sexually assaulted, call the National Sexual Assault Telephone Hotline at 800-656-HOPE (4673) or visit online.rainn.org.