Why Is The ACLU Ribbon At The Oscars Blue?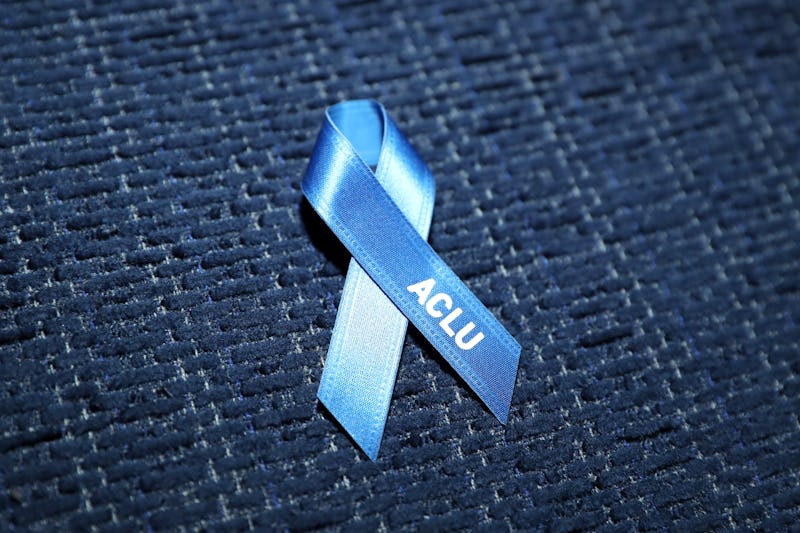 Jonathan Leibson/Getty Images Entertainment/Getty Images
The ACLU was founded in 1920 and has been tirelessly working to defend and preserve rights and liberties for people ever since. As you've probably already seen, celebrities wore blue ACLU ribbons at the 2017 Oscars. Blue is a pretty popular color for the organization and is all over their website. Although the ACLU doesn't seem to have an official statement about why they chose the color, there's a lot of potential meaning behind it.
According to the ACLU website, "the ACLU brand is synonymous with the nonpartisan protection of our freedoms", which could have something to do with the blue color choice. Although it doesn't say exactly why the organization uses the color, Time magazine reports that President Reagan once said the blue in the American flag stands for justice, perseverance, and vigilance. Bustle has reached out to the ACLU for comment.
Medium reports the "ACLU has always used blue, a naturally calming color that can evoke safety and security, an organization you can trust to defend your rights as a human being." While you'll sometimes see the logo in black, the light and dark blue hues are the official colors. One thing's for sure though, it's great to see a bit of activism on the Oscars red carpet.
Here's a look at how some of the stars wore their accessories. The blue definitely pops in every single instance.
Wore on the hip by Karlie Kloss.
Ruth Negga wore hers up front and center.
No matter the reason behind the color, this accessory is on point.