Trump Kicked Off 2018 By Tweeting About Pakistan — Here's What You Need To Know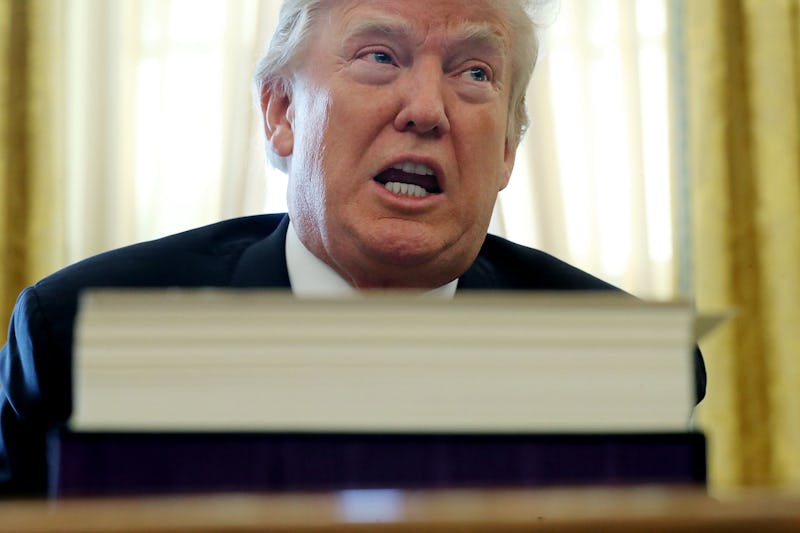 Chip Somodevilla/Getty Images News/Getty Images
It looks like one particular South Asian country is fresh on the president's mind this year. Early on New Year's Day, President Trump tweeted about Pakistan, calling the country dishonest among other things. In a tweet that his supporters quickly praised and his critics swiftly called out, Trump said:
The United States has foolishly given Pakistan more than 33 billion dollars in aid over the last 15 years, and they have given us nothing but lies and deceit, thinking of our leaders as fools. They give safe haven to the terrorists we hunt in Afghanistan, with little help. No more!
The angry tweet arrived only a few days after a New York Times report suggested the U.S. government might withhold a large amount of aid from the country over its role in the War on Terror. The "frustrated" American government, which reportedly harbored resentment against Pakistan for refusing to give access to a militant affiliated with the Taliban, was set to pull back a whopping $255 million in aid.
It's not the first time that Trump has lashed out against Pakistan, either. In an August speech, the President made similarly angry comments that accused that country's government of maintaining "safe havens" for militants. "For its part, Pakistan often gives safe haven to agents of chaos, violence and terror. The threat is worse because Pakistan and India are two nuclear-armed states whose tense relations threaten to spiral into conflict," Trump said.
In the same speech, Trump said that there'd be a fundamental change in the American government's strategy for Pakistan going forward. "We can no longer be silent about Pakistan's safe havens for terrorist organizations, the Taliban, and other groups that pose a threat to the region and beyond. Pakistan has much to gain from partnering with our effort in Afghanistan. It has much to lose by continuing to harbor terrorists," he said.
The alliance between Pakistan and the United States has for years been somewhat testy, but nonetheless cooperative. According to the Times' report, that relationship seemed to devolve after Pakistan's government refused to comply with the U.S. government's orders.
Shortly after Trump's tweet, Pakistan's government said that the United States had given the country "nothing but invective and mistrust." Khurram Dastgir Khan, the country's defense minister, said on Twitter, "[Pakistan] as anti-terror ally has given free to [the United States]: land and air communication, military bases, and intel cooperation that decimated Al Qaeda over the last 16 years. But they have given us nothing but invective and mistrust. They overlook cross-border safe havens of terrorists who murder Pakistanis."
On Twitter, people in Pakistan responded to Trump's tweet by reminding the president of the colossal loss the country has faced ever since the United States stared its War on Terror in the region over a decade ago. The number of Pakistanis killed in the U.S.-led War on Terror is over 80,000, according to a 2015 report from the International Physicians for the Prevention of Nuclear War, in addition to researchers with Physicians for Social Responsibility and Physicians for Global Survival.
While at least 26,862 militants were killed, out of that same casualty count almost 50,000 were civilians; 45 were journalists; and between 400 and 1,000 were civilian drone victims. Taking issue with Trump's tweet, Khawaja Muhammad Asif, Pakistan's foreign minister, tweeted, "We will respond to President Trump's tweet shortly, inshallah [God willing]. [We] will let the world know the truth [and] difference between facts and fictions."