Sorry, Bachelor Nation: 'BiP' Might Not Be Airing At Its Regular Time Tonight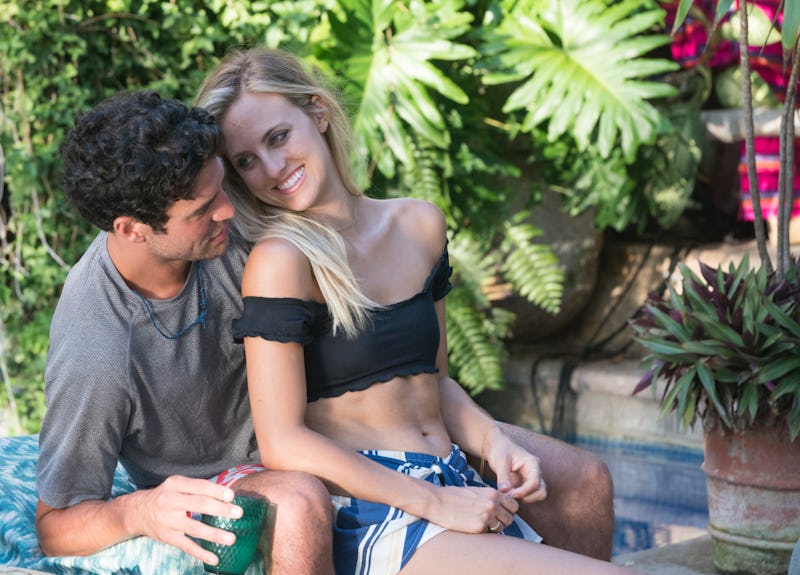 Paul Hebert/ABC
We're reaching the end of Bachelor In Paradise's fifth season, but while those games are cooling down, others are just getting started. Football season is upon us, and unfortunately, some of the first games of the season are airing at the very same time as the first part of the BiP finale. The show's official Twitter account announced this afternoon that because Monday night football conflicts with Bachelor in Paradise, viewers in some locations will have to make alternative arrangements in order to tune in.
Right now, it looks like you'll only be affected if you typically watch BiP on a local ABC affiliate station in Los Angeles, San Francisco, or Detroit — which you might have guessed, given that the Rams, Raiders and Lions all play NFL games tonight. According to tweets from the official BiP Twitter account, Bachelor in Paradise will air live for Los Angeles viewers on KDOC (Channel 56) instead of the usual KABC. For Detroit residents, Bachelor in Paradise will air live on WMYD (Channel 20) instead of the usual WXYZ. And finally, Bachelor fans in the Bay Area are hit particularly hard by the change: for those around San Francisco, it'll air much later tonight/early tomorrow morning on the usual channel at 1:05 a.m. PST. Bustle's request for confirmation on any more markets being affected was not immediately returned, but it seems like those three regions are it for now.
Here Are The Tweets From The Bachelor in Paradise Account
The good news is that San Francisco is the only city that will have to wait until super late (or DVR it) to watch the whole show. Viewers in the other two cities just have to find a way to tune into another channel. If you don't have it in you to wait that late in the Bay Area, the episode will be available the day after on ABC.com or the ABC app, as noted in the tweet above.
Fans in the affected areas are understandably bummed, particularly in the Bay Area where the Oakland Raiders game will take full priority on their local channels. "I'm so saddddd, it seems like a huge oversight on abc's part," wrote one Reddit user thejeffphone. Sad, Paradise-deprived viewers are to be expected, and it definitely makes things a little more inconvenient for anybody who was planning a watch party or who partakes in live-tweeting the show, which can often be the best part.
But the NFL's schedule is always pretty set in stone, causing everything else to shift around it as games air, and making viewers prioritize what they'd rather watch — you'll probably remember when controversy swirled in 2016 over the fact that games aired during a Presidential debate. The games on Monday night will also air on ESPN throughout the rest of the country without interrupting Bachelor In Paradise. But even though ESPN is the usual home for the games, it's definitely not uncommon for local stations to prioritize sports when the home team is playing.
Luckily, Tuesday night's Bachelor In Paradise reunion special, which will tie up the whole season and let viewers know once and for all who's still together, seems to be free from any potential conflicts. So, if you live in any of those three TV markets, make sure you make the proper adjustments We're almost done with this long summer adventure, and you won't want to miss a second of the final moments down in Mexico.