Wells' Comments About A Certain 'Bachelor In Paradise' Pair Will Leave You So Intrigued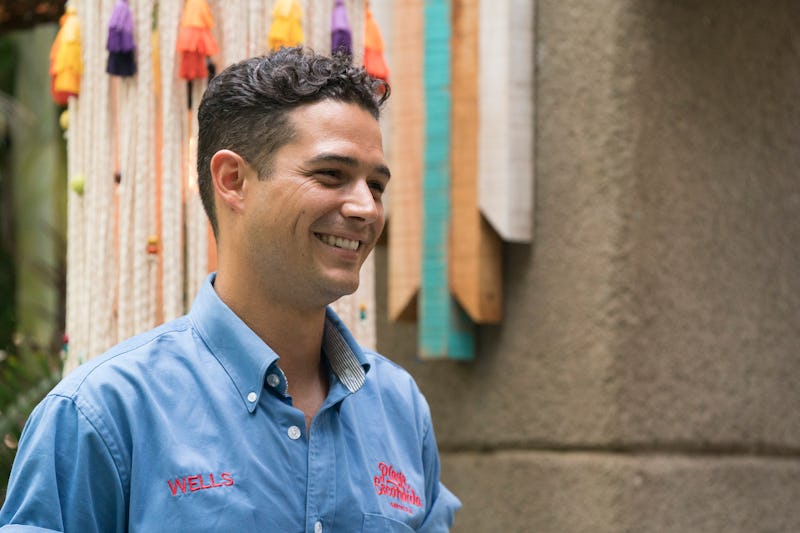 ABC/Paul Hebert
Wells Adams has the best gig on Bachelor in Paradise — second to Chris Harrison, of course. As the bartender, he gets the inside scoop on all of the drama, but he doesn't have to deal with any of it firsthand. In a new interview with People, Wells revealed one of the Bachelor in Paradise couples surprised him. Yes, this man has seen a lot from his time on Season 12 of The Bachelorette, his search for love on Season 3 of Bachelor in Paradise, and his stint as the BIP bartender for the past two summers, but even he was shocked by how things ended up.
In the Aug. 22 interview with People, Wells admitted, "There's a romance that is very real that doesn't go the way that I think it's going to go." He didn't say who he was referring to or even remotely hint at their names, but he did confess, "I was shocked when the show ended."
Wells also discussed a well-known "secret" of this show: People talk before they show up. Thanks to social media, there has been a lot of conversation going down in the DMs. He admitted,
"There's a little bit of people talking before the show starts and so you know, going in … they don't show everything, but someone will come up to the bar and be like, 'You know, I met so and so and they seemed really nice.'"
The bartender continued, "So you're like, well, if they show up, this is going to be an easy thing." A lot of people talk beforehand and assume that means they will have a "happily ever after" ending in Paradise, but that doesn't always happen.
Wells also shared, "The thing about the show is that the relationships that work are the ones that were not preordained before the show started." And why is that? He explained to People, "They're the ones that they fight it [out], because it's like a normal relationship." That actually makes perfect sense. The good relationships just happen. They're not forced or pre-planned — they just happen.
So who could Wells be referring to? That's such a tough question. Any "obvious" choice wouldn't make sense to guess, given how shocked Wells was by the outcome of the show. As of this moment, the most solid couple in Paradise is Astrid Loch and Kevin Wendt, but they're not really getting a ton of airtime, minus that sausage kiss.
For this "surprising" couple, should the viewers guess a pair that is doing consistently well, one with ups and downs, or maybe one that hasn't even met yet?
Eric Bigger just gave out a rose to Angela Amezcua, but fans pretty much just saw that one makeout scene from them. David Ravitz gave Chelsea Roy a rose on the same night that he gave Jenna Cooper a giant dog stuffed animal, which Jordan Kimball destroyed. Chelsea made out with Leo Dottavio... righter after his date with Kendall Long. Before Kendall went on that date with Leo, she was hitting it off with Joe Amabile aka Grocery Store Joe.
Chris Randone gave a rose to Krystal Nielson. Tia Booth and Colton Underwood just defined their relationship. John Graham aka Venmo John and Jubilee Sharpe have a strong connection. And then there's Jordan and Jenna. They had an instant connection, but Jordan's "rival" David also showed an interest in Jenna, as did the French-Canadian Benoit Beauséjour-Savard, who just took Jenna out on a date. Kenny King and Annaliese Puccini seem pretty into each other, too.
There is so much going with this cast and with new people showing up to hand out date cards during each episode, the "shocking" couple that is left standing at the end could really be anyone. For all we know, Yuki Kimura ends up forming a love connection from behind the bar. Now that would be a twist.