Here's Why Janet Jackson Said She Won't Be Performing At The Super Bowl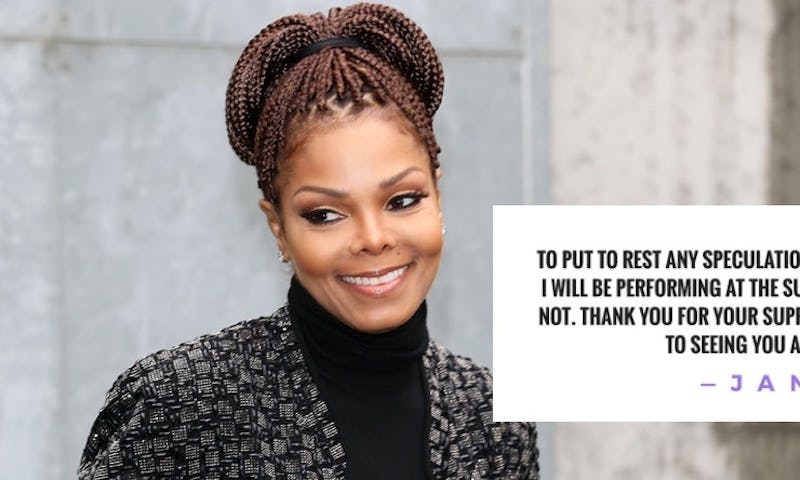 Vittorio Zunino Celotto/Getty Images Entertainment/Getty Images; Janet Jackson/Twitter
As soon as it was announced that Justin Timberlake would perform the 2018 Super Bowl halftime show, everyone was all, "I wonder where Janet Jackson will be!" Of course, they were referring to the 2004 Super Bowl halftime show in which Justin Timberlake and Janet Jackson performed and #NippleGate happened. This could have been the perfect do-over of that infamous performance, so why isn't Janet Jackson in the 2018 Super Bowl halftime show? Unfortunately for hopeful fans, she confirmed her absence in a post on Twitter.
While Timberlake was off practicing and talking about putting together a Prince projection for his performance (yes, really), Jackson's fans were incensed. Many fans, and many outlets, say that she was the one who bore the brunt of the punishment for #NippleGate and Timberlake walked away unscathed. The fallout in Jackson's career was real at the time — radio stations even stopped playing her music and she was cut from the Grammy Awards which were set to air a week later. But Timberlake kept on moving down the road to movie and music stardom. Can we say "not fair?"
According to the New York Times, that halftime show racked up indecency fines to the tune of $3.5 million. The world may not even sneeze at a boob on television in 2018, but in 2004, it was a big deal. And so it seems like Jackson should get a chance to redeem herself the same as Timberlake, especially on that very same stage where the entire controversy got started.
But Jackson was either not asked or did not want to participate in the 2018 halftime show, because she confirmed to her fans as much on Twitter:
The singer has nothing to do with the 2018 halftime show, but that doesn't mean her fans aren't thinking about her and supporting her. In fact, many declared Super Bowl 2018 #JanetJacksonAppreciationDay, and they voiced their opinions on Twitter, too.
According to the Associated Press, Timberlake says that he and Jackson have buried any sort of hatchet over the 2004 incident. In an interview with Beats 1 radio, he said that he and Jackson had "absolutely" made peace: "I don't know that a lot of people know that. I mean, I don't think it's my job to do that, because you value the relationships that you do have with people."
And as for who actually will be appearing with Timberlake on the 2018 Super Bowl halftime show, he was staying mum. In a pre-show press conference, Timberlake said there would be no special guests in his performance. "To be honest, I had a ton of grand ideas about special guests. There's a whole list," he said. "I think Vegas has a lot of odds on it, from *NSYNC to JAY-Z to Chris Stapleton to Janet, but this year I'm just excited — my band, the Tennessee Kids, I feel like they're my special guests and I'm excited this year to rock the stage. It's gonna be a lot of fun."
Jackson, by the way, is doing just fine. She had a baby, and even though she and her husband have split, she's a doting mom to her son, Eissa. She just wrapped her State of the World tour at the end of 2017, and she's working on new music. She's also the headliner at the 2018 Essence Festival in New Orleans in July, so if you want to see Ms. Jackson (because we're nasty), you can get tickets to that. Jackson may not be a part of the Super Bowl halftime show, but she's still tearing up her stage.