Is This Why Julianne Hough Isn't Judging 'Dancing With The Stars' This Season?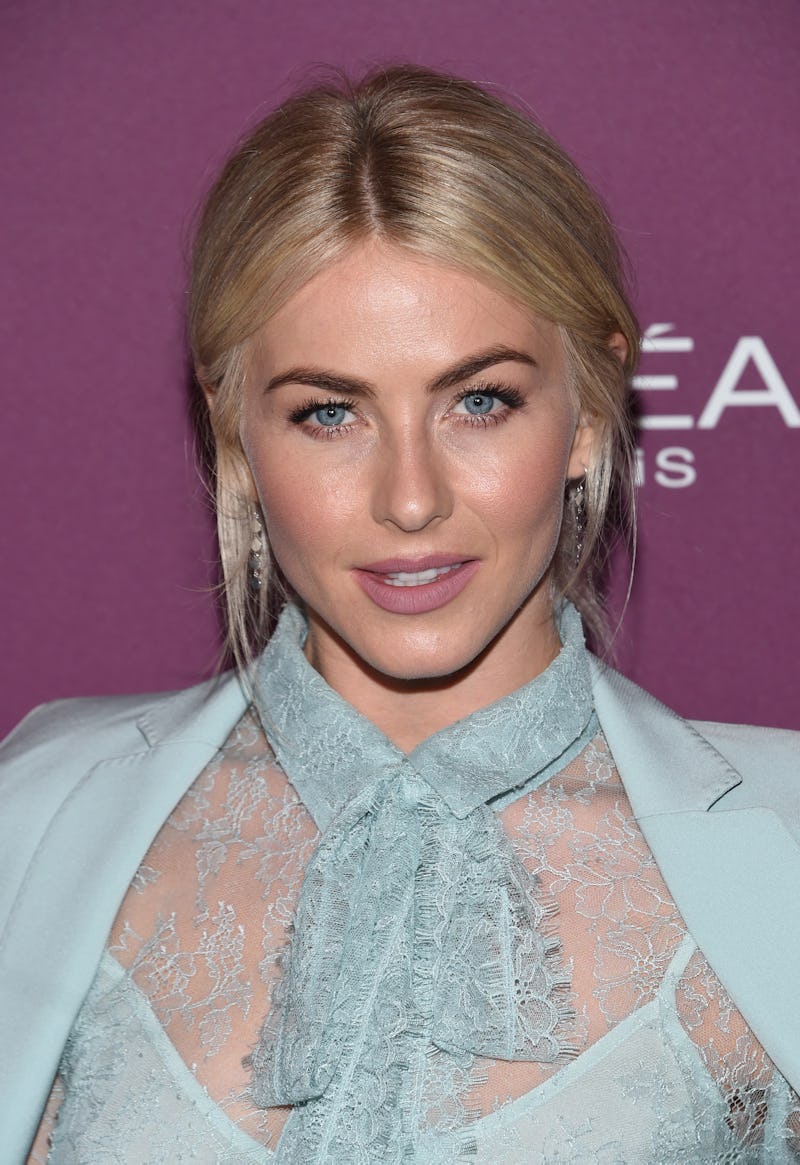 CHRIS DELMAS/AFP/Getty Images
The return of autumn means crunchy leaves, apple pie, and another dose of celebrities competitively ballroom dancing for the universally coveted mirrorball trophy. Unfortunately, fans may be missing a vital part of the equation this year, because Julianne Hough isn't judging Dancing With The Stars this year. Sadly, when the reality dancing competition series returns Sept. 18, Hough won't be sitting at the judging table. To fans, it might feel like the end of an era, but she may not be gone for good.
No official word or statement has been released about the particular reason for Hough's departure from the show this season, but a DWTS source told E! News, "We are thrilled to have Len, Bruno, and Carrie Ann back in the ballroom and look forward to welcoming guest judges wherever possible." So, although most of the other familiar judging faces will be returning for Season 25, Hough is most definitely not going to be appearing — unless she surprises the hell out of everyone and guest judges at some point during the season, but that has not been announced at this time. Of course, there are a lot of big things happening in Hough's life, so it would be completely understandable that she would want to take some time off from DWTS.
One great reason to take a little vacation from work is having a brand new marriage to celebrate. Hough recently married NHL player Brooks Laich in July and, considering that was only about two months ago, it is entirely possible that maybe the newlyweds are looking to spend as much time together as they can or maybe take a honeymoon. According to Hough's Instagram, where she posted a photo of her new husband to wish him luck at L.A. Kings training camp, he will be competing for a spot on the team, so he's pretty busy right now as well.
Besides living that married life, Hough recently launched her very own Fall '17 collection of workout gear with MPG Sport. Obviously designing and launching a clothing collection takes time and commitment as well, which has likely kept Hough busy and will continue to keep her busy while she markets, promotes, and maintains her new brand. It is certainly possible that she is focusing her time on taking her own personal brand further. She doesn't radiate a vibe of complacency or laziness, that's for sure.
One of the best resources for information about Hough is her very own brother and fellow professional dancer/DWTS alum, Derek Hough. When Entertainment Tonight recently spoke with him at a pre-Emmys party, Hough confirmed that his sister wouldn't be returning to the judging role for Season 25 of the show and offered some possible reasons for her break. Hough said, "She has her sights set on other opportunities and other things." He then added, "Sometimes you just gotta step away from something for a little bit to create those opportunities. She's Julianne, man. She's a beast."
Derek also stepped away from the show a couple of seasons ago, so he likely understands when it's time to take a break. But, he's left and come back before. So, would Julianne ever do the same? Let's not forget that once upon a time she was a pro on the show, she left, and then she came back as a judge. Maybe in the future she'll come back as the host!
Whatever the actual reason for Julianne's break from DWTS, it will likely always have a place in her and her brothers' hearts. And, hopefully fans will get to see her sitting at the judges' table again in the near future. After all, it really isn't DWTS without a Hough present is it?