Only One Half Of Kimye Will Be At The Met Gala This Year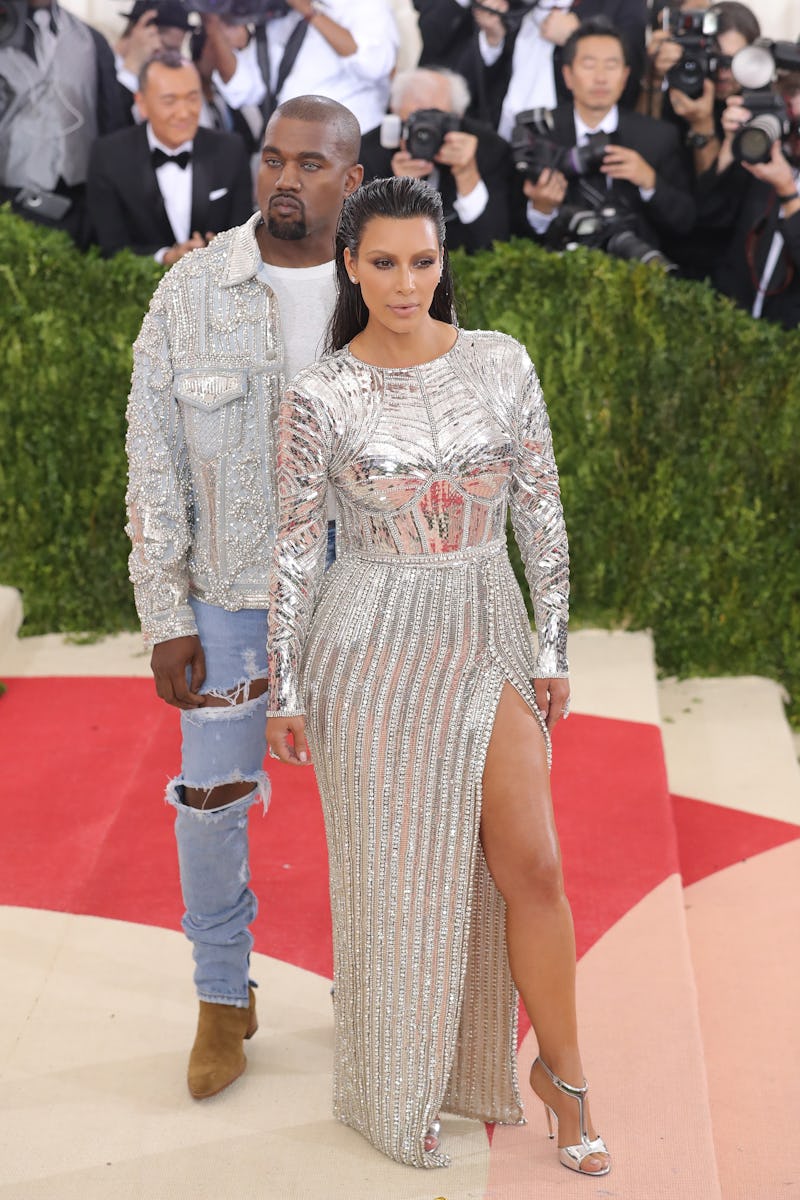 Neilson Barnard/Getty Images Entertainment/Getty Images
With fashion's big night kicking off in just a few hours, everyone has been wondering whether or not red carpet regulars Kim Kardashian and Kanye West would be attending the Met Gala together or not? Well, according to People and confirmed by her rep to Bustle, Kardashian will be in attendance, but she'll be walking the red carpet without West, who will reportedly be staying in home with the couple's children, North and Saint. Bustle has reached out to a rep for West for comment, but did not receive a response at the time of publication.
West and Kardashian first attended the Met Gala together in 2013 and were probably the most talked about attendees that year because of the internet's obsession with the floral print dress Kardashian wore. Each subsequent year the two have been side by side on the red carpet, so it's a little surprising that West won't be joining his wife for what many call the fashion event of the year.
"Kanye West will not be attending the Met Ball," a source claimed to People. "He'll be staying back in L.A. with their kids. Everything is great with him and Kim and he's supportive of her going solo." Although she'll be walking the red carpet without her husband, Kardashian probably won't be going to the gala all by herself, as other members of her famous family are also said to be going to the event. Kendall Jenner's rep confirmed she is attending, and Just Jared reports that sister Kylie Jenner will also be there. (Kylie's rep had not yet responded to Bustle's request for comment at the time of publication.)
Remember it's only been a few month's since West's hospitalization for exhaustion, and the couple have scaled back significantly when it comes to red carpet appearances. As the source who spoke to People explained, West is "still very much enjoying his time off from public events." And rightfully so! West and his family have been through a lot in the past year, and he certainly shouldn't feel rushed to get back out there in front of cameras.
The theme of this year's exhibit is Rei Kawakubo/Comme des Garçons: The Art of the In-Between, and pieces in the museum will be arranged by contrasting themes like East/West, male/female, and past/present, according to Vogue. According to People, Kardashian will be wearing a dressed designed by Vivienne Westwood, and although West won't be by her side, I'm definitely looking forward to seeing Kardashian on the red carpet.