Here's What Laura Dern Says About Being In A 'Jurassic World' Movie One Day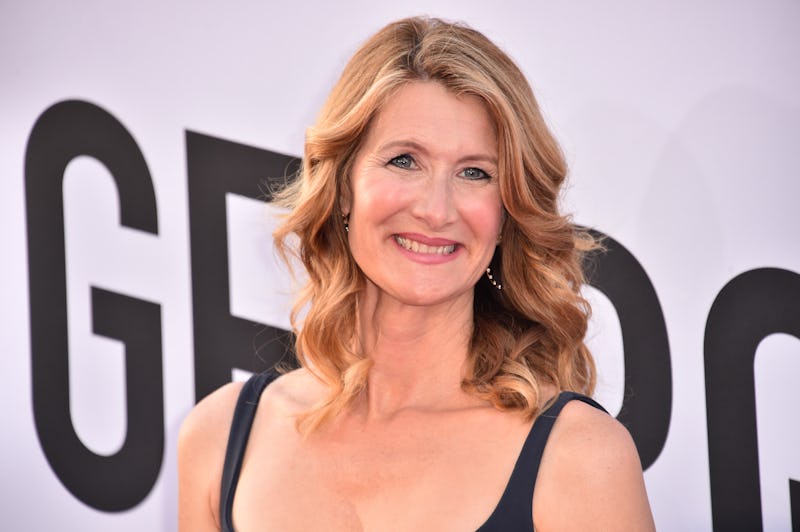 Alberto E. Rodriguez/Getty Images Entertainment/Getty Images
The '90s are back in a big way. Mom jeans are firmly entrenched as de rigueur for Instagram fashionistas, the Clintons are still popping up in the news, and who knows, we might even head back for another Gulf War. But nothing brings us back to the end of the 20th century like the time When Dinosaurs Ruled The Earth, that is, when Jurassic Park hit box office gold and the theme song got stuck in everyone's head for the next 25 years. With Jurassic World: Fallen Kingdom coming out now, the time of the dinosaurs may be back, but some cast members aren't. Seriously, why isn't Laura Dern in Jurassic World? It would've been so great to see the Jurassic Park alum show up in the film.
Dern first appeared as Ellie Sattler, whip-smart young archaeologist, in 1993's Jurassic Park. She reprised the role in 2001's Jurassic Park III, where, married with two kids, she and Dr. Grant discussed raptor intelligence. Since then, the franchise has rebooted with Jurassic World, starring Bryce Dallas Howard and Chris Pratt as a new crop of dinosaur wranglers and managers, with B.D. Wong the only cast member from the original series to make an appearance.
Yet Wong and Jeff Goldblum, who appeared as Dr. Ian Malcom in the original Jurassic Park and several sequels, are both back for the latest film, so why not Dern? For one thing, she's had a very busy schedule. In 2017 alone, the actor appeared as previously-unseen fan favorite Diane in Twin Peaks: The Return, showed up to steal scenes in Star Wars: The Last Jedi, and managed to cram in a recurring role on Big Little Lies. And so far in 2018, Dern has shown absolutely no signs of slowing down. Her latest project, The Tale, is a harrowing look at childhood sexual abuse that just premiered on HBO, and there's also Season 2 of Big Little Lies that's being filmed right now.
With that kind of workload, you'd think there'd be little room for anything else, but Dern somehow also managed to cram in a project with director Noah Baumbach, pick up a role in the upcoming film JT Leroy Story, and begin production on a remake of a Norwegian revenge movie, currently titled Hard Powder. Really, even if she wanted to, would Dern have the time and energy to cram in a Jurassic World cameo?
Probably not, but hey, you never know if she'll appear in future installments. When asked about possibly returning to the Park at the premiere of her 2017 film Downsizing, Dern gave ET correspondents a big shrug and said it could be fun. "I mean I love Ellie Sattler! She's a strong feminist!" Dern said during the red-carpet interview. "We need her back." And according to Entertainment Weekly, Dern never discounted being in a sequel past Jurassic Park III. "As I said to the people who are making the new series, 'If you guys make a last one, you gotta let Ellie Sattler come back,'" Dern said. "She's always the one who's saving the day, man!"
ET also had Chris Pratt on record as saying he'd love to have the blessing of one of the original cast members for the new franchise. Then there's returning cast member Jeff Goldblum, who told MovieWeb, "I don't want to pass on gossip like my character [Ian Malcom]. But it would be good news to me and to everyone, millions and billions of people all over the world... all over the universe and cosmos when Ellie Sattler returns."
Everyone's hoping for Ellie's return, but it's just a matter of whether the ultra-busy Dern can actually make the time.