Here's Why You Probably Won't See Rihanna At The VMAs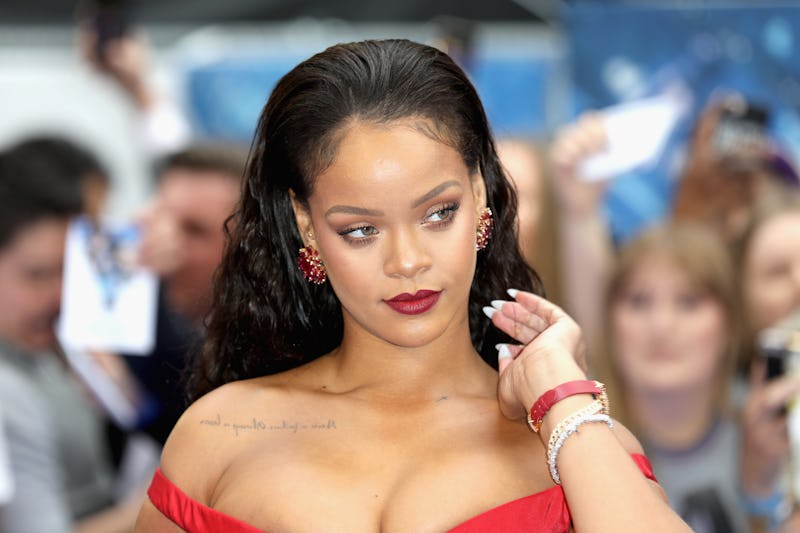 Tim P. Whitby/Getty Images Entertainment/Getty Images
Even though she's featured on DJ Khaled's Video of the Year nominee song "Wild Things," Rihanna likely won't be at the 2017 VMAs. While everyone will miss whatever killer red carpet look she would've surely bless us with, it seems like she'd have a long way to go to get to the show. Rihanna was last seen in London, so she may be in the wrong timezone to make an appearance on Sunday night.
As Elle reports, Rihanna was last seen trying to hide her new boyfriend Hassan Jameel under her umbrella (ella ella) after leaving London's Chiltern Firehouse 10 days ago. While she's had time to get to Los Angeles since then, don't wait up for the singer to show up at the VMAs. She's not set to perform and doesn't have any solo nominations, so she likely wouldn't leave the UK to grace us with her presence. And who can blame her? She's surely off living her best life.
But don't let her absence stop you from rooting for her tonight. Her song "Wild Thoughts" with DJ Khaled and Bryson Tiller is nominated for three awards. So while we won't get to see Rihanna, I'm sure this won't be the last we'll hear of her at the show.
But if you're still wondering where Rihanna could possibly be, you're not alone:
Hey, there's always next year. Hopefully Rihanna's having a great time wherever she is.