Fans Are Freaking Out Over This Selena Gomez Snub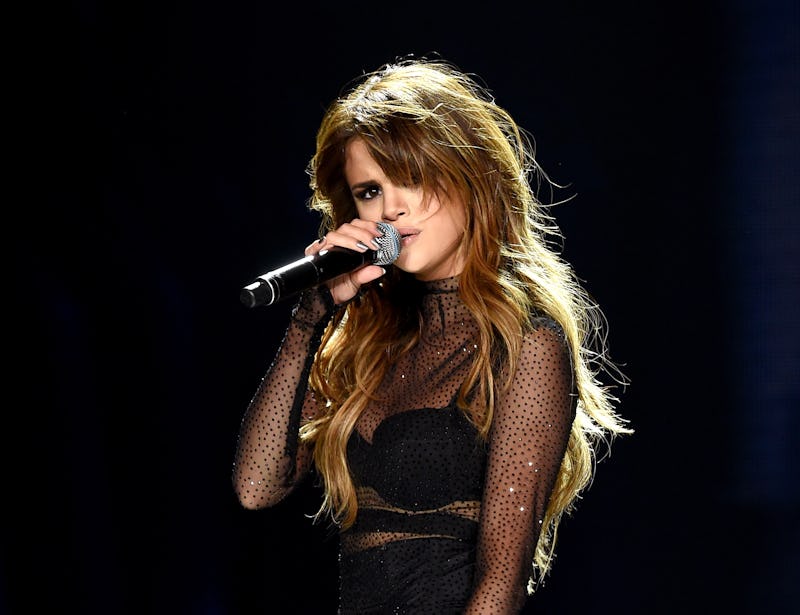 Kevin Winter/Getty Images Entertainment/Getty Images
Twitter has spoken, and fans of a certain singer are not feeling good right now. The music video for Selena Gomez's "Bad Liar" wasn't nominated for a 2017 VMA — and fans are not pleased. As for why Gomez's "Bad Liar" wasn't nominated for a VMA, you might guess that the video was ineligible. However, an MTV rep told Bustle the eligibility window was June 25, 2016 through June 23, 2017. Gomez's music video premiered on Spotify on June 14, 2017 — which cuts it close, but still meets the deadline.
If it's any consolation, the 24-year-old did receive two nominations: Best Collaboration for "We Don't Talk Anymore" with Charlie Pluth and Best Dance Video for "It Ain't Me" with Kygo.
In "Bad Liar," Gomez's pop-rock single explores how the singer tries to avoid admitting her feelings for a new love interest. The three-minute visual that complements the song shows Gomez as a shy high school student, a gym teacher, her character's teacher father, and as her character's mother in the 1970s. The video currently has more than 115 million views on YouTube — perhaps due to its love triangle between the student, who is crushing on her the gym teacher, and the teacher, who turns out to be her father, who is also interested in the gym teacher. Are you following?
The point is Selenators believe the video and its retro look deserve a moonman due to its creativity, plot-twist, and all-around classic Gomez groove. Check out some of Gomez's most peeved supporters for a better idea of why they think "Bad Liar" was totally snubbed.
She Was Robbed — Plain And Simple
Somebody had to stand up for Selena.
She's Earned Respect As An Artist
Another fan felt that the pop star's artistic prowess was overlooked.
She Highlighted The LGBT Community
Gomez's high school character reveals at the end of the video that she has a crush on her female gym teacher. Some fans think that's reason enough for a moon man.
Her Snub Was An Act Of Injustice
Sounds like the Selenators are on the verge of calling Judge Judy.
MTV Couldn't Find One Category For "Bad Liar"
Come on, MTV. Not even Best Pop Video? She played four characters in three minutes.
In Case MTV Didn't Get The Memo...
Gomez was wronged! Snubbed! Bamboozled! Hoodwinked!
Although they raise some good points, it looks like Gomez's fans will just have to keep voting for her to win one of the two categories she actually was nominated for. There's still hope. Selenators will just have to tune in Sunday, Aug. 27 for the results.