Experts Reveal The Top 3 Reasons It's So Hard To Stay Friends With An Ex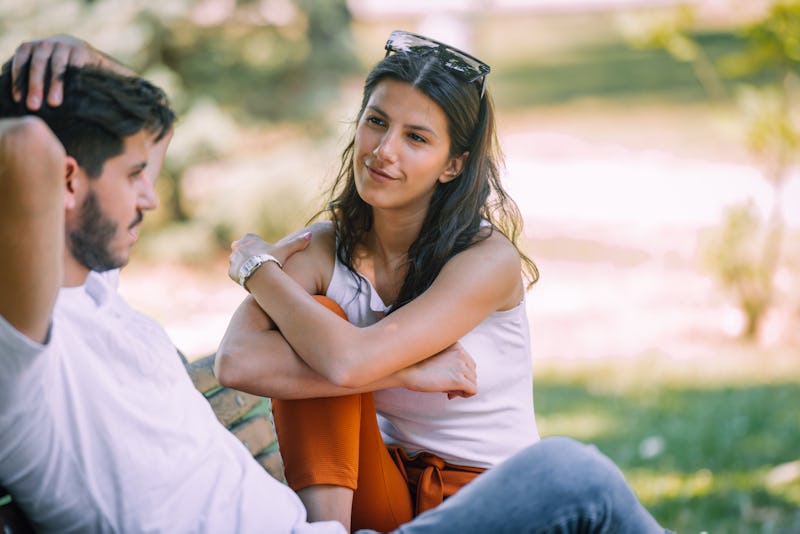 Shutterstock
Everyone has their own opinion on whether staying friends with an ex is a good idea or not. When you've been through a lot with someone and there are feelings still there, it's tempting to want to keep them in your life in some way. But for many, staying friends with an ex is easier said than done. According to experts, there's a really good reason behind why it's so hard.
As Michael Kaye, dating expert and global communications manager at OkCupid, tells Bustle, nearly 70% of people on OkCupid say it's best to go your separate ways after a breakup. Men are more likely to stay friends with an ex, and only 15% of people are able to stay friends with most or all of their exes. So it's very possible to stay friends with someone you once had a romantic relationship with.
"Becoming friends with your ex requires emotional maturity, clear communication, and excellent boundaries," Christine Scott-Hudson, licensed psychotherapist who specializes in relationships, tells Bustle. "Changing the form of the relationship (partners to friends) does not mean we change the content (love, value, and respect)."
There are different factors that can determine whether you can have a successful friendship or not. According to experts, these are the biggest reasons behind why it's so hard to remain friends with an ex.