Streep's Golden Globes Speech Was Perfectly Timed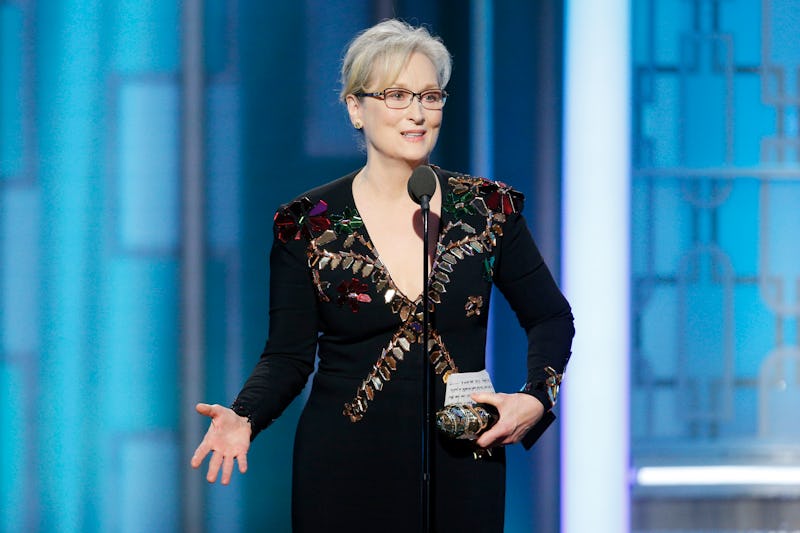 Handout/Getty Images Entertainment/Getty Images
If you tuned in to the 2017 Golden Globes on Jan. 8 — or even glanced on social media on Monday — you probably heard about what many people are declaring as Meryl Streep's finest performance. During her acceptance speech for the Cecil DeMille Award for Lifetime Achievement, Steep sent a pointed message to President-elect Donald Trump. With her long stare and steady but strong voice, it seemed the multiple award-winning actress summoned the power of a Valkyrie. Not only was her speech incredibly touching, as fans have come to expect from here, but it was also so important that Meryl Streep used the 2017 Golden Globes to send her message of respect for all people and standing by the right of freedom of speech.
Streep wasn't telling anyone to live or how to think, but she was making a sort of battle cry for those in the entertainment industry. Her speech began pointing out that even though Hollywood is seemingly one American place, it is made up of celebrities who have come from everywhere — including other countries — and everyone needs to stand together. The speech addressed everyone by stating, "You and all of us in this room, really, belong to the most vilified segments in American society right now. Think about it. Hollywood, foreigners, and the press. "
This battle cry was perfectly timed at the Golden Globes for a multitude of reasons.
Without even mentioning the President-elect's name, Streep rallied the "outsiders and foreigners" of Hollywood to join her "in supporting the committee to protect journalists" and to "remind each other of the privilege and the responsibility of the act of empathy." Trump has often banned reporters and publications from covering him and he has called the media "crooked" often on Twitter. Since Inauguration Day on Jan. 21 is fast approaching, the time for this call-to-positivity couldn't be more appropriate.
Then, there's the simple fact that with the Golden Globes as the venue, millions of people who aren't in the industry saw Streep's speech. According to The Hollywood Reporter, this years awards were almost the most-watched Globes telecast in 10 years with viewership at 20 million and a 5.6 rating among adults 18-49. That's not even counting the humans who didn't watch the telecast, but watched Streep's acceptance speech with the help of the social media and the internet, since the video of the speech went viral instantly. That's a lot of people who watched Streep declare that "disrespect invites disrespect. Violence incites violence. When the powerful use their position to bully others, we all lose."
Though Streep's words were perfect and well-timed, there is the cold fact that Hollywood is run by executives and producers — like Trump himself, who remains an exec producer on the reality TV show Celebrity Apprentice, on which he used to star. In an interview in Variety, an unnamed executive revealed that many Hollywood executives are treading carefully when it comes to the President-elect. "I think everyone has the same feeling…you don't want to be on the end of one of those tweets," the exec is quoted as saying in reference to Trump's tendency to speak out on Twitter. On Monday, Trump tweeted a response to Streep's speech: "Meryl Streep, one of the most over-rated actresses in Hollywood, doesn't know me but attacked last night at the Golden Globes. She is a Hillary [Clinton] flunky who lost big."
Hopefully Streep's words will convince the rest of Hollywood to stand up for the ideals she evoked in her speech. The times ahead are uncertain and to be frank, a little scary. Meryl Streep isn't hiding from this fact and instead used it in a speech which was supposed to be about her own personal triumphs. It shouldn't be surprising that her speech, and her timing of this speech was important and actually low-key perfection.
And hopefully we will soon be un-surprised by the amount of Americans working together to keep this country an empathetic and hopeful place that continues to support the arts.