Ivanka Trump's Meeting With Planned Parenthood Means Nothing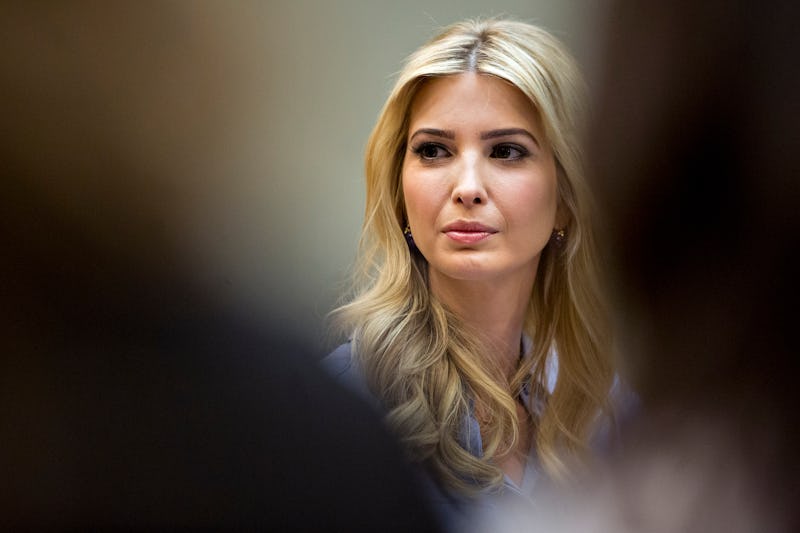 Pool/Getty Images News/Getty Images
For more than two months, Ivanka Trump kept a secret, one that could hurt her on both sides of the delicate reputation she's currently balancing. Her January meeting with the organization at the center of America's fight over abortion is just now coming to light, but it doesn't mean much when taken in context of all Trump has, and hasn't, done since then. Ivanka Trump's meeting with Planned Parenthood doesn't impress me because secret meetings don't have any positive impact on the millions of women who are facing the loss of their affordable healthcare.
Although it actually took place several weeks ago, the news just broke about the meeting between Trump and Planned Parenthood CEO Cecile Richards this Thursday. According to a spokesperson for the organization, Trump and Richards had "a cordial and informative meeting shortly after the inauguration," during which they discussed how the government really funds Planned Parenthood and why defunding would be dangerous. As the world knows now, the meeting happened, but nothing substantial came of it.
Dawn Laguens, executive vice president of Planned Parenthood, pretty perfectly articulated the problem with this meeting, which appears to not have done anything to influence Trump's actions for and within the administration. "You don't get to have it both ways," Laguens told Politico in response to Trump's public persona and private actions. "You don't get to say women should have great child care when maternity benefits are on the chopping block."
Trump's subsequent actions since the meeting have clearly shown that she isn't going to be a voice for progressives, or anyone at all, really. She declined to speak up about Congressional Republicans' attempt to force the financial burden of maternity care entirely onto women. She didn't oppose the executive order banning foreign aid to organizations that provide abortions. She did nothing to stop Betsy Devos' troubling confirmation as Secretary of Education, even though she brands herself as an education advocate.
Trump simply isn't backing up her words with any measurable action, so she doesn't get credit for either. Silence gives consent, whether or not that's what's actually happening inside the White House, as Trump claimed during her recent CBS interview. The American people, millions of whom are scared about how they will afford birth control or STI testing if Planned Parenthood is defunded, deserve a zealous advocate who will both walk the walk and talk the talk.
Trump's actions seem to indicate that she thinks she can be everyone's hero, which is admirable if that's what she's really trying to do. But everyday that women aren't sure if they have a single person standing up for them in the Trump administration is painful and scary. Until Trump stands up and really takes a side, she's tacitly on her father's side, and equally responsible for his war on women's rights.