Jeff Sessions Just Resigned As Trump's Attorney General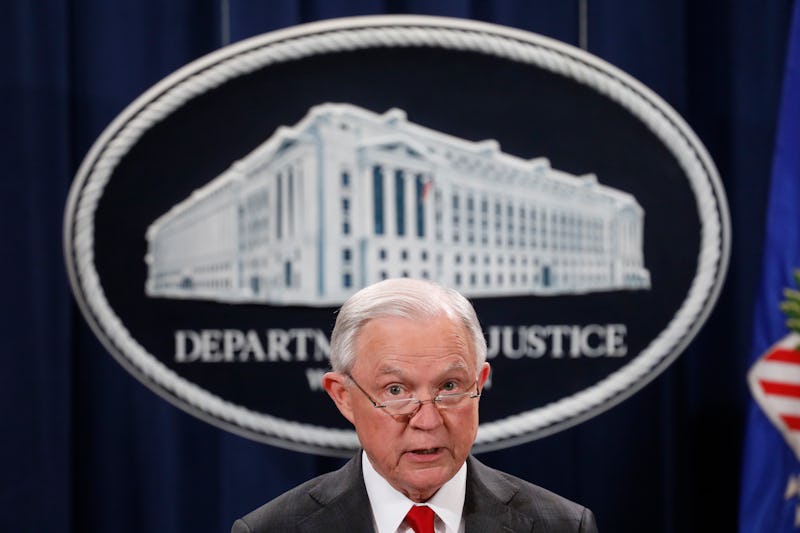 Aaron P. Bernstein/Getty Images News/Getty Images
The Associated Press reports on Wednesday that Attorney General Jeff Sessions has submitted his resignation letter to President Trump. The news comes one day after Republicans lost control of the House of Representatives in the midterm elections, and according to Sessions' letter, he's stepping down because Trump asked him to.
"At your request, I am submitting my resignation," Sessions wrote in the letter obtained by BuzzFeed News. "Since the day I was honored to be sworn in as Attorney General of the United States, I came to work at the Department of Justice every day determined to do my duty and serve my country. I have done so to the best of my ability, working to support the fundamental legal processes that are the foundation of justice."
Trump's decision to fire Sessions isn't a surprise; in fact, it's been a long time coming. Trump has regularly insulted and belittled Sessions on social media since appointing him in early 2017, at one point referring to his conduct as "DISGRACEFUL!" Trump publicly complained about Sessions' decision to recuse himself from the Justice Department's Russia investigation, and revealed that he wouldn't have appointed Sessions to the job if he'd known he was going to recuse himself.
Although many of Sessions' decisions seemingly angered Trump, his recusal was perhaps the most significant. Sessions announced in March that he would recuse himself from any investigation regarding the 2016 campaign after it was revealed that, while testifying in front of Congress, he had misled lawmakers about his communications with Russian diplomats during the campaign.
As a result of Sessions' recusal, the Justice Department's investigation into Russian influence in the 2016 presidential campaign fell under the control of Deputy Attorney General Rod Rosenstein. It was Rosenstein who appointed former FBI Director Robert Mueller to serve as the special counsel in charge of that investigation, and in doing so, he gave Mueller the authority to look into "any matters that arose or may arrive directly from the investigation." It was reported in June 2017 that, thanks to the wide latitude Rosenstein gave Mueller, investigators had begun looking into whether or not Trump obstructed justice by firing FBI Director James Comey earlier in the year.
Trump announced Wednesday that Sessions' chief of staff Mathew Whitaker will become acting Attorney General, and NBC's Pete Williams later reported that Rosenstein will cease overseeing the Mueller probe. This means that Whitaker will now be in charge of Mueller's investigation, which could have significant ramifications: In August, Whitaker wrote an op-ed titled "Mueller's investigation of Trump is going too far," and argued that the special counsel's investigators would be crossing a "red line" if — as some unconfirmed reports claimed — they started looking into the Trump family's finances.
Whitaker has also been highly critical of the Mueller investigation on Twitter. Some are suggestion that this could be reason for Whitaker to recuse himself from overseeing Mueller's probe.
The question of whether Trump fire Mueller or otherwise attempt to quash the investigation has been looming large ever since the investigation was announced. Although any number of things could happen from here, Trump's decision to fire Sessions directly threatens Mueller's investigation and paves the way for the president to end the investigation entirely, should he choose to do so.