The Internet Is Calling Out This BIG Problem With J.K. Rowling's Johnny Depp Comments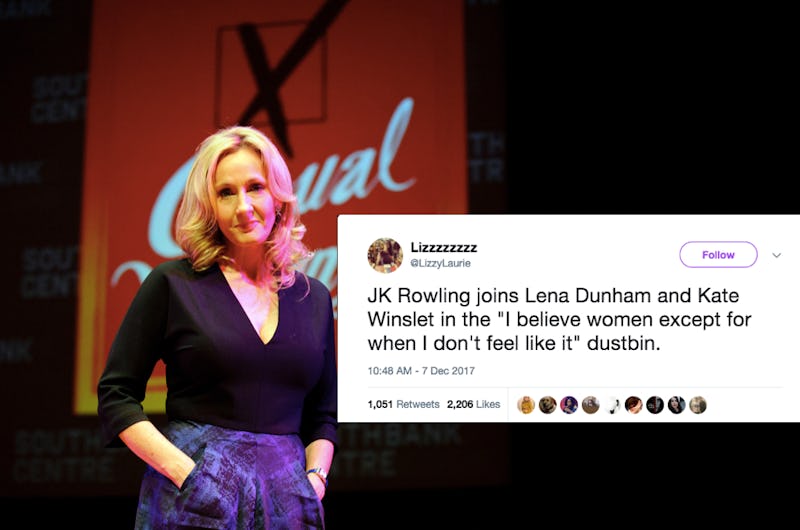 Ben A. Pruchnie/Getty Images Entertainment/Getty Images; LizzyLaurie/Twitter
As the wave of reckoning for decades (and, if we're being honest, centuries) of sexual violence has swept through Hollywood, it has felt like every day brings about a new uncovering of misconduct and another subsequent resignation. For the first time maybe ever, victims are being believed and predators are facing actual consequences. But there's been one noticeable decision that's deviated from the new standard: Johnny Depp has remained cast in the latest Harry Potter film. Here's why people are so upset with J.K. Rowling's response to the casting of Johnny Depp.
In a blog post published earlier today on her professional website, Rowling, the author of Harry Potter, spoke publicly for the first time regarding Depp's reprisal of his role as evil wizard Grindelwald in the upcoming film Fantastic Beasts: The Crimes of Grindelwald. Per the title, it's clear that Depp is, uh, definitely one of the stars.
But Depp, who for years was beloved for his roles in both campy classics like Cry-Baby and mainstream blockbusters like the Pirates of the Caribbean franchise, has continued to enjoy an acting career despite allegations of domestic abuse from his former wife, actress Amber Heard, as well as accusations of inappropriate behavior on the set of the latest Pirates film.
Rowling wrote of the situation:
For me personally, the inability to speak openly to fans about this issue has been difficult, frustrating and at times painful. However, the agreements that have been put in place to protect the privacy of two people, both of whom have expressed a desire to get on with their lives, must be respected. Based on our understanding of the circumstances, the filmmakers and I are not only comfortable sticking with our original casting, but genuinely happy to have Johnny playing a major character in the movies.
Oh, boy. Her statement comes on the heels of director David Yates' comments in an interview with Entertainment Weekly last month, in which he's quoted as saying, "With Johnny, it seems to me there was one person who took a pop at him and claimed something. I can only tell you about the man I see every day: He's full of decency and kindness, and that's all I see. Whatever accusation was out there doesn't tally with the kind of human being I've been working with."
Ew.
In the hours since Rowling's blog post went live, fans have taken to Twitter to express their frustration and disappointment with the well-loved author's comments. For many, her decision to essentially pick and choose which victims she believes and which she chooses to write off smacks of a similar "solidarity when convenient" sentiment exhibited by Lena Dunham earlier this year.
J.K. Rowling is extremely vocal about politics on her Twitter, and the current conversation surrounding sexual assault has not escaped her notice. She's retweeted a number of people on the topic. One tweet she retweeted to her timeline, posted by user Sarah Hartshorne, reads, "Fun sexual assault fact: you only hear the stories we can bear to tell."
Another tweet she retweeted was posted in response to one user's assertion that sexual assault would be eliminated if sex were restricted to marriage. The tweet posted by J.A. Miraj, reads in part: "Marriage protected me from nothing. Blame the perpetrators and them only and find some empathy."
Some fans also see Rowling's position as directly knocking heads with the spirit of the Harry Potter books, which spoke of the necessity of courage, of standing up and speaking out even when it's difficult or dangerous or uncomfortable.
"Was trying to come up with something biting and witty to say about this PR-workshopped non-apology, but just broke my heart into too many pieces," tweeted culture journalist Devon Maloney in response. "I have nothing but sadness. Shame on you for this, J.K. Rowling."