John Oliver's Coverage Of The Cosby Trial Wasn't Nearly Enough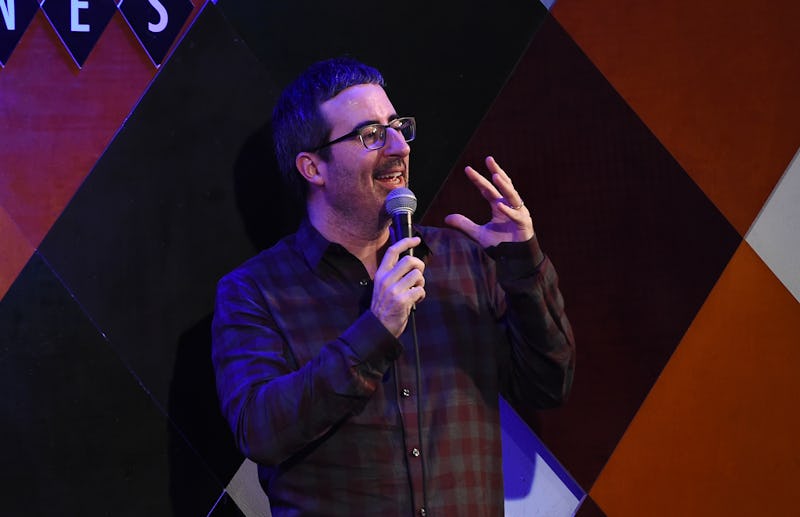 Ilya S. Savenok/Getty Images Entertainment/Getty Images
On Sunday's episode of Last Week Tonight, John Oliver briefly addressed the Bill Cosby trial and the recent announcement that the sexual assault case had ended in a mistrial. However, instead of commenting on the implications of the mistrial, Oliver only briefly reflected on Cosby's strange behavior after the trial. But Cosby's behavior wasn't what should have gained Oliver's attention.
It's certainly understandable that the host can only cover so many topics on his show. But as opposed to making fun of Cosby's remarks following the trial, he could have reflected upon the nature of sexual assault and rape culture in America. In that sense, it was an opportunity lost.
In his opening segment on the show, Oliver noted that the Cosby case supplied viewers "with one of the single weirdest moments of the year," when, following the announcement of a hung jury, Cosby yelled his famous Fat Albert catch phrase, "Hey, hey, hey!" as he exited the courthouse. Oliver appeared aghast at Cosby's post-trial behavior, saying "what are you doing?" and noting that "shouting your character's catch phrase while on trial is a bizarre choice." Oliver then wrapped up segment by saying, "But let's not talk about Cosby tonight ... let's talk about another terrible bill — the American Health Care Act."
It is perfectly acceptable that Oliver chose to focus the majority of his show on other topics, as there is, indeed, much going on in the world. Oliver, for instance, spent much of his show discussing the Senate healthcare bill and the problems with Trump's promises to coal miners. However, it is somewhat disappointing that he chose to mention the Cosby case and fail to focus on what many find to be most problematic about the mistrial. Though Cosby has strongly denied the allegations against him, the treatment his accusers have faced show, as Salon noted, that "rape culture has not yet been conquered."
As many know, and as Salon indicated, Cosby's trial for sexual assault charges featured a limited defense, as Cosby's team only called one witness to the stand. By contrast, the prosecution presented five days-worth of witness testimony. The case ended with a hung jury that was unable to decide whether or not to convict Cosby.
As someone who often offers very enlightened (and often impactful) commentary on important and complex issues, it would have been refreshing to see Oliver approach the Cosby mistrial in a more nuanced way. Even if the host only took the few minutes he used to discuss the Cosby trial on Sunday to instead address it from a more reflective angle, I believe it would have constituted a better use of his platform than his use of it to focus on the strange nature of Cosby's behavior.
I, for one, certainly very much appreciate Oliver's thoughtful commentary and analysis of many issues on Last Week Tonight. However, he seems to have missed the mark a bit with his brief take on the outcome of the Cosby trial this week.