What 'Detroit's Stars Really Think About A White Director Making Their Movie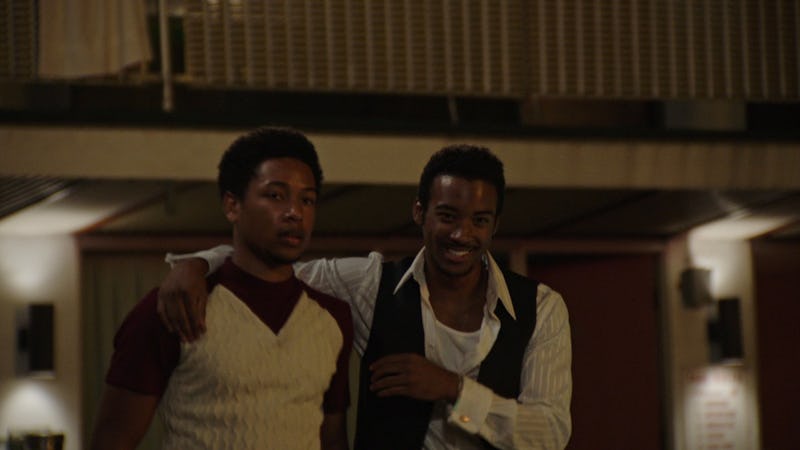 Annapurna Pictures
Although the movie doesn't hit theaters until Aug. 4, Detroit director Kathryn Bigelow has already received some critiques for her portrayal of the Algiers Motel incident, a real tragedy in which 10 young black men and two white women were held hostage by white policemen and badly beaten, with three men killed. Some of the movie's critics have called out Detroit for erasing black women, while others have voiced objections to Bigelow, who's white, and Mark Boal, the movie's white screenwriter, being the ones to bring the horrors of the Motel incident to the big screen. Yet despite this backlash, it's clear that at least two of Detroit's stars, Jason Mitchell and Algee Smith, think Bigelow was the best director for the job.
"I feel like it's not a matter of skin color, it's a matter of how this story can be told and the best way it can be told," says Smith, speaking to Bustle via phone. The actor, who plays young singer Larry Reed, claims that not one member of the predominantly black male cast was ever worried about Bigelow's race affecting her depiction of the events. In fact, at least he and Mitchell, who plays Carl Cooper, a young man whose firing of a starter pistol during the riots leads to the police charging into the Motel, were proud to have Bigelow on-board.
"For lack of a better expression, I think it takes balls," Mitchell says, also via phone. "It takes a lot of balls for a woman in her position, who could do any movie, to say that we have to make it revolutionary."
Mitchell and Smith both say that working with the director was a unique experience. The actors were given a lot of creative input on set, with very few scripted lines of dialogue, and Mitchell tells me that he thinks the cast was given such freedom in part because Bigelow acknowledged the limits of her perspective as a white woman to tell this story. "I'm more than happy that, as a white woman, she humbled herself to say, 'Hey, Jason, I don't know how to script all your lines because I don't know how to do black,'" Mitchell says. "'So, I'm going to let take over your part, but I'm going to pull my strings to do my part.'"
Bigelow put the actors in charge of their own characters, giving them minimal direction. In fact, both Mitchell and Smith recall days they would show up on set without any idea of what scene they would be shooting. "We would get on set and some days we wouldn't even have the words we were saying. She would be like, 'You guys ready?' And we'd be like, 'Kathryn, we don't know what we're saying in this scene,'" Smith recounts.
By allowing the actors of Detroit to take the reigns, Bigelow was able to capture some very real and tense moments. In fact, one of the film's most poignant monologues, delivered by Mitchell as Carl acts out what it's like to be black with the police, was completely improvised. "They put this toy gun in my hand and they said, 'hey, these are the bullet points we want you to cover, but we want you to let it out from the inside and say how it feels to go into these situations,'" Mitchell recalls. The result is a disturbing and truly frightening moment, one that might not have been as effective had it been meticulously scripted.
As Detroit hits theaters across the country, no doubt many more conversations will be had about Bigelow's treatment of the Detroit riots. And it looks like Mitchell and Smith will be backing up their director every step of the way.