Why Kid Rock Running For The Senate Would Be A Bigger Deal Than You Realize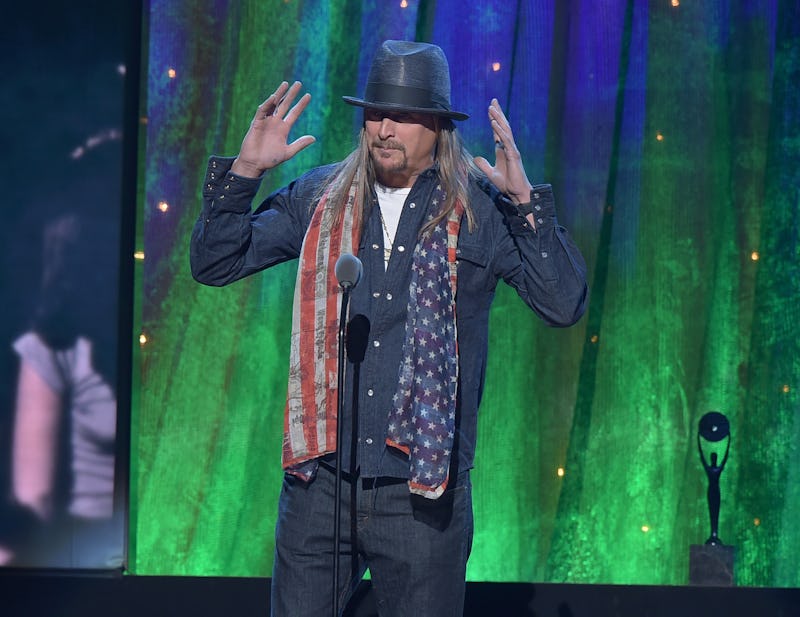 Theo Wargo/Getty Images Entertainment/Getty Images
The state of American politics could get just a little bit stranger when the 2018 Senate midterms roll around. Longtime Michigan Senator Debbie Stabenow's seat is up for grabs, and she might be facing a challenge from a well-known non-politician: rap-rock musician Kid Rock. And if he indeed runs, and becomes a credible contender for the seat, it could have big implications for American politics going forward ― Kid Rock's Senate run would be important, because it could open the floodgates for even more celebrities to vault into elected office.
If there's one person who didn't seem too excited about Kid Rock teasing a run for the U.S. Senate this week, it's the woman who currently holds that seat. On Friday, Michigan Democratic Sen. Stabenow reacted to Kid Rock's Senate run announcement, remarking that the 46-year-old rocker was "better at playing the guitar" than her, but promising to "keep fighting for Michigan."
Stabenow, the 67-year-old senior senator from the Great Lake State, has been serving in the U.S. Senate since 2001 ― which is to say, the same year that Kid Rock's third major album, Cocky, was released.
Stabenow tweeted out a response to Kid Rock's campaign-teasing statement on Wednesday, both slightly downplaying the seriousness of the announcement, and positioning herself as an established fighter for the voters of Michigan. As it stands now, Stabenow enjoys a positive approval rating by a margin of eight points, although she doesn't have a majority ― according to a recent Morning Consult poll, 45 percent of Michiganers approve of the job she's doing, while 35 percent disapprove and 18 percent have no opinion.
As Billboard notes, Stabenow also sent out a fundraising email shortly after Kid Rock began making noise about a Senate run, and while it acknowledged that it's still unclear whether Kid Rock is embarking on a legitimate political effort or a "publicity stunt," it also cited the surprise emergence and victory of President Donald Trump as an example of why his potential candidacy should be taken seriously.
"We don't know if this is real or just a publicity stunt," the fundraising email said. "But after Donald Trump's surprising win last year, we need to act fast."
Rock, for his part, responded in kind. As detailed by The Detroit News, he replied to Stabenow's tweet by claiming she's "better at playing politics" than he is.
I concede she is better at playing politics than I am so I'll keep doing what I do best, which is being a voice for tax paying, hardworking AMERICANS and letting politicians like her know that We the People are sick and tired of their bull----!
If Kid Rock indeed runs for the Senate, he'd have at least a couple things in common with Trump, whom he openly praised and supported during the 2016 campaign: high name recognition and personal celebrity. And seeing how well that combination worked out for the current president, a Senate win for Kid Rock would likely only accelerate the blurring of politics and entertainment.
Obviously, whether he can actually be successful in politics remains to be seen. But it's not at all hard to imagine, right on the heels of the Trump presidency, that his candidacy could spark a slew of even more marginal and unqualified celebrity candidates to start running against established ― and in many cases, far more boring ― figures from the world of politics.
This isn't something that would strictly happen on the conservative side of the aisle, to be clear. The internet is already awash in buzz that former WWE wrestler Dwayne Johnson might run for president in 2020. And although it's similarly totally unclear if that'll ever happen or if it's just idle speculation, he'd be running against a Republican incumbent in Trump, if so.