Why You Feel So Close To Kim K, Even Though She's More Private Than Ever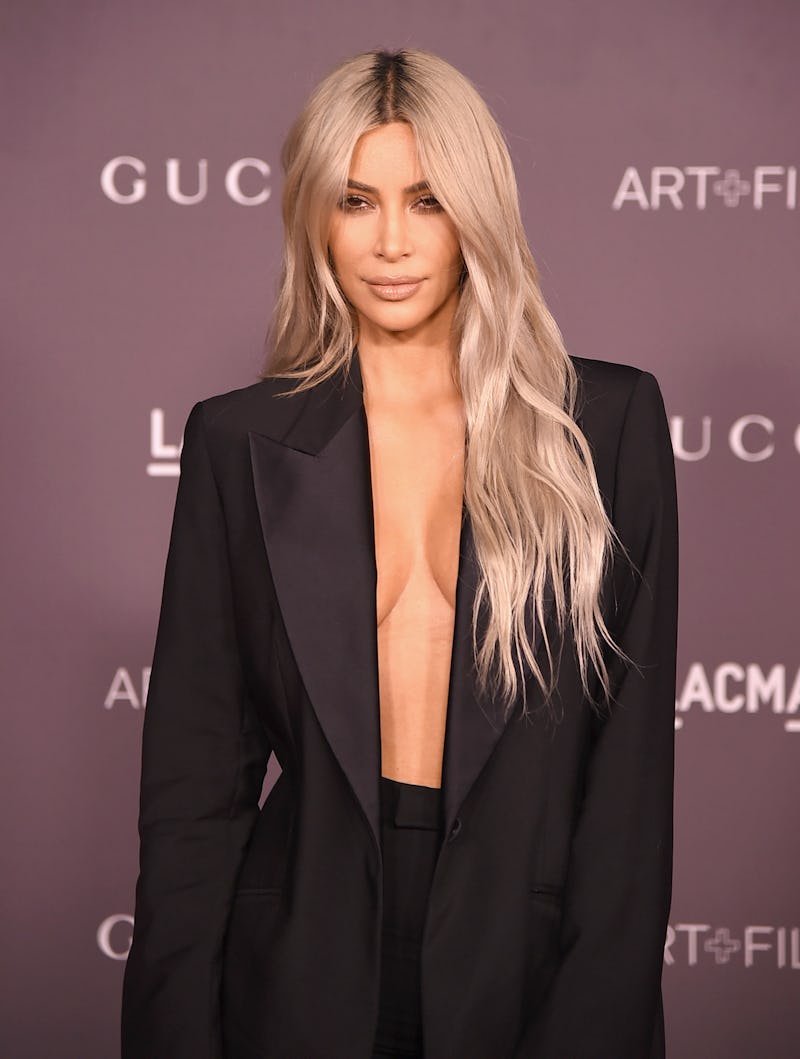 Kevin Winter/Getty Images Entertainment/Getty Images
Over the last several months, there has been so much buzz about the Kardashian family's potential baby boom. And now that Kim Kardashian's third baby is here, it's clearer than ever exactly how much control she has over what we know about her, despite her very public life. In fact, the only way to explain the way her surrogate's pregnancy and now, her baby's arrival, have played out in the media is the fact that Kardashian is even more savvy with her image now than ever before. And that despite how increasingly private she's become, fans still feel just as close to her as ever.
You'd think that since Kardashian is such a huge celebrity, the kind of privacy she's been able to maintain during this time in her life would be impossible, but somehow, it isn't. And throughout the entire process, Kardashian has managed to only share the information about her new baby that she actually wanted the world to know. But while holding onto her privacy, she still manages to keep her fans feeling like they're part of her personal life.
Before Kardashian's new daughter was here, information about her came to fans in a trickle. After a uterine surgery that might have allowed her to carry more children was unsuccessful, Kardashian explored other options on Keeping Up With The Kardashians, including surrogacy. It wasn't until the reports began to surface earlier this year that people began to suspect that she'd gone through with it, but she still didn't give into the rumors at all. After weeks of wondering if her surrogate was pregnant, the official announcement was so low-key: a simple comment from Kardashian about having another baby in a promo for KUWTK.
And even though this is a huge change that's happening in her life, Kardashian has remained largely silent about it. She's talked about her surrogate a bit on KUWTK this season, and revealed that the baby is a girl during an appearance on The Ellen DeGeneres Show, but otherwise, fans had no idea who the surrogate actually is or any other details about baby number three. Even so, they still felt they were privy to her personal life, thanks to how artfully Kardashian has shared the information she's chosen to make public.
The way that Kardashian has approached social media while expecting her third child is far different than the way she acted with North and even Saint. But even so, fans don't feel like they're missing out. Between her app, her social media accounts, and KUWTK, it's easy for fans to feel included in Kardashian's private life. She may not give constant updates on her day, her outfits, or what her family is up to anymore, but she throws enough information out there to help her fans feel like they're still in the loop — especially compared to the way her sisters, Kylie and Khloé, were handling their reported pregnancies at the time Kardashian announced hers.
These little details and pieces of her life that Kardashian can bear to part with may seem small, but she sprinkles them so strategically between social media and her show that they make fans forget the information she's not sharing.
During the period when her surrogate was pregnant, Kardashian shared tiny details about her new baby, like North referring to her baby sister as "Star West". But when Kardashian was pregnant with North and Saint, she shared bits and pieces of her pregnancy with fans and followers, including bump photos and her pregnancy style. But with this baby, things are different. Of course, partially, it's because this time, the baby was carried by a surrogate, but based on the way she's shared other parts of her life recently and the changes there, too, it's also likely that it has to do with her evolving to the point where she's even pickier about the way her story is told.
Being so accessible has been what her career has been built on, and it's incredibly smart for Kardashian to keep that up. She shares so much other information with fans that it allows her to keep certain things, like her surrogate's pregnancy, under wraps for longer than many celebrities are able to keep their major life events private. We have no idea who her surrogate is, but we did see the floral ice cubes from her baby shower. We don't know what baby names she's considering, but we did get to see her tell her family the exciting news for the first time on KUWTK.
These little details and pieces of her life that Kardashian can bear to part with may seem small, but she sprinkles them so strategically between social media and her show that they make fans forget the information she's not sharing. It's not that she's trying to close herself off, but she has the right to however much privacy she wants herself and her children to have. Managing to maintain that privacy while also holding onto a fanbase made of people who love feeling in the know when it comes to her is simply the key to her magic.
This is all part of her brilliance — and why she's managed to stay so relevant and successful. She's known for being an open book, even if she isn't necessarily quite so open anymore. Somehow, she's managed to keep this side of herself in tact while also so dramatically pulling back on how freely the information used to flow from her every day.
After her 2016 robbery at gunpoint in Paris, there was a major shift in Kardashian's life, online and off. Filming for KUWTK was put on hold, sightings of her became incredibly rare, and she was silent on social media for months. At the time, police told CNN that what she posted online may have made her a target for the robbers, and according to the way she responded to the robbery by shutting down completely makes it seem like she agreed. During that time, her sister Khloé said on The Ellen DeGeneres Show that it was a "wakeup call" for the entire family to be more careful about what they share with the world.
And when Kardashian finally decided to return, everything was different. Rather than sharing selfies and more candid photos on Instagram, she chose to be a bit more calculated with the way she presented herself to her followers — and the way she's lived her life in general.
In the episodes of KUWTK that were filmed in the weeks following the robbery, Kardashian was open about how she preferred to stay home and be with her children, partly because the robbery made her feel like she needed to spend more time with her family but also because she no longer wanted to be seen going out to events or even to restaurants.
It seems that so many things are out of Kardashian's control: being followed by paparazzi, having certain information leaked about her by untrustworthy friends, the opinions people hold about her based on just what they've seen of her on TV. But in reality, it seems she's only gained more control over her public image than ever, which is so obvious considering the way her surrogate's pregnancy and the birth of her third child have played out.
Now, Kardashian holds tightly to her boundaries, remaining calculated in the way she's portrayed. In a recent episode of KUWTK, she, her sisters, and even her mom attended media training to make sure they are all able to communicate in interviews in a way that allows them to share precisely what they want to in exactly the way they want their words to come across — even though they've all been living in the spotlight for more than 10 years.
It's always been important to Kardashian and her family to have these boundaries, and that was attractive to her when she considered surrogacy. "The best thing is I could have a new baby and have no one know and live my life for a good year before we announce it," Kardashian said on an episode of KUWTK last season. She didn't decide to do that this time — instead, she acted quickly so she could be the one to break the news.
According to Kardashian's announcement, her baby was born on January 15 at 12:47 a.m. Less than 48 hours later, Kardashian shared the good news, writing on her website:
Kanye and I are happy to announce the arrival of our healthy, beautiful baby girl. We are incredibly grateful to our surrogate who made our dreams come true with the greatest gift one could give and to our wonderful doctors and nurses for their special care. North and Saint are especially thrilled to welcome their baby sister.
This time, she beat every other outlet besides TMZ (which shared a very brief announcement with no details) in sharing the news, maintaining full control like she has through this entire chapter of her life. Kardashian is more private these days, yes, but there's nothing like a personal birth announcement to make fans forget that.
Although she made it clear that she'd prefer to carry her third child herself, using a surrogate has allowed Kardashian to have more control than ever over the way this very big, very personal moment in her life has been portrayed in the media and it seems to be a sign of the way she'll be conducting her image from here on out.
Kardashian, as a celebrity and a public figure, has evolved so much since we first met her behind the counter at DASH in Keeping Up With The Kardashians' first season. Now, it seems she's finally able to live her life the way she chooses — without having to let go of what truly made her career in the first place. She has to be more calculated than she's ever been, but that doesn't mean she's not the same person fans fell in love with more than a decade ago.
As Kardashian steps into this next phase of her life and becomes a mother of three instead of two, it doesn't seem like she and her family are going anywhere, and neither is their place as the reigning reality family of television, especially if Kardashian continues to keep her fans updated. But even though that status doesn't seem to be changing anytime soon, Kardashian constantly is. And where she's concerned, change is good.