Kim Kardashian Welcomes Her Third Baby Via Surrogate — REPORT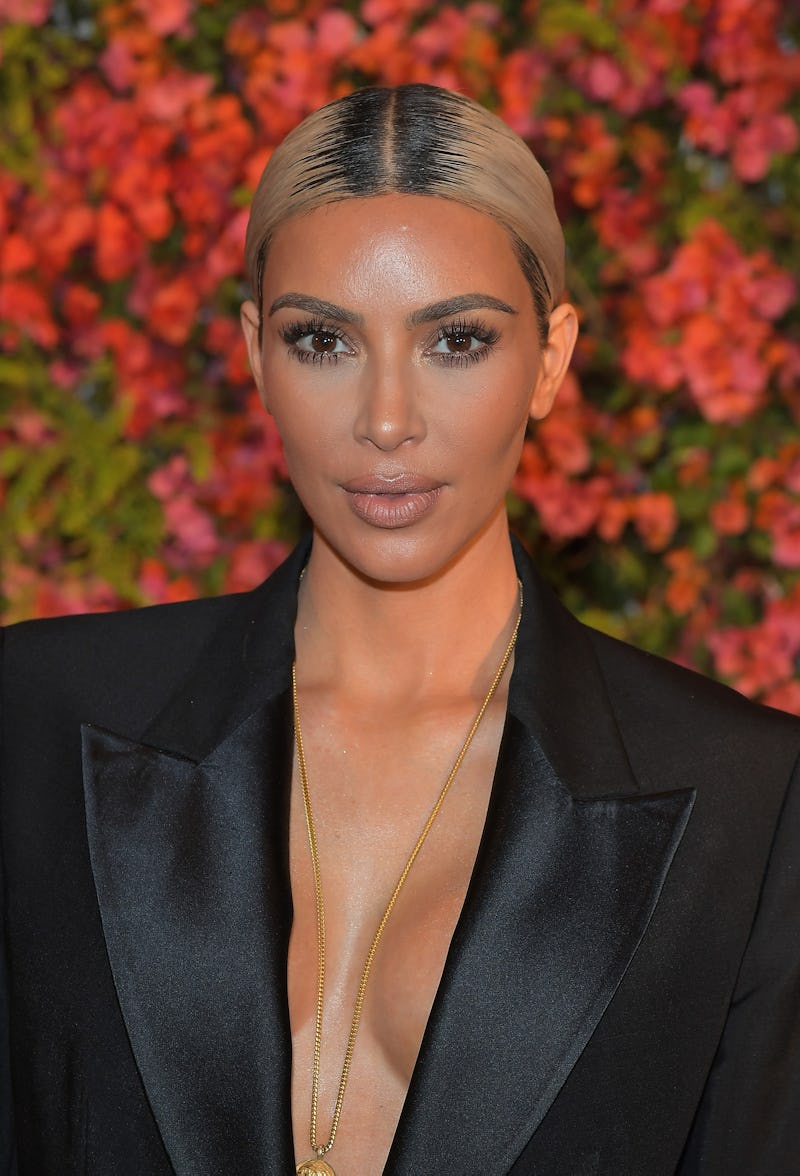 Charley Gallay/Getty Images Entertainment/Getty Images
There's another mini-Kimye in the world. Kim Kardashian welcomed her third baby, a girl, with Kanye West via surrogate, according to TMZ. The publication reports that the couple's surrogate gave birth on Tuesday, Jan. 16. Bustle reached out to Kardashian's rep for comment, but did not receive an immediate response.
UPDATE: Kardashian confirmed that she and West welcomed their third child on her website and noted that she was born on Jan. 15 at 12:47 a.m.
EARLIER: In September and after much speculation, Kardashian confirmed she was having another baby, but this time with help from a surrogate. In a trailer (below) for Keeping Up With the Kardashians Season 14, Kardashian announced to her sister, Khloé Kardashian, "We're having a baby!"
It wasn't until November did she accidentally reveal on The Ellen DeGeneres Show that she was going to become a mom to another daughter. While discussing her baby shower, Kardashian told Ellen DeGeneres about North West's involvement, "People brought toys and gifts and she was opening them all up the next day. And she said, 'Mom, you know, since Baby Sister's not here, I think I need all of her toys in my room and I'll play with them and just make sure they're all OK for Baby Sister." It was "Baby Sister" that, obviously, gave away her third child's gender.
When it comes to using a surrogate, the 37-year-old reality star has pretty much been an open book. She's never shied away from discussing her decision. It was all the way back in a fall 2016 KUWTK episode, where Kardashian talked about using a surrogate with her older sister, Kourtney Kardashian. Kourtney said, "If you use a surrogate, nobody has to know the whole time. You could have a baby for a year and nobody would even know." It was that same episode where Kardashian met a woman who had used a surrogate.
Then, in a March KUWTK episode, Kardashian wanted to see if would be able to have another child on her own. So, she underwent surgery to repair her uterus. Unfortunately, the surgery wasn't successful and her doctor also informed her she couldn't carry another child. Obviously, this helped her decision to go down the surrogacy route.
While chatting with Entertainment Tonight in November, the Selfish author expressed how she actually thinks having a child via surrogate is harder than pregnancy itself. "Anyone that says or thinks it is just the easy way out is just completely wrong," she said. "I think it is so much harder to go through it this way, because you are not really in control. And, you know, obviously you pick someone that you completely trust and that you have a good bond and relationship with, but it is still ... knowing that I was able to carry my first two babies and not, you know, my baby now, it's hard for me."
All that said, she informed ET how grateful she is that she was given this opportunity to have another child. "I think it is definitely a different experience and I am blessed that I am able to do this, and technology is the way that it is that we can do this," Kardashian said.
Reports first began surfacing of Kardashian expecting a baby via surrogate in July. At the time, it was reported they hired the surrogate in June. In October, Us Weekly reported Kimye would meet their daughter sometime before Christmas. Prior to that, TMZ reported the baby would arrive sometime in late January. Well, now everyone knows when the baby actually arrived, because she is finally here.
It's definitely happy news, especially since Kardashian seemed so badly to want to expand her family. KUWTK fans are probably really excited to see all of the cute photos Kardashian will post of her daughter, especially all of the ones with her siblings, North and Saint West. This is truly a thrilling time for Kardashian and West.