Watch Bradley Cooper & Lady Gaga Talk About How Hard It Was To Let Go Of 'A Star Is Born'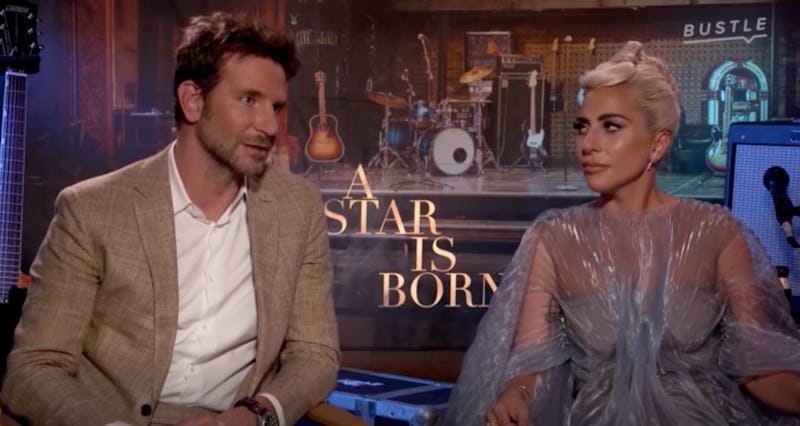 Bustle
A steep rise to fame and subsequent exposure to its perils comprise a tale as old time, but writer/director Bradley Cooper's A Star Is Born makes that journey feel fresh. Sure, this film is the fourth telling of a similar tale (marathon the 1937, 1954, and 1976 feature versions for the full 80+ year experience), but the 2018 version stands strong on its own. Out Oct. 5, A Star Is Born is unquestionably one of the most highly anticipated movies of the year, placing Cooper and Lady Gaga opposite each other as country-leaning rock star Jackson Maine and waiter/low-key singer-songwriter Ally, respectively. Bustle caught up with the stars at this year's Toronto International Film Festival to talk about their deeply personal performances and why this artistic experience was different from any of the other acclaimed work either of them had done before.
Lady Gaga won a Golden Globe in 2016 for her performance in American Horror Story: Hotel, and she has roots in musical theater, but A Star Is Born marks her first feature film role. And what a role it is. Ally begins the movie in quiet obscurity, toiling during the day and singing at a drag bar at night. But her life changes completely when she meets Jack, who's dazzled by not only her talent but also her authenticity. In a storyline that spans years, Lady Gaga sings, she dances, she laughs, she cries — it's clear that the artist is excavating a layer deeper than what her fans already know and love about her.
It's a new venture for Cooper as well, and his directorial debut is already drawing rapturous reviews. Not only did the Silver Linings Playbook star co-write the script and helm the movie, but he also disappears into Jack, a musical purist, a born romantic, and a relentless addict. Cooper spent a year and a half taking vocal lessons in order to perform as Jackson, including singing live with Lady Gaga as Ally at performances filmed at real music festivals.
When you pour so much of yourself into a role, is it easy to just walk away? In the video below, Cooper and Lady Gaga describe how they were able to leave Jack and Ally behind when it was time to do so. Spoiler alert: it wasn't as simple as you might expect.
At the festival press conference for the film, Lady Gaga said, "It was a challenge but it was also very liberating, and to me, any time I'm doing anything, especially with an actor of his caliber — and I've always been such a huge fan of Bradley and was excited to be the first, you know, lead actress in his film — I wanted to give everything I had: every last drop of blood, all my fear, all my shame, all my pain, all my love, all my kindness... "
And now that deep, personal work is done and the raves are rolling in. But it sounds as though A Star Is Born is going to stay with its stars for a very, very long time.