Lady Gaga Was Subpoenaed In The Kesha & Dr. Luke Case Over A Text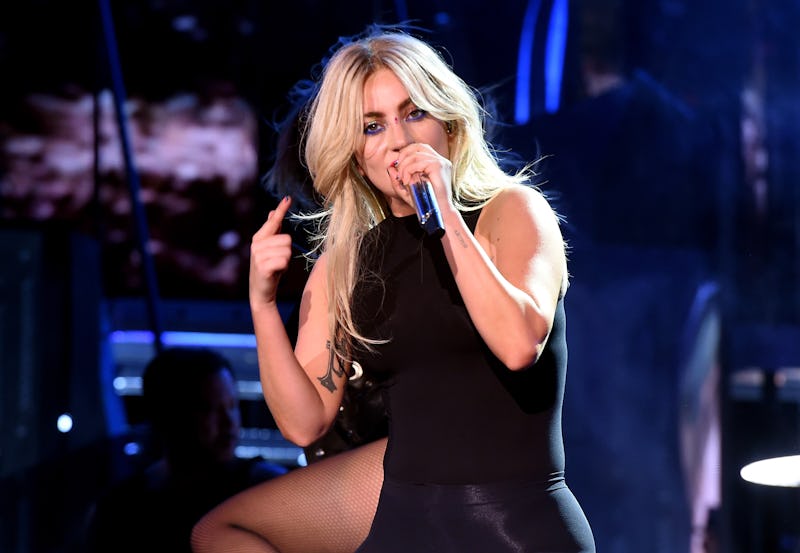 Kevin Winter/Getty Images Entertainment/Getty Images
In 2014, Kesha sued producer Dr. Luke (Lukasz Gottwald) with claims of sexual assault and battery, and to seek a termination of contract. He filed a countersuit, accusing the singer of defamation. The court ruled against Kesha in 2016, and, citing emotional fatigue, she ultimately decided to drop the charges. The logistics of her contract with Gottwald and Sony are still in contention, but the producer hasn't dropped his defamation suit against the artist. According to E!, Lady Gaga was subpoenaed in the Dr. Luke and Kesha case. Gottwald's legal team is claiming that she has important information from Kesha, and that Gaga's team allegedly redacted large portions of their text messages. Bustle has reached out to Kesha's reps regarding these allegations, but did not receive an immediate response.
According to The Independent, Dr. Luke's legal representatives released the following statement:
"In connection with Dr. Luke's defamation claims against Kesha, various third parties are being deposed by both sides, including celebrities. Dr. Luke's counsel served a subpoena on Lady Gaga because she has relevant information regarding, among other things, false statements about Dr. Luke made to her by Kesha. This motion has become necessary because Dr. Luke's counsel has not been able to obtain, despite repeated request[s], a deposition date from Lady Gaga."
Gottwald's lawyers want Lady Gaga testify about the alleged text messages in court. The Joanne singer responded with a statement from her own representatives, which originally appeared in Variety:
"As Lady Gaga's legal team will present to the court, she has provided all of the relevant information in her possession and is at most an ancillary witness in this process. Dr. Luke's team is attempting to manipulate the truth and draw press attention to their case by exaggerating Lady Gaga's role and falsely accusing her of dodging reasonable requests."
In late December of 2016, court documents revealed that a judge had received and sealed a text message sent between Kesha and Lady Gaga. The documents stated, "Gottwald may share with Lady Gaga and Katy Perry the April 2016 text that Kesha sent to Lady Gaga, which Kesha turned over in discovery." This most recent update in the defamation suit is related to these texts. TMZ reported that Gottwald is claiming it had been heavily redacted, and is reportedly trying to obtain an un-redacted version and ensure that Gaga appears in court.
This subpoena suggests that Gottwald's lawsuit might be far from over. The lawyers' statement that "various third parties are being deposed by both sides, including celebrities" could also mean that Lady Gaga may be the first in a list of celebrities called to the stand.
During Kesha's long and intensive legal battle with the producer, Lady Gaga has been an outspoken supporter of her fellow artist. When New York judge Shirley Komreich dismissed all but one of Kesha's claims against Dr. Luke in 2016, Gaga was among the many celebs to stand up for the singer on social media. "The very reason women don't speak up for years is the fear that no one will believe them or their abuser has threatened their life or life of their loved ones/livelihood in order to keep their victim quiet and under control," Gaga wrote on Instagram and Facebook after the ruling. "What happened to Kesha has happened to many female artists, including myself, and it will affect her for the rest of her life."
Lady Gaga was further tied into the legal proceedings when Kesha's lawyer, Mark Gregaros, implied on Twitter that Gottwald may have allegedly sexually assaulted Gaga as well. The lawyer deleted the tweets after Gottwald filed a defamation suit against him. Gaga's reps denied the connection as well, saying in a statement that the connection "simply isn't true and how dare someone take advantage of such a sensitive matter".
In 2016, Sony announced that Dr. Luke was no longer CEO of Kemosabe Records. It's unclear what the move will mean for Kesha and her contractual ties to the producer. Kesha released her latest single "Praying" in July, and her first full length album in four years, Rainbow, will be released on August 11. Gottwald's defamation case is likely to be a long, time-intensive proceeding, and it's not clear at this time if it will impact the future of Kesha's musical work.