Why Legendary Actor Rita Moreno Says You Shouldn't Write Off Old Hollywood Just Yet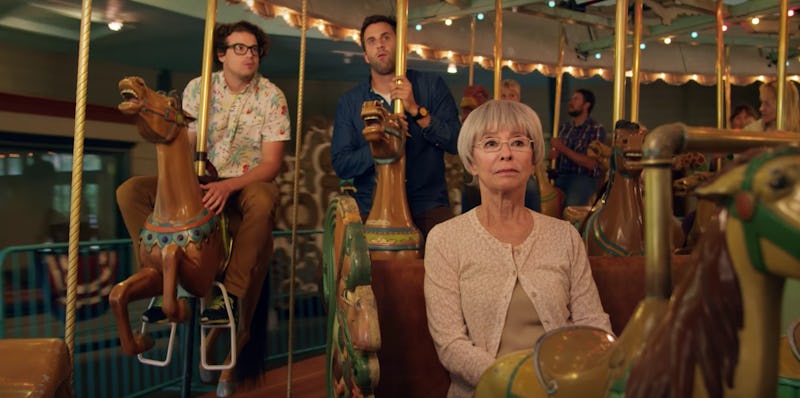 Rita Moreno is proud to say that she's still got it. At 85 years old and after nearly seven decades in Hollywood, the EGOT-winning actor, dancer, singer, and activist is still gracing the stage and screen with joy. Currently, she stars in the indie film Remember Me, On Digital and On Demand Nov. 28. But in an interview with Bustle, Moreno reflects on her experience working in the industry at this particularly tenuous time, when sweeps of allegations of assault and harassment are tearing through Hollywood and dismantling the old system.
"A great big sigh of relief from these quarters," says Moreno, speaking to Bustle over the phone. "Though I don't believe, for one moment, that it's all over. I would remind that I was pursued for almost a year by a head of 20th Century Fox, sending me into fits of terror, believing that I would never work again. I was very young."
In October, according to Deadline, at a Paley event celebrating women in television, Moreno detailed how Buddy Adler allegedly harassed her when she was only a teenager starting out in the business (Adler died in 1960 from lung cancer). Though Moreno said at the event that she never got over the alleged behavior, the actor ultimately prevailed, continuing to work and thrive in Hollywood. Her success despite this setback, combined with the consequences stars like Kevin Spacey and Harvey Weinstein have faced recently for their alleged actions, offers some hope that positive change is happening. "Old boy habits die slow and hard," Moreno says. "But the steps taken, so quickly by corporations, are thrilling and meaningful."
Considering all she's faced and experienced, it's so satisfying to see Moreno's career continue to flourish, especially in work with new filmmakers. In Remember Me, the first feature from writer/director Steve Goldbloom, the actor plays a grieving woman who bonds with her millennial sons as they attempt to take her to a nursing home. While none of the characters are adolescents, it's a coming of age story for all of them.
"I loved it," Moreno says about working with Goldboom and the rest. "I laughed so hard I peed my knickers... They loved it, because they didn't know what to expect with me. They wanted me but they didn't know what to expect. They got this fiesty old lady who played a fiesty old lady." The filmmakers knew exactly how to use the actor's talents. "We improvised a lot," Moreno adds, "and I made her salacious as well."
Moreno also plays a grandmother on Netflix's One Day At A Time, but the character in Remember Me is a little more like how she is in real life. "I just love what I did in this movie," Moreno says. "This is so much me. I'm a very mischievous person. As I get older, I get funnier. Maybe because I no longer have a filter. Throw that filter away. You don't like what I say? Tough darts."
That's not to say that Moreno is always seeking roles as an actor that resemble herself. Particularly in theater, she often takes on larger than life characters like Norma Desmond in Sunset Boulevard, Amanda Wingfield in The Glass Menagerie, and Maria Callas in Master Class. "These are diva roles," says Moreno. "These are big roles, and adore them. Because I am big. Five foot two and really six foot three."
There is a tendency in 2017 to want to burn everything down and start over, completely replacing the older, mostly male generation of powerful Hollywood stars with a younger crowd. Yet while there is a need to open up seats at the table and diversify Hollywood and we can refuse to take "in my generation..." as an excuse for behavior, we shouldn't be writing off the entire age of actors. You can't move forward without looking back, and Remember Me brings this sentiment to light, in a sense.
"Elderly people tend to get shunted off to a home," Moreno says, "and it's heartbreaking. They have so much life in them and they have so much to contribute because they have history. People forget about that, all they see is an old person. It goes much deeper than that."
We have to remember our history if we ever want to make progress. These changes in Hollywood and society in general are inspiring, but must persist if we want to keep standing. There was a time when Moreno thought she'd never work again, as she said in her story about Adler and 20th Century Fox. Now she's one of the most highly decorated and legendary artists we have, who also pals around improvising on indie film sets. It's a legacy that should serve as an inspiration to women in Hollywood today, and continue to thrive for years to come.