Lena Dunham Won't Be Calling Trump A "Cheeto"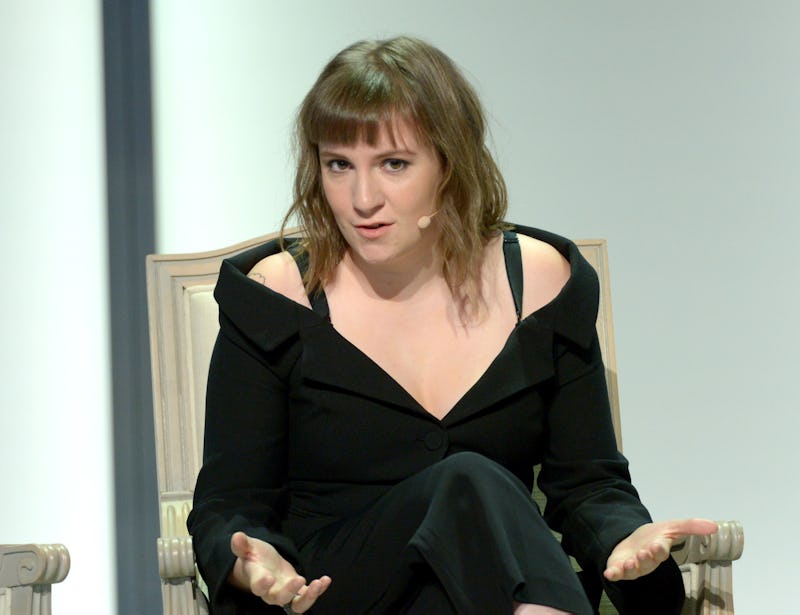 Matt Winkelmeyer/Getty Images Entertainment/Getty Images
Former First Lady Michelle Obama famously said, "When they go low, we go high." HBO Girls creator and staunch women's rights advocate Lena Dunham appears to have adopted this philosophy, particularly when it comes to discussing President Donald Trump's physical appearance. On Wednesday, Feb. 1 during the TimesTalks: A Final Farewell to the Cast of Girls event in New York, Dunham said opposers of Trump have much more substantive concerns to pick apart than his looks. "All he does is talk about women like they're objects," Dunham said to the crowd, according to Entertainment Weekly. "It doesn't reclaim our power to talk about him like he's an object. It doesn't reclaim our power to insult his physicality."
Instead of comparing Trump's spray tan to the color of a Cheeto or a poking fun at his comb-over, Dunham suggested that those of the anti-Trump persuasion take a closer look at his policies that can actually cause harm to the lives of women, refugees, the disabled, and so on. "We have enough cogent, thoughtful, philosophical [arguments] to fill a bible, so why not use those instead of like, 'That orange piece of sh*t," she said.
Dunham and Trump sparred with each other throughout the 2016 election cycle. Most notably, after Dunham declared her plans to move to Canada if Trump won the election, the businessman told Fox & Friends he thought it was a good plan. "She's a B actor and has no mojo... That would be a great, great thing for our country if she got out," Trump said. However, the Not That Kind of Girl writer has learned to take criticisms in stride and power on. As for Trump, last time I checked Twitter was still his main vessel for voicing his disdain over any dissenting opinion about him, but anyway, moving on...
While yes, in the moment, when Trump does... well, almost anything that he does, a festering, undying, unshakable urge to call him "Orange Twitler" or "Spray Tan Stalin" rests on the tips of many tongues. But, as Dunham has proved time and again from the Democratic National Convention to the Women's March, our voices can be much more powerful when we speak positively and rise above.