Why Lisa Vanderpump Is The Funniest Housewife In The 'Real Housewives' Franchise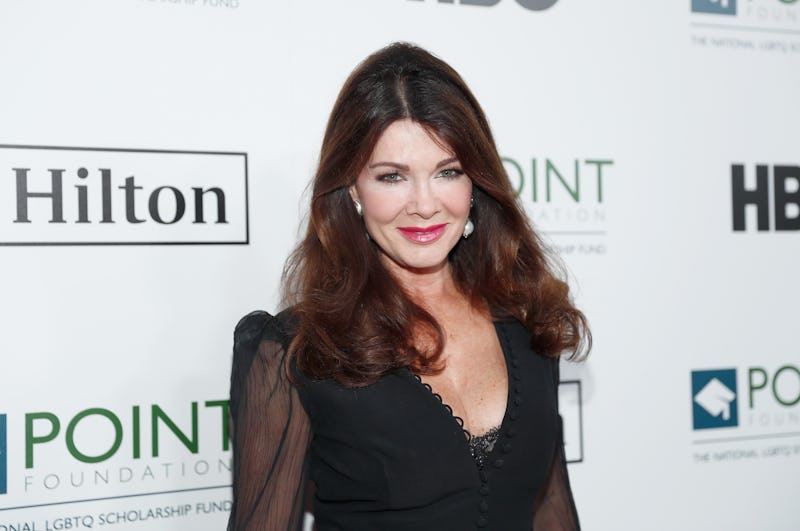 Rich Polk/Getty Images Entertainment/Getty Images
This housewife is known for her glamour, her dogs, her mansion, her work ethic, and her fabulous eateries. But Real Housewives' Lisa Vanderpump is the funniest housewife and her humor just isn't appreciated nearly as much as it should be, dahling. The U.K. native has found herself in hot water numerous times with multiple housewives over the years because they just can't seem to grasp Lisa's dry, British sense of humor. But the world appreciates it, Lisa, and after so many seasons on the show, it's great to see that signature humor hasn't changed a bit.
Lisa is an OG cast member of The Real Housewives of Beverly Hills, and is the only remaining member from the original 2010 season in addition to Kyle Richards. Fans know her for her very expensive pink wardrobe, spin-off Vanderpump Rules, and her ride-or-die pup Giggy (who dons a better wardrobe than most of the population). Cast members, on the other hand, usually know her for hurting their feelings. But it doesn't seem like she means it. Well, not always.
Over the years, Lisa has gotten heat from countless housewives including Taylor Armstrong, Lisa Rinna, Erika Girardi, and Eileen Davidson for her humor. In many instances, cast mates, even her good friend Kyle, will say that Lisa likes to throw "jabs." But really, she's just having a bit of fun.
Because Lisa is clever with her words, the housewives have a hard time distinguishing jokes from insults. For example, in Season 7, Lisa made a joke about being too old to score a role on Eileen's soap opera (which Erika got a role on and was telling them about). Erika wasn't buying Lisa's humor and said to Kyle, "Let's get fake British accents and start insulting people." Another example was in a recent episode in which Lisa made makes jokes towards Dorit that Dorit took a bit seriously. (It's in the above video "Every Insult Is Sheathed in a Joke.")
The ladies can't usually see eye-to-eye on what qualifies as a joke, which is why Lisa has had to defend her humor multiple times. In 2016, she wrote a Bravo blog post titled "It Is an Essential Part of My Life to Have Humorous Banter." In it, she explains why "a little laughter goes a long way" and says it's her mindset to be "enjoying this fragile life each day that we can." If you're going to deal with drama, maybe it is best to wrap it in a little comedy? When the ladies take things too seriously, Lisa laughs it off. She really walks the walk when it comes to her mantra and proves it when she laughs at herself too.
What makes Lisa so hilarious is her self-depreciation and wild humor, and when the two are combined it's TV gold. A great showcase of Lisa's humor is her banter with her husband Ken, a fellow U.K. native who shares her view on not taking life too seriously. (And it's been working for them — the couple's been married for 36 years.) A great example is how the two joke about how they only have sex on Christmas and birthdays. "My husband calls me a sex object, he says every time he wants sex, I object," she joked in Season 1. Ken goes along with it too, which makes it even more fun to watch.
In the Season 1 reunion, Andy Cohen said Lisa was an "oxymoron" because she also always jokes about sex and seems to constantly have it on the brain. (It's actually what made her bond with Brandi Glanville, who also has a wild sense of humor, in Season 2 before their falling out.) But of course, often times the ladies are too stiff for a good sex joke. No pun intended.
In 2016, Lisa wrote another blog post defending herself called "I Know That Sometimes I Am Too Provocative" when she explained her friction with Lisa R. and Eileen. "Maybe we could indulge in playful banter and relax a little," she wrote. It's about time.
There's enough drama on the show, so when it comes to Lisa's humor, maybe the Housewives should loosen up and recognize it's all in good fun. And if Lisa comes off as a tad insulting, they could also suit up and learn to jest.