Liz's 'Bachelor' Speech Felt Like Fake Feminism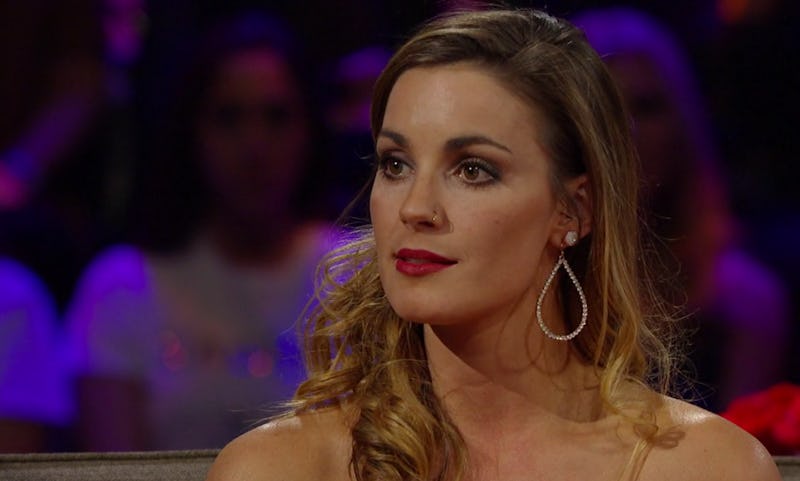 ABC
It was the most wonderful time of the year for Bachelor fans: The Women Tell All. This joyous occasion brought back the 30 women that competed for Nick Viall's heart this season on The Bachelor. The night was filled epic battles, final shots at redemption, and tear-filled reunions. While most of Monday's drama came from Corinne and Taylor, it was Liz's speech about The Bachelor and women in general that left the hosts of the Bustle's Bachelor podcast wondering — though the things she was saying were important — why she chose to stake her claim on something people weren't even really upset about.
On this episode of Will You Accept This Podcast? (which you can listen to here), Bustle's Senior Entertainment Editor Kelsea Stahler and Romper's Senior News and Entertainment Editor Allison Piwowarski try to make sense of The Women Tell All and Liz's speech. Both Kelsea and Allison agree with what the former contestant was saying, but they felt that it missed the mark just a little. They also think that she took a calculated, pseudo-feminist approach to get support from the audience.
Her rant was definitely one of the weirdest moments of the night. The energy in this moment took an interesting and confusing turn, as Liz preached a lesson on self worth and not letting your past define you. Sure, these are valid points that make up a bigger conversation, but where did they come from? No one was shaming Liz for sleeping with Nick; they just wanted to know why she waited so long to pursue him and only got back in touch once he was the Bachelor. It felt as though she tried to deflect the women's attention away from her intentions of joining the show by making a speech about feminism to get their support. And of course, this worked and Liz was met with a roaring applause from the audience and the women.
I agree that Liz's rant did feel a little calculated. She knew what to say to get the positive and supportive response that she wanted. The moment felt a little forced and her words have a slight disingenuous feeling to them now. I would have liked to see Liz dive into why she was booted off and what was really going through her head when she decided to be on the show.
But all in all, Liz's words are still really important and very empowering. They are a good reminder to everyone that no one should be defined by their sexual past, especially not in 2017.