Why Melissa Benoist Says Her Broadway Debut Will Change The Way She Plays Supergirl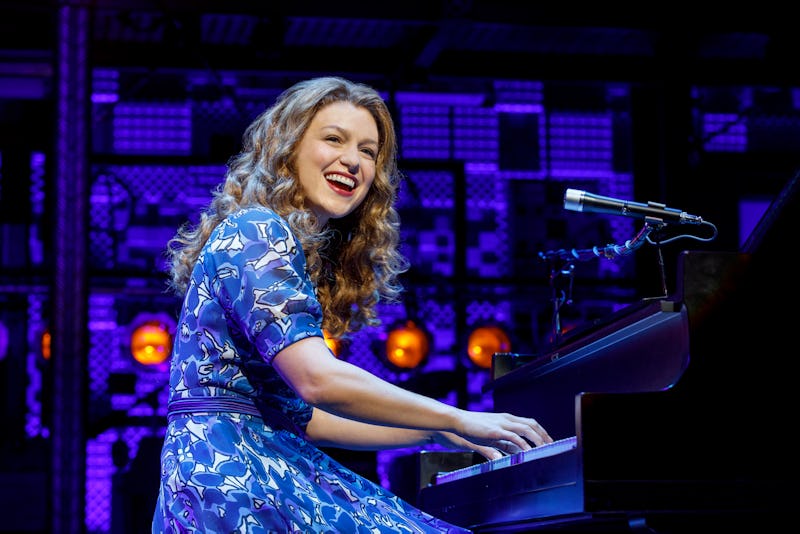 Credit: Joan Marcus
There's no doubt that Melissa Benoist can sing, but fans were pleasantly surprised to hear that the Glee and Supergirl star would be taking Broadway by storm this summer, playing a very different kind of hero than she does on the CW. The actor is currently starring in Beautiful: The Carole King Musical, playing the prolific singer-songwriter of enduring hits like "It's Too Late." And according to Melissa Benoist, her hiatus theater gig is going to wind up bringing a more grounded brand of feminism to Supergirl Season 4.
"I'd say hands down Carole has Supergirl's optimism," says Benoist, speaking over the phone during her run. "Her spirit, her determination, her perseverance in front of tragedy. She has a lot in common with Supergirl, actually, and the more I play her story every night the more I realize that. She's a very inspiring woman."
After majoring in theatre at Marymount Manhattan College and starring in the 2011 Goodspeed production of Kerrigan & Lowdermilk's The Unauthorized Biography of Samantha Brown, Benoist was cast in Glee and has been working in film and television ever since. This return to the stage and Broadway debut is long overdue.
"I think I was at the point where kind of I would have wanted to do anything if it was attached to the word 'Broadway,'" she says.
Fortunately, she landed not just anywhere, but in a musical that celebrates one woman's contribution to the American songbook. Beautiful follows Carole's journey from co-songwriter with her then husband Gerry Goffin to Carnegie Hall headliner. The songs of Cynthia Weil and Barry Mann, the composing team that worked next door to the couple, are also featured in the show.
"...It's documenting all the songs that came out of this very fertile time in music at 1650 Broadway," says Benoist, referencing that historic building, "that sort of defined and shaped an era of music that so much of modern music stems from that."
In creating for herself and others, Carole discovers how to define herself as an artist the same way that Kara struggles and triumphs with how to be define herself as a hero on Supergirl.
"[Beautiful] is the story of a woman overcoming, and friendship, and heartbreak, and coming of age essentially," Benoist says. "That is the journey that I take every night with Carole."
When Supergirl returns for Season 4, Benoist's take on the character will undoubtably be affected by this experience. Carole, in Benoist's words, is not only a household name but she has "arguably, probably, saved a lot of people through her words and her music. I know she had a major impact on my life."
Carole King's debut album Tapestry, she recounts, was the first her mother bought with her own money when she was growing up, and she passed that love on to her daughters — who all have different favorites, according to the actor.
"Going back into Supergirl knowing that Carole almost is a real-life superhero I feel only bolsters the way I approach Kara," says Benoist. "Finding more humanity in her, even though she is an alien. Finding more of an adult feminism to her, in the way that she owns herself."
In Beautiful, Carole King is an naive young woman fearlessly adapting to a changing world in both her relationships and her music. That willingness to try and that desire to support others while still taking care of herself and, ultimately — like Benoist says — owning herself are admirably grown-up feminist lessons for Kara to embody.
That isn't to say that the power of Kara Zor-El has not been felt in the Stephen Sondheim Theatre, too. "There have been a few Supergirl fans who, when I've looked out into the audience, have ripped their shirt open a la Clark Kent," says Benoist, "which is so funny that they think it's not gonna take me out of the show for a second, which it always has, and it makes me laugh. That's been pretty funny."
Personally, when I saw the show on Sunday, July 15, I noticed fans in the audience sporting IDONTMIND shirts representing the mental wellness organization launched by Benoist's Supergirl costar and romantic partner Chris Wood. Though it doesn't use all of the language we have today for breaking down stigmas, Beautiful tackles depression, anxiety, and other mental health issues as well. It's another unexpected parallel between these two universes.
And Benoist was not the only member of the CW DW universe to crossover to the Great White Way this summer — Legends of Tomorrow's Victor Garber just completed a run in Hello Dolly opposite Bernadette Peters, and fellow Supergirl star Jeremy Jordan will return to Broadway in American Son this fall. In fact, there are so many musically talented individuals in the Arrowverse that a musical episode of The Flash was built around them in 2017.
As for Benoist, her run in Beautiful will conclude Aug. 4. That date will mark the last time the actor will experience what she tells me is her favorite moment in the show. At the very end, the audience gets up and dance to "Earth Move" along with the cast, without any shame. "Just loving the music," Benoist says. "It really makes me happy."
And if getting a theater full of people to let go and forget their lives for a few minutes isn't heroism, what is?