This Melissa Joan Hart Classic Could Be Coming Back To TV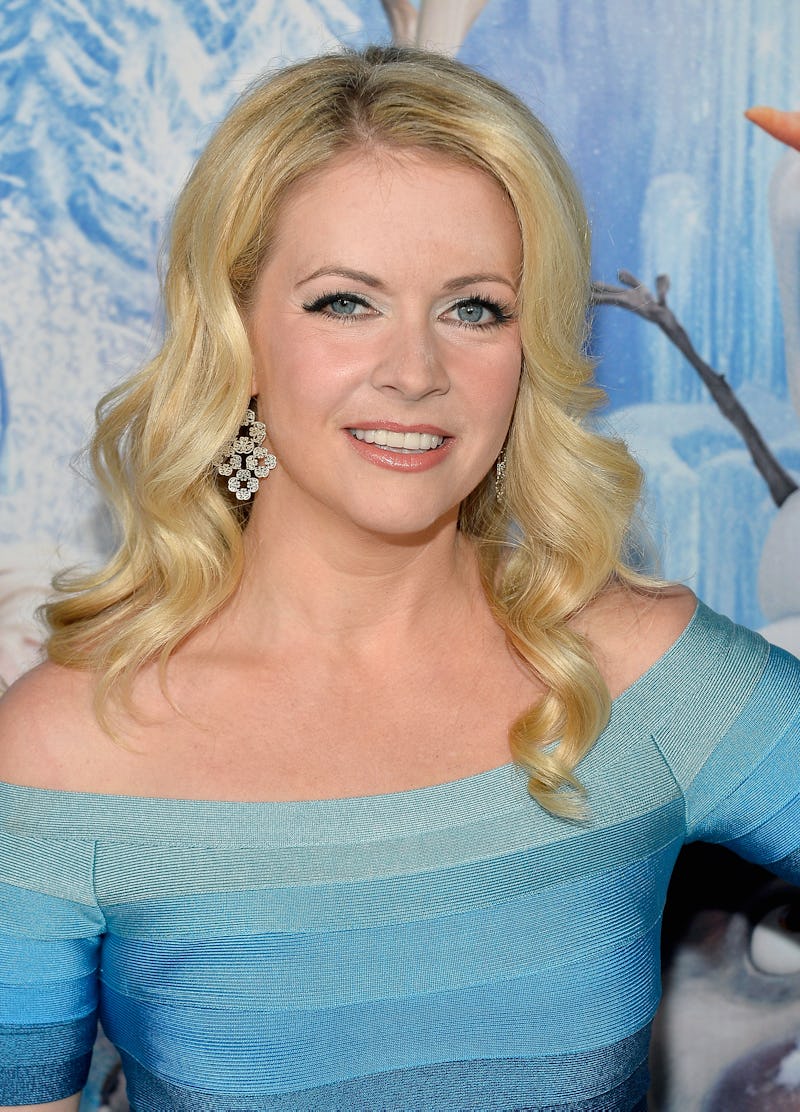 Frazer Harrison/Getty Images Entertainment/Getty Images
Sorry, fans of Salem, Zelda, Hilda, Harvey, and a certain teenage sorceress: Melissa Joan Hart doesn't want a Sabrina the Teenage Witch reboot. Sitting down with the actor who played Sabrina for seven seasons at the Comic-Con press day for her latest, Lifetime's The Watcher in the Woods, Hart explains exactly why Sabrina isn't the right property to bring back to the small (or big) screen.
"We lost the rights to Sabrina a while back, so it's not in our control," she says. But beyond a matter of rights, Hart says Sabrina isn't the right show to reboot anyways. "I think that the way we ended Sabrina was really perfect. You see where she is going, she's riding off with Harvey in a wedding dress... it's a kinda perfect ending so I wouldn't want to reboot that."
But fans of Sabrina have something to look forward to with Hart's latest project, a Lifetime movie she directed called Watcher in the Woods, which premieres Oct. 21, and has some not-so-subtle similarities to Sabrina. A remake of the 1980 film, Watcher follows a family who moves into a possibly haunted house where the young girls in the family experience strange, borderline spooky happenings.
"It does have a witchy aspect to it," Hart admits. "I think what I really pulled from Sabrina that I was able to use for directing was the special effects. The special effects in this are really complicated. With Sabrina... thank god I had that experience. I don't think anyone that walks onto a movie set [featuring] effects like that can handle it without a background."
Hart and her mother spent 17 years trying to secure the rights to remake the film, as it was a childhood favorite of the actor's. "Our company, Heartbreak Films, we started it with Sabrina. My mom's intention was to give families something to watch together. She really wanted to have shows on the air that adults would watch with kids. The Watcher in the Woods fit right into that model," she says. "Seventeen years later and I'm too old to play the teenage role now, and I'm too young to play Mrs. Aylwood, the older lady, so I directed it. It's a passion project we've been after for a long time."
And even though a Sabrina reboot is off the table, Hart is interested in bringing back another show she starred in from the '90s, Clarissa Explains It All. Because as it turns out, Clarissa may not have explained everything, and she could have a whole lot more to say. The spunky teen was churning out no-nonsense advice for five seasons on Nickelodeon, but that's hardly enough time to explain everything.
"I think it would be fun to reboot Clarissa because that show kind of just ended. I feel like it didn't wrap up properly," she says. "There's still room to grow with Clarissa."
According to the 41-year-old, in this new version of the show surrounding the blonde know-it-all, Clarissa "would be a mom of course."
While fans should keep their ears to the ground for any more news of a Clarissa reboot, it seems Sabrina fans will have to accept the conclusion they were given in 2003. But for those still mourning, give Watcher in the Woods a spin, which features some witchy vibes crafted by Hart herself.