Why Michelle Obama's Natural Hair Feels Like An Act of Resistance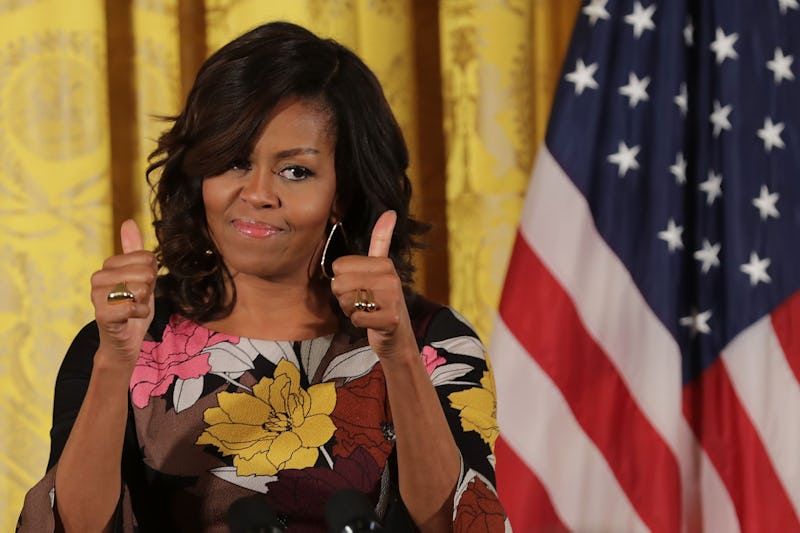 Chip Somodevilla/Getty Images News/Getty Images
When I was a teenager, the dress code at my school banned unusual hairstyles or colors — and the rule included Afros. Although I personally felt there may be some subtle racism embedded in that rule, I'm not really surprised looking back: Many black women feel judged and limited by their hair — socially, politically, and institutionally.
It's wasn't just my school, and it's not just decades ago. In 2016 and 2013, for example, there were prominent cases of black children being sent home from school because of their hair at Deborah Brown Community School in Tulsa, Oklahoma and Butler Traditional High School in Kentucky.
On April 2, a picture surfaced on Twitter that got everyone talking about black women's hair — well, one black woman's hair. It was former first lady Michelle Obama wearing her natural hair on vacation in the Polynesian Islands. Thinking about my former school dress code and the unavoidable politics associated with black women's hair, this moment felt, to me, like an act of resistance, a rebellion against a culture that scrutinizes black and natural hair on a regular basis.
For example, last week Congresswoman Maxine Waters was ridiculed for her hair by Fox anchor Bill O'Reilly. On the March 28 episode of Fox and Friends O'Reilly said, "[I] didn't hear a word she said. I was looking at the James Brown wig." Waters' hair isn't natural, of course, but the fact that she's a black woman made her hair open for interpretation and ridicule.
Despite the comment, Waters told MSNBC host Chris Hayes, "I'm a strong black woman, and I cannot be intimidated. I cannot be undermined. And I'd like to say to women out there everywhere: Don't allow these right-wing talking heads, these dishonorable people, to intimidate you or scare you. Be who are are. Do what you do."
Considering Waters' words, I've made the personal decision to interpret Michelle Obama's choice to wear her natural hair as the physical embodiment of being who you are. The photo feels like Michelle Obama making the choice to be Michelle Obama, outside the constraints of societal or professional judgment.
And while my feelings about why Obama chose that hair style are my interpretation, the constraints I mentioned aren't just idle speculation. In an interview with Britain's Channel 4 News in 2016, Chimamanda Ngozi Adichie went so far as to say that Barack Obama would not have won the presidency if Michelle Obama had worn her hair natural. "[Natural hair] would signify that she's some sort of militant, neo-Black Panther, frightening."
Additionally, a 2016 study by the Perception Institute revealed that "a majority of people, regardless of race and gender, hold some bias towards women of color based on their hair."
All of this considered, for me it's powerful to have a public figure like Obama embrace a cultural identity that designates her as being of African heritage. Whether the officials at my school knew it or not, banning natural hairstyles from my school's dress code was, in a way, an act of preparation: Preparation for a professional career and life that many feel is incongruent with kinks and coils. Whether she knows it or not, Michelle Obama's choice feels like an act of resistance to me, and it's a feeling that I'm going to hold on to.